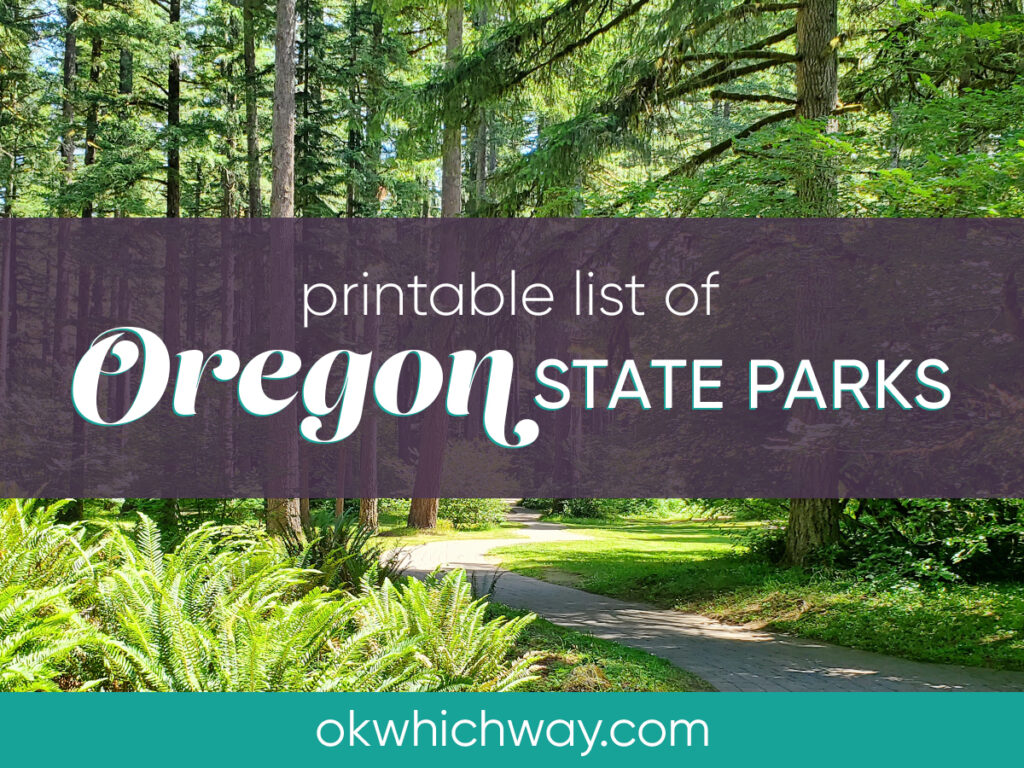 List of Oregon State Parks
Oregon is beautiful with its diverse ecology, from lush mountains to the high desert, and of course, 362 miles of coastline. Getting outside and exploring is one of my all time favorite things. The Oregon Parks and Recreation Department does a great job preserving the many sites. Of the 52 Oregon State Parks, I have visited 34. The goal is to see them all.
The mission of the Oregon Parks and Recreation Department (OPRD) is to provide and protect outstanding natural, scenic, cultural, historic and recreational sites for the enjoyment and education of present and future generations.
Legend
Park in Default font: I haven't had the privilege of visiting this one yet
Park in Bold: I have been there, but have not blogged about it
Park with a Link & Bold: I have been there, and posted about the experience
Oregon State Parks (52)
Ainsworth State Park
Alfred A. Loeb State Park
Bates State Park
Beverly Beach State Park
Bob Straub State Park
Brian Booth State Park
Cape Lookout State Park
Carl G. Washburne Memorial State Park
Catherine Creek State Park
Collier Memorial State Park
Cottonwood Canyon State Park
Elijah Bristow State Park
Guy W. Talbot State Park
Hat Rock State Park
Hilgard Junction State Park
Humbug Mountain State Park
Illinois River Forks State Park
Jessie M Honeyman Memorial State Park
L.L. Stub Stewart State Park
Lake Owyhee State Park
LaPine State Park
Mayer State Park
Memaloose State Park
Milo McIver State Park
Molalla River State Park
Nehalem Bay State Park
Oswald West State Park
Prineville Reservoir State Park
Rooster Rock State Park
Silver Falls State Park
Smith Rock State Park
South Beach State Park
Starvation Creek State Park
State Capitol State Park
The Cove Palisades State Park
Tumalo State Park
Umpqua Lighthouse State Park
Valley of the Rogue State Park
Viento State Park
Wallowa Lake State Park
White River Falls State Park
Willamette Mission State Park
William M. Tugman State Park
Viewpoints & Waysides (25)
Alderwood State Wayside
Boiler Bay State Scenic Viewpoint
Bradley State Scenic Viewpoint
Bridal Veil Falls State Scenic Viewpoint
Chandler State Wayside
Cline Falls State Scenic Viewpoint
Ellmaker State Wayside
Historic Columbia River Highway – Rowena Crest
Hoffman Memorial State Wayside
Neptune State Scenic Viewpoint
Ochoco Wayside
Ophir Wayside
Otter Crest State Scenic Viewpoint
Peter Skene Ogden State Scenic Viewpoint
Pilot Butte State Scenic Viewpoint
Portland Womens Forum State Scenic Viewpoint
Prospect State Scenic Viewpoint
Red Bridge State Wayside
Rocky Creek State Scenic Viewpoint
Tub Springs State Wayside
Whale Watching Center
Recreation Sites & Areas (62)
Agate Beach State Recreation Site
Arcadia Beach State Recreation Area
Beachside State Recreation Site
Benson State Recreation Area
Bonnie Lure State Recreation Area
Casey State Recreation Site
Clyde Holliday State Recreation Site
D River State Recreation Site
Dabney State Recreation Area
Del Rey Beach State Recreation Site
Deschutes River State Recreation Area
Detroit Lake State Recreation Area
Devil's Lake State Recreation Area
Dexter State Recreation Site
Driftwood Beach State Recreation Site
Fall Creek State Recreation Area
Farewell Bend State Recreation Area
Fogarty Creek State Recreation Area
Gleneden Beach State Recreation Site
Goose Lake State Recreation Area
Government Island State Recreation Area
Governor Patterson Memorial State Recreation Site
Heritage Landing
Hug Point State Recreation Site
Jackson F. Kimball State Recreation Site
Jasper Point at Prineville Reservoir

Jasper State Recreation Site
Joseph H. Stewart State Recreation Area
Lewis & Clark State Recreation Site
Lost Creek State Recreation Site
Lowell State Recreation Site
Manhattan Beach State Recreation Site
Maud Williamson State Recreation Site
McVay Rock State Recreation Site
Minam State Recreation Area
Mongold at Detroit Lake
Neskowin Beach State Recreation Site
North Santiam State Recreation Area
Ocean Shore State Recreation Area
Oceanside Beach State Recreation Site
Ontario State Recreation Site
Otter Point State Recreation Site
Paradise Point State Recreation Site
Roads End State Recreation Site
Sarah Helmick State Recreation Site
Seal Rock State Recreation Site
Seven Devils State Recreation Site
Smelt Sands State Recreation Site
South Jetty Recreation Area
Stonefield Beach State Recreation Site
Sunset Beach State Recreation Site
Tolovana Beach State Recreation Site
TouVelle State Recreation Site
Tseriadun State Recreation Site
Unity Lake State Recreation Site
W.B. Nelson State Recreation Site
Willamette River Greenway and River Trail
Winchuck State Recreation Site
Yachats State Recreation Area
Natural Areas & Sites (22)
Bandon State Natural Area
Beaver Creek State Natural Area
Cape Kiwanda State Natural Area
Clay Meyers State Natural Area at Whalen Island
Coquille Myrtle Grove State Natural Site
Darlingtonia State Natural Site
Devil's Punchbowl State Natural Area
Erratic Rock State Natural Site
Fort Rock Cave
Fort Rock State Natural Area
Golden and Silver Falls State Natural Area
Luckiamute Landing State Natural Area
Saddle Mountain State Natural Area
Seven Streams Staging Area
Sheppard's Dell State Natural Area
Sitka Sedge State Natural Area
Succor Creek State Natural Area
Tokatee Klootchman State Natural Site
Tryon Creek State Natural Area
Wygant State Natural Area
Yachats Ocean Road State Natural Site
Heritage Sites (13)
Champoeg State Heritage Area
Emigrant Spring State Heritage Area
Fort Yamhill State Heritage Area
Frenchglen Hotel State Heritage Site
Geisel Monument State Heritage Site
Golden State Heritage Site
Iwetemlaykin State Heritage Site
Kam Wah Chung State Heritage Site
Pete French Round Barn State Heritage Site
Sumpter Valley Dredge State Heritage Area
Thompson's Mill State Heritage Site
Willamette Stone State Heritage Site
Wolf Creek Inn State Heritage Site
Regional Trails (4)
Banks-Vernonia State Trail
Historic Columbia River Highway State Trail
OC & E Woods Line State Trail
Oregon Coast Trail
Scenic Corridors (11)
Battle Mountain Forest State Scenic Corridor
Blue Mountain Forest State Scenic Corridor
Bolon Island Tideways State Scenic Corridor
Booth State Scenic Corridor
Crown Point State Scenic Corridor
H.B. Van Duzer Forest State Scenic Corridor
Umpqua State Scenic Corridor
Ukiah-Dale Forest State Scenic Corridor
Unity Forest State Scenic Corridor
Wallowa Lake Highway Forest State Scenic Corridor