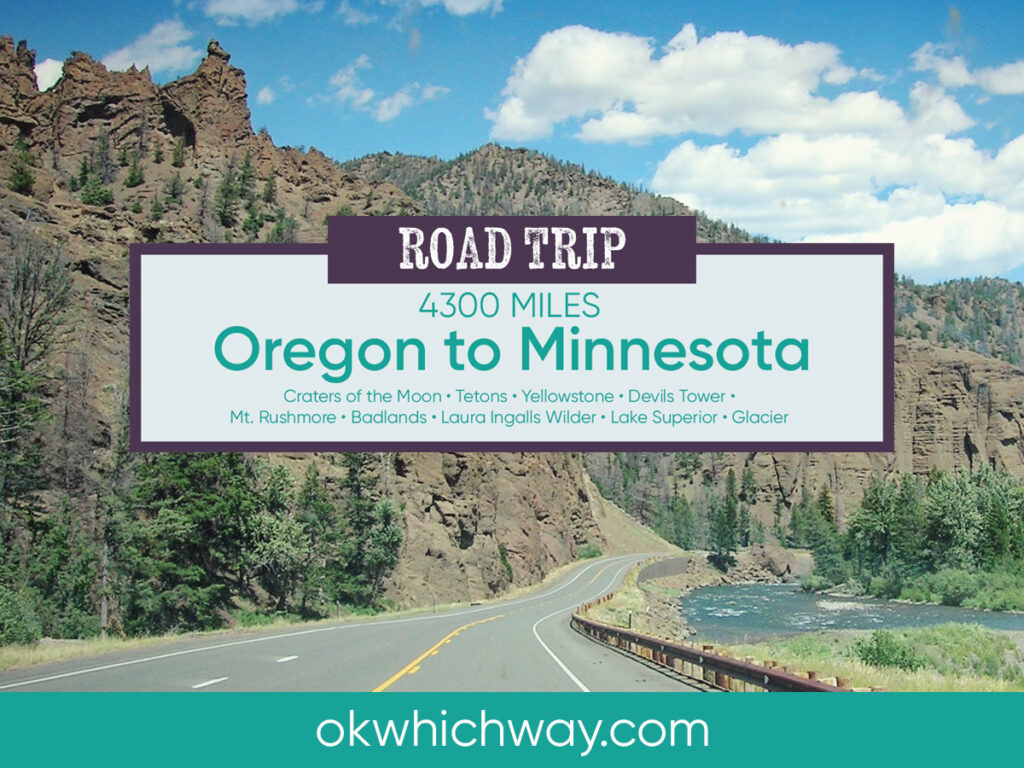 4300 mile Oregon to Minnesota Road Trip
In 2006, we took a road trip to Minnesota to visit John's family.
It was a 4300 mile adventure with a mom, dad, 3 year old boy, 9 month old boy, and a yellow labrador… and we camped out of our dodge truck most of the way.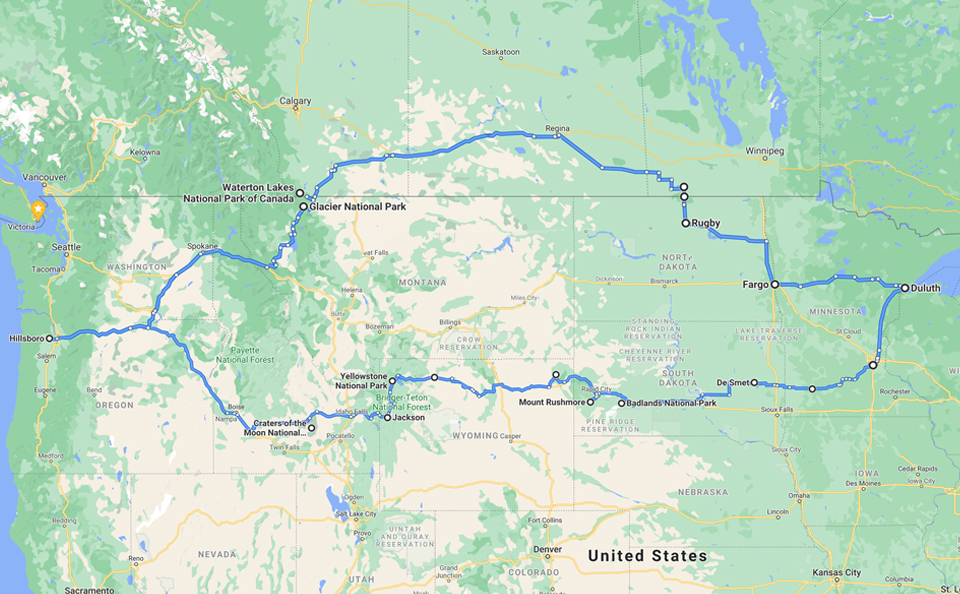 [ DAY 1 ]

Emigrant Springs Campground
Our first day started with a short 4 hour drive to Emigrant Springs Campground in Oregon.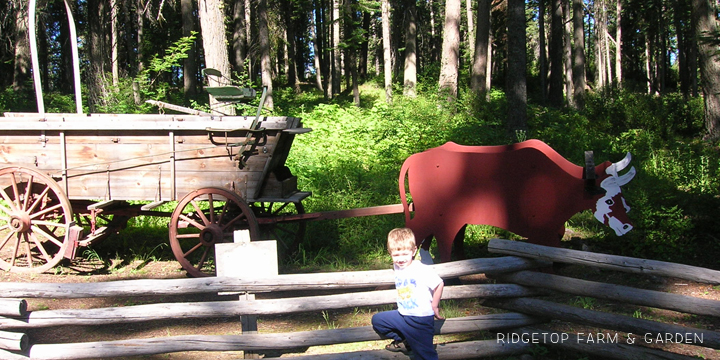 [ DAY 2 ]
Craters of the Moon & Shoshone Ice Caves
Next up was a 7+ hour drive to the volcanic wonder that is Craters of the Moon. Along the way we toured the Shoshone Ice Caves.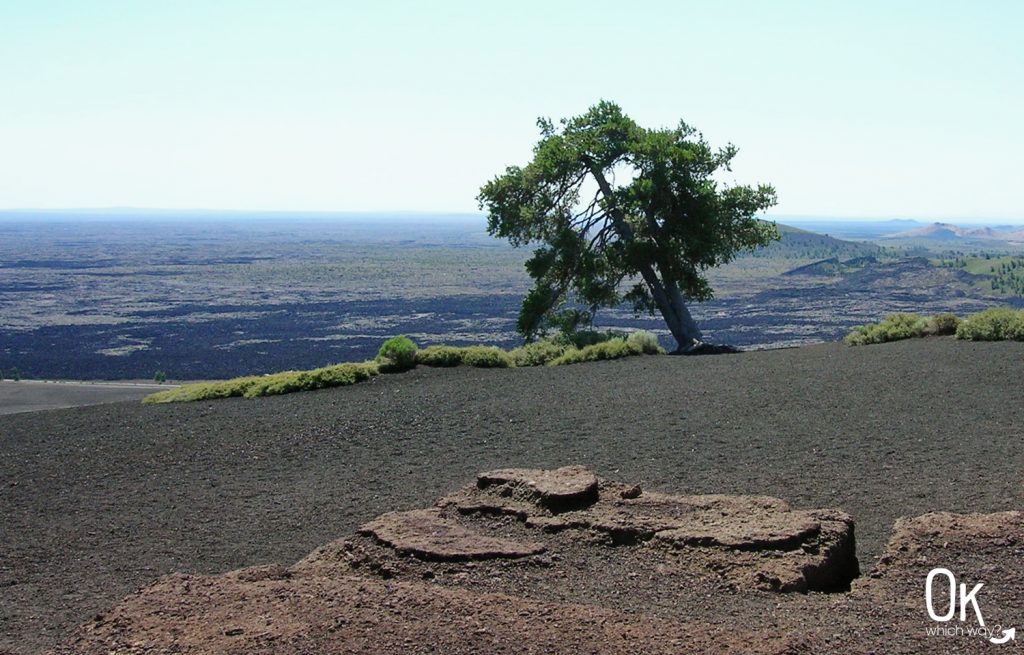 [ DAY 3 ]
Jackson Hole & Grand Teton National Park
The third day we left Idaho and drove into Wyoming. We drove through Jackson on our way to the campground we were staying at in Grand Teton National Park.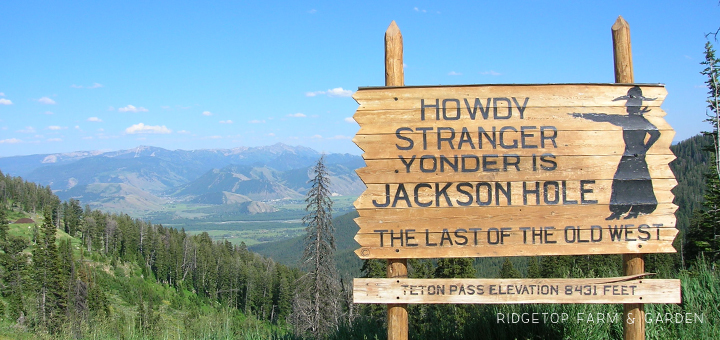 [ DAY 4 ]
Grand Teton National Park & Yellowstone National Park
Hiked Jenny Lake at Grand Teton and traveled north to Yellowstone.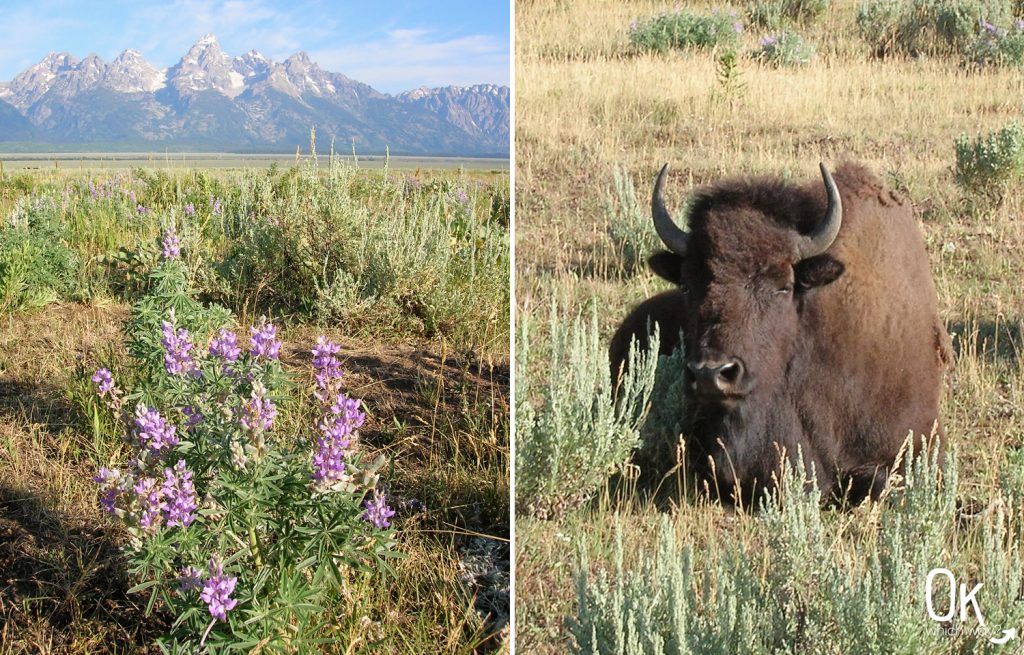 [ DAY 5 ]
Yellowstone & Cody
We watched Old Faithful erupt, crossed the continental divide, and drove Route 14 east to Cody, Wyoming. While in Cody, we attended a rodeo in the self proclaimed Rodeo Capital of the World.
We stayed at a KOA. I was so happy to sleep in a little cabin, as opposed to our usual tent.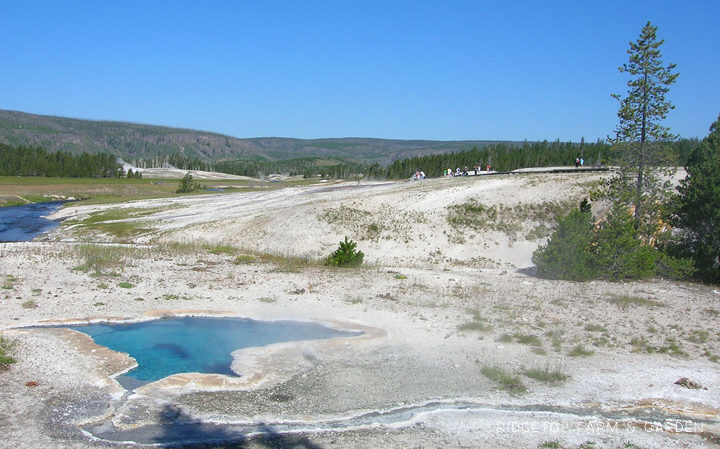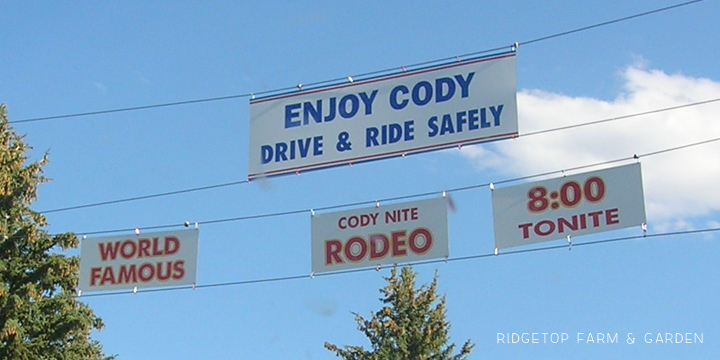 [ DAY 6 ]
Cody & Devils Tower National Monument
The townsite of Cody was founded by William Frederick Cody, aka Buffalo Bill. Before leaving town we toured Old Trail Town, a fabulous collection of Old West buildings.
On our way east to Devils Tower, we made a quick stop in Buffalo to ride the Cowboy Carousel and play mini golf.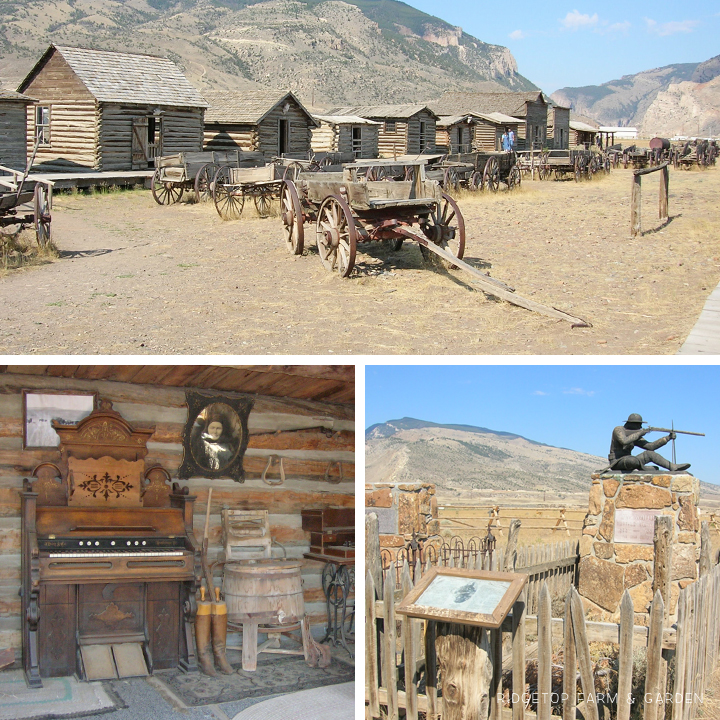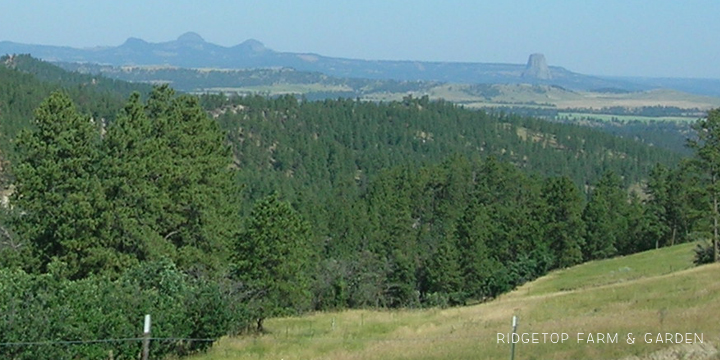 [ DAY 7 ]
Deadwood & Mount Rushmore
We left Devils Tower and Wyoming for the Black Hills of South Dakota. Our first stop was Deadwood, home to a few Wild West legends. Wild Bill Hickok was shot while playing poker in a saloon. Calamity Jane lived in Deadwood for awhile. She was friends with Wild Bill and occasionally worked for Madam Dora DuFran.
Before turning in for the night, we saw Mount Rushmore.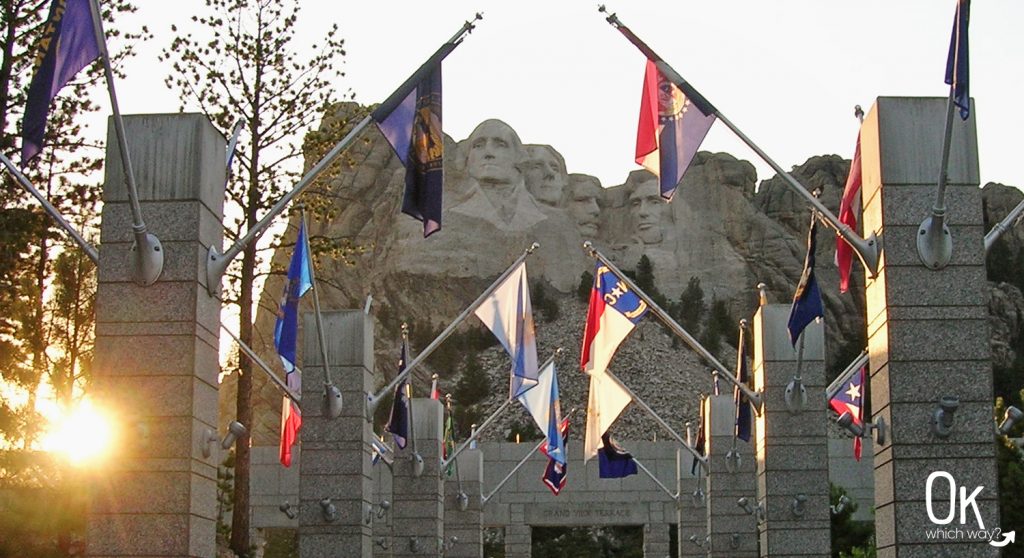 [ DAY 8
]
Mount Rushmore, Keystone, Custer State Park, & Crazy Horse Memorial
We began the day going back to Mount Rushmore, then drove to Keystone to visit the Historical Museum. From there, we explored Custer State Park – which we loved. To top off our day, we went to the Crazy Horse Memorial. The carving of the Oglala Lakota warrior has been in the making since 1948 and is not yet complete.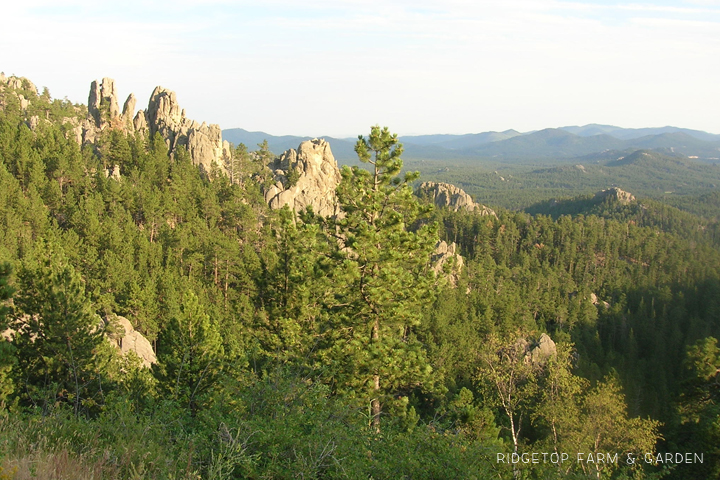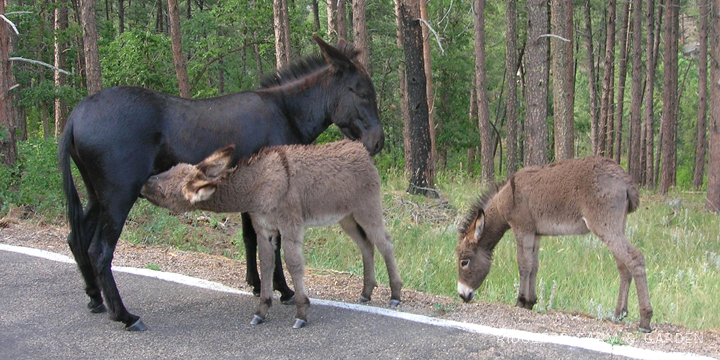 [ DAY 9 ]
Wall Drug, Old MacDonald's Farm, & Badlands National Park
Before leaving the KOA in the Black Hills, we kayaked in their pond. On our way east we stopped at Old Macdonald's Petting Farm and Wall Drug. We then drove a quick loop through the geological wonders of The Badlands, and retired for the evening at a campground off I90.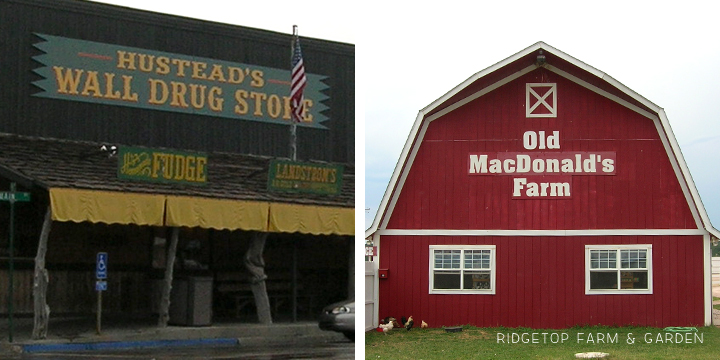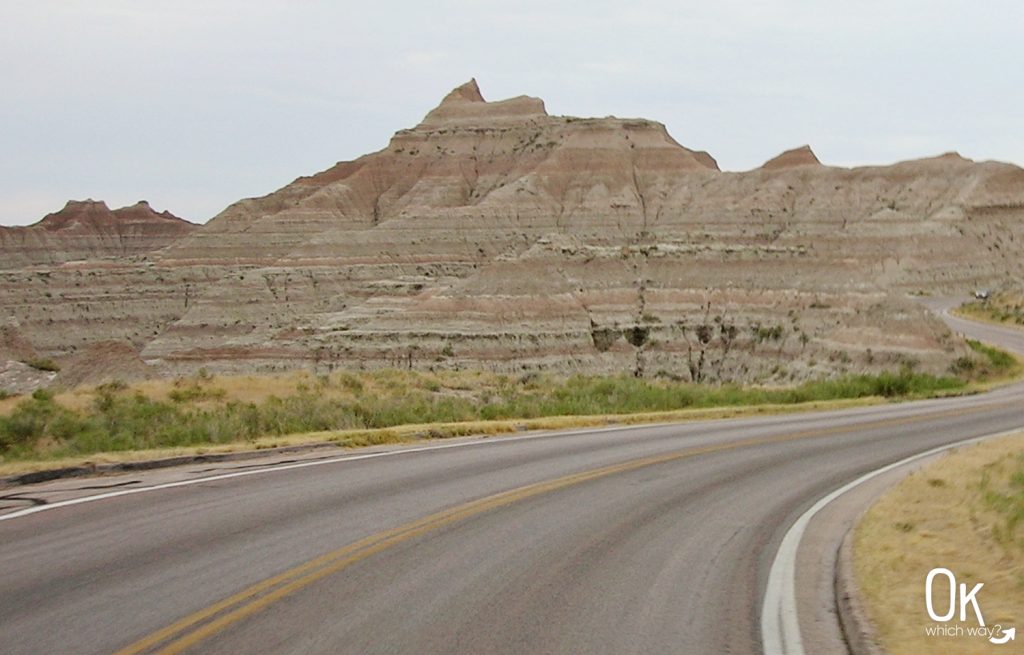 [ DAY 10 ]
DeSmet, Ingalls Homestead, & Terry Redlin
The next morning we drove to DeSmet for Laura Ingalls Wilder history. We explored and camped at the Ingalls Homestead. We are fans of Terry Redlin's oil paintings, so midday we left DeSmet and toured the Art Center. In the evening we enjoyed the Laura Ingalls Wilder pageant performed by local talent.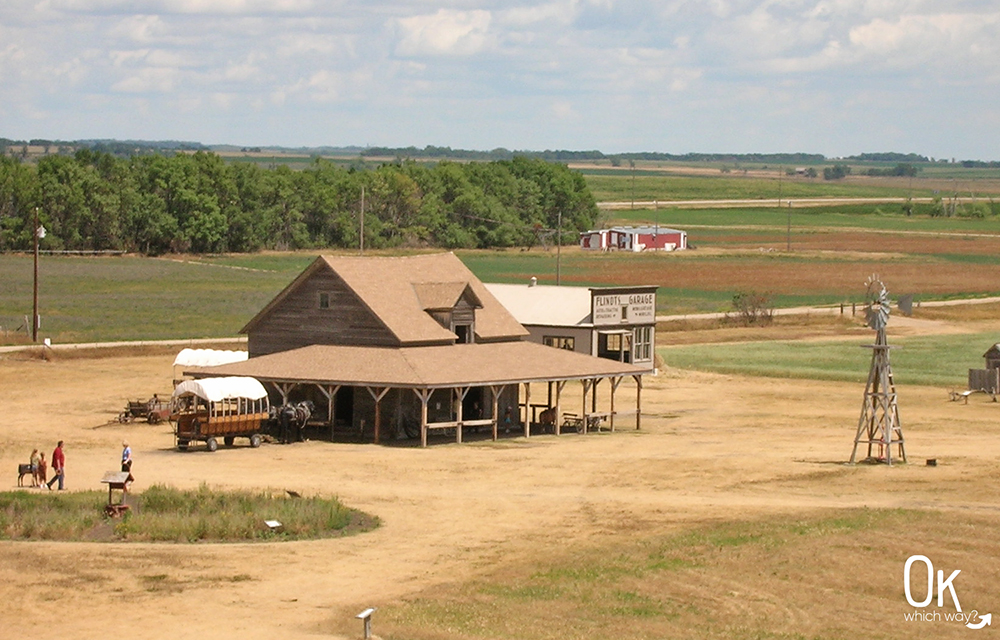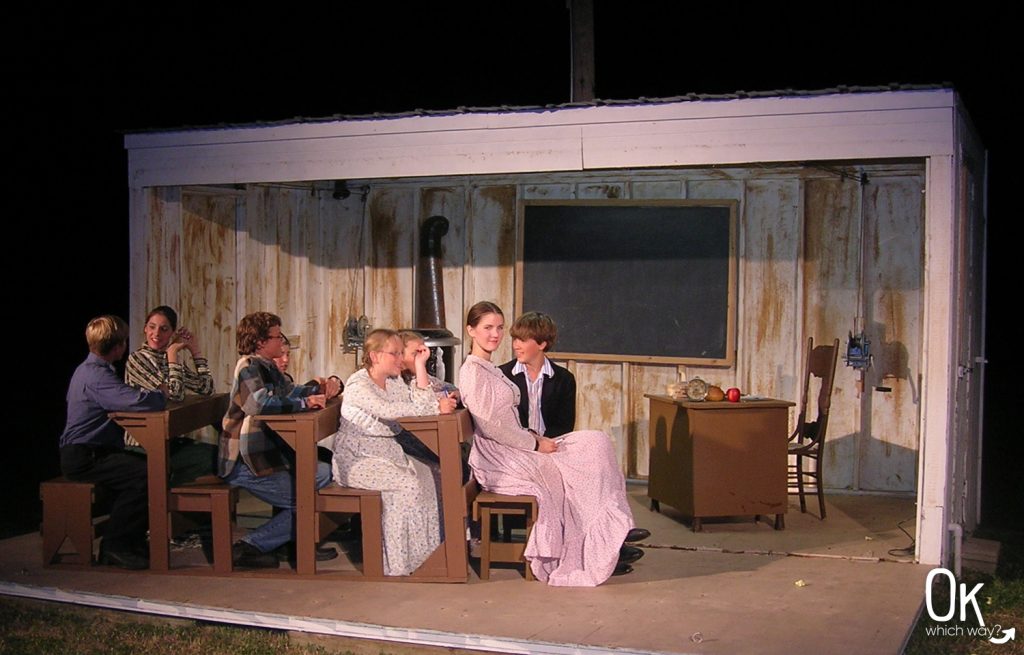 [ DAY 11 ]
Plum Creek & Walnut Grove
Before leaving DeSmet, I took the Laura tour through town. Then we drove about two hours to Walnut Grove, Minnesota for more LIW knowledge. We toured a museum, walked the banks of Plum Creek, and watched the Wilder Pageant. While in Walnut Grove we camped at Plum Creek park.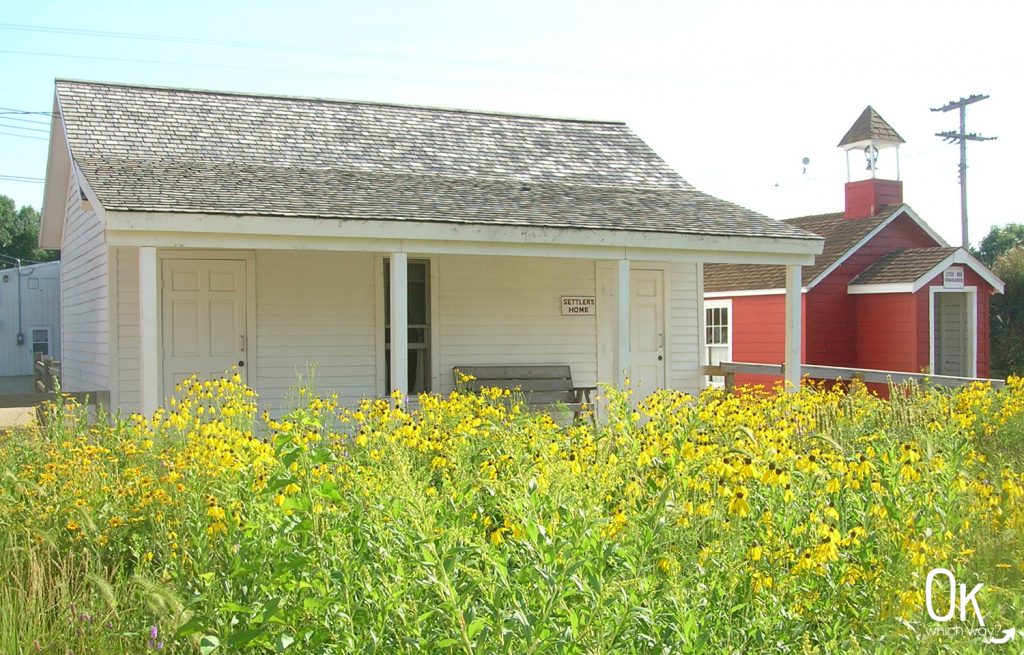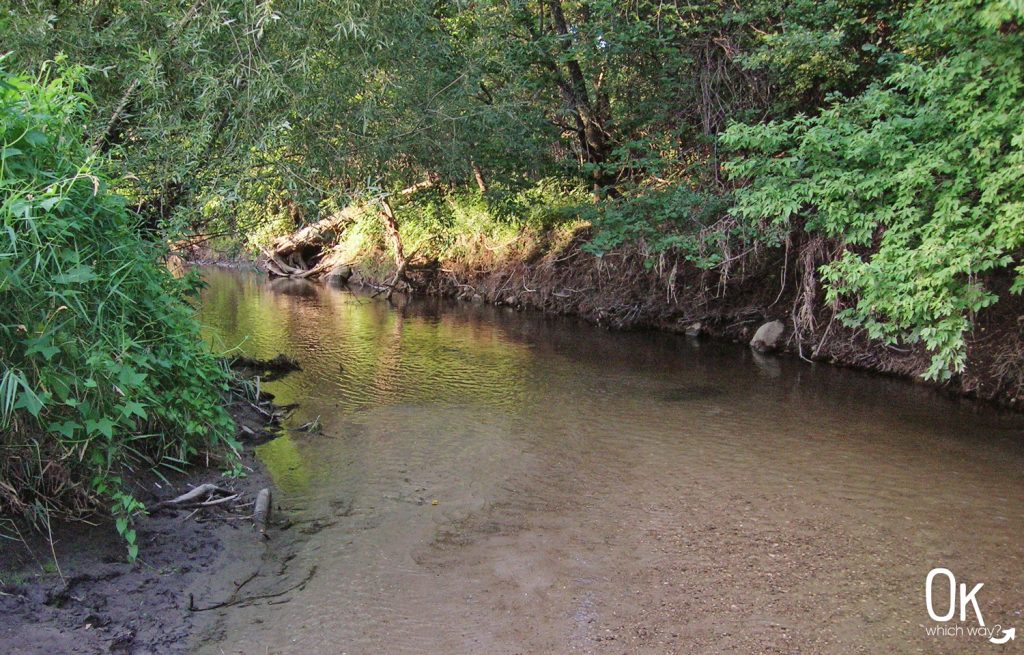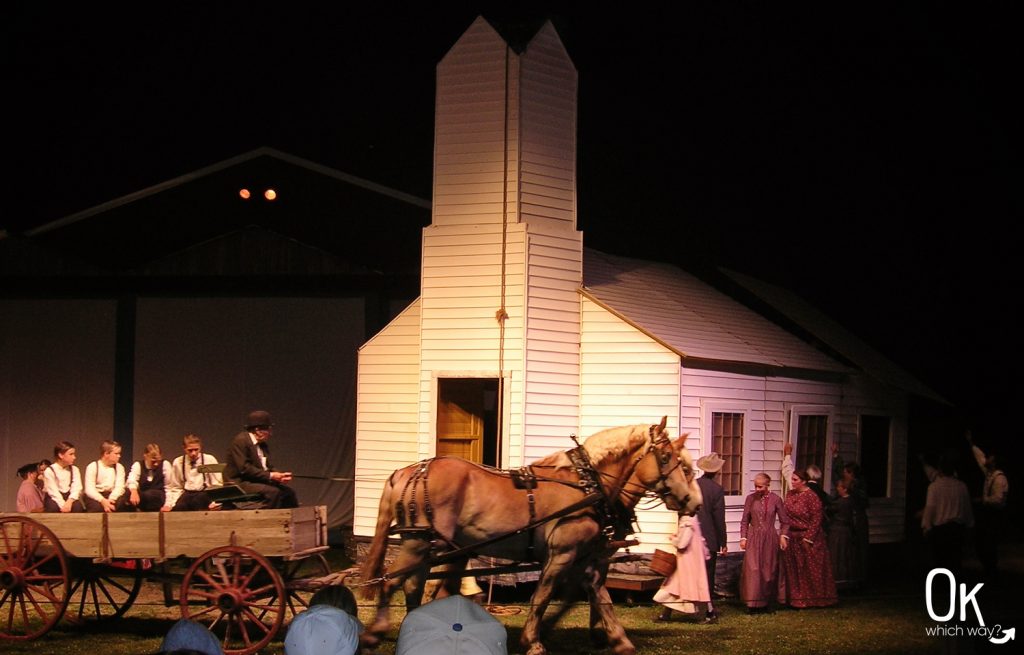 [ DAYS 12-16 ]
Minnesota
After leaving Walnut Grove we spent a few days with John's family, our final destination before turning around back towards home. Most of our time in Minnesota was spent with family enjoying potlucks and swimming in the lakes. We also went to the Mall of America and Lake Superior. The Aerial Lift Bridge in Duluth is over 100 years old and listed on the National Register of Historic Places. The only other bridge similar to the one in Duluth is located in France.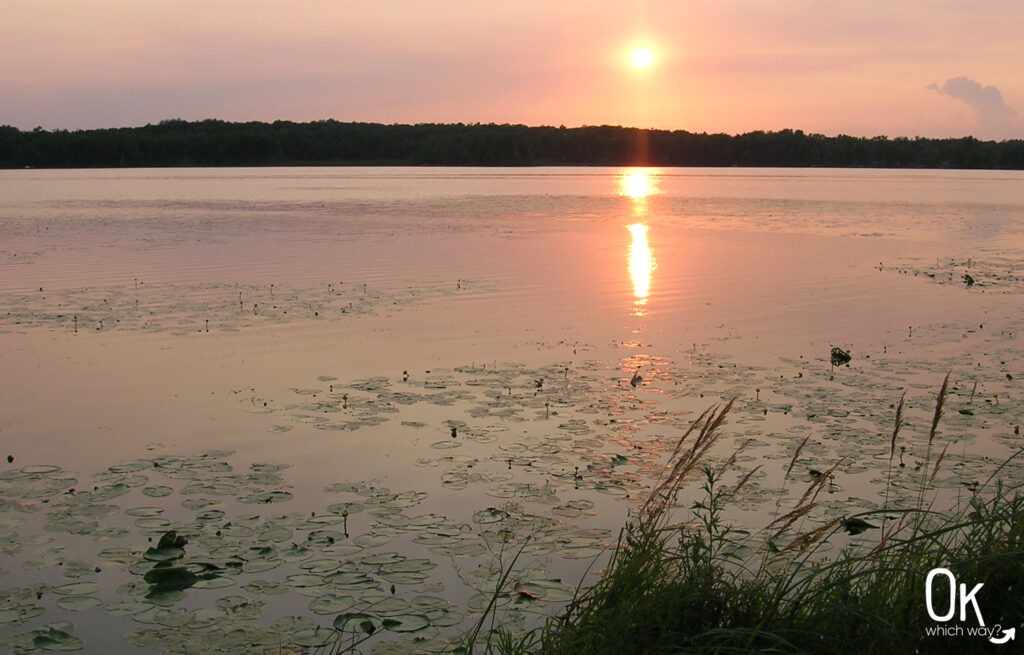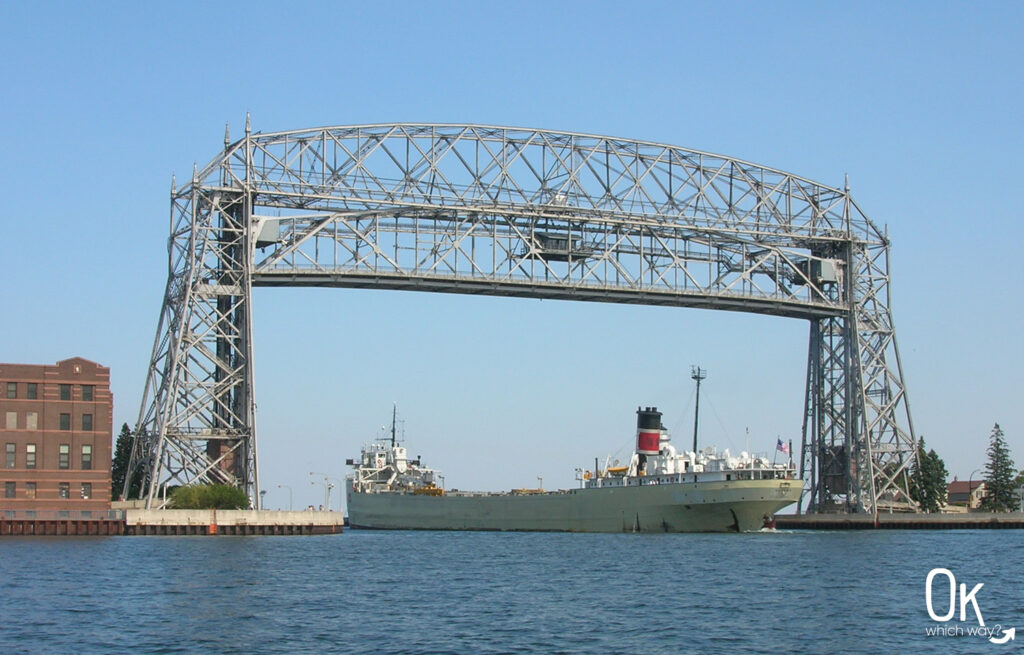 [ DAYS 17-20 ]
We drove through Minnesota, North Dakota, Manitoba, Saskatchewan, Alberta, Montana, Idaho, and Washington to get home to Oregon. I planned our trip home to be much shorter than our drive to Minnesota. But, we even shortened it by one day because we were ready to be home. We drove into Canada at the International Peace Garden and came back down into the US at Glacier National Park. It was a fairly uneventful drive back with only a few random stops.
Unfortunately, not long after we got back from our trip, the section of my hard drive holding the photos from the last couple days went corrupt. Except for a few that I uploaded to Shutterfly right away, I don't have any photos of the remainder of our trip. 🙁
Geographical Center of North America
Rugby, North Dakota once held the title Geographical Center of North America. It has since been dethroned, but it was considered the center when we drove by.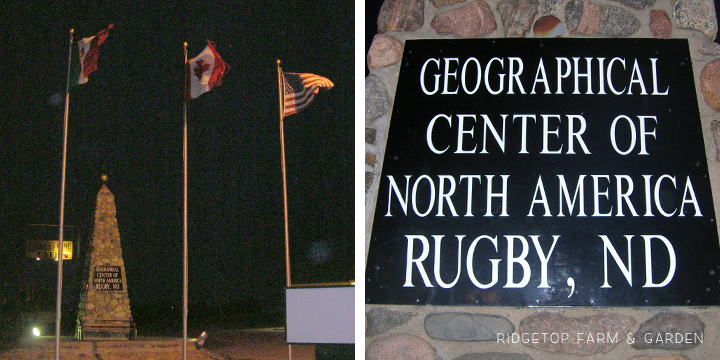 International Peace Garden
Located on the borders of North Dakota and Manitoba is the International Peace Garden. It is a tribute to the peace between the United States and Canada. The International Peace Tower was the focal point of the garden. Since we were there in 2006, it began to deteriorate and has been taken down. A new monument will be in its place.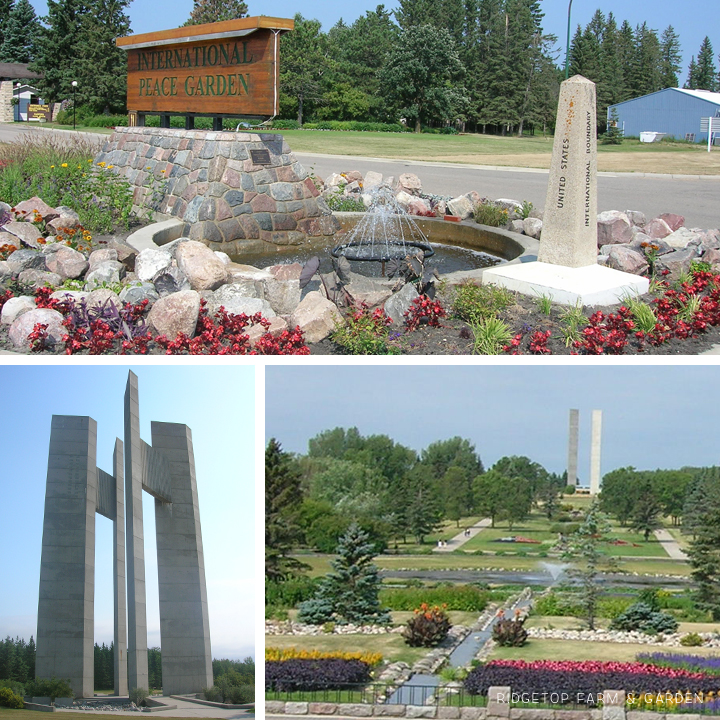 Waterton Lakes National Park & Glacier National Park.
To enter back into the US we went through Canada's Waterton Lakes National Park and into Glacier National Park. The majority of my photos of our time in these stunning parks are gone.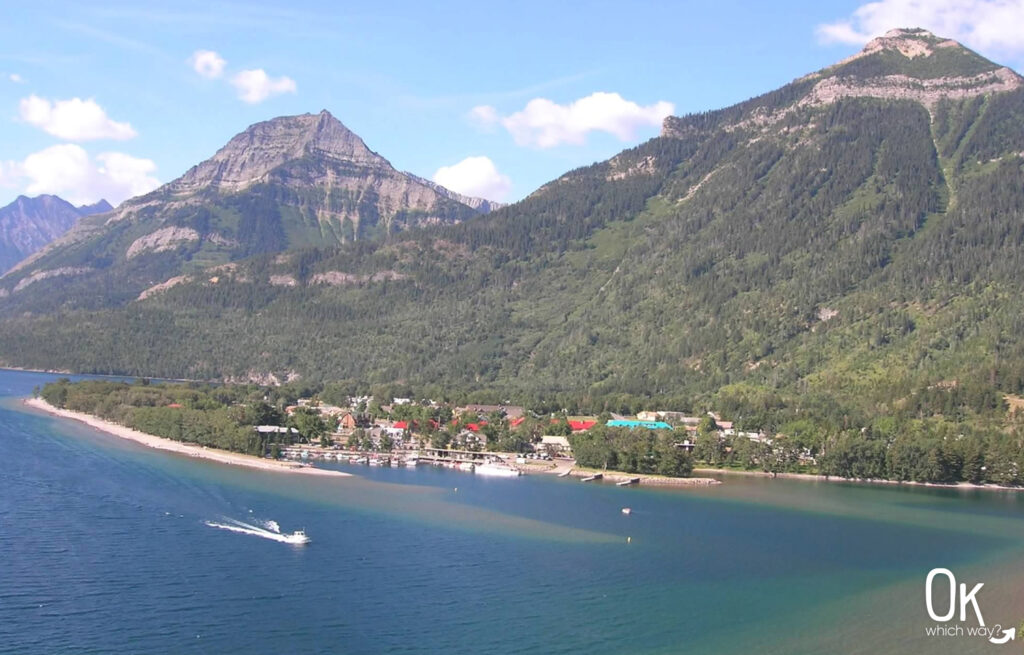 Going-to-the-Sun road was amazing and heart pounding scary.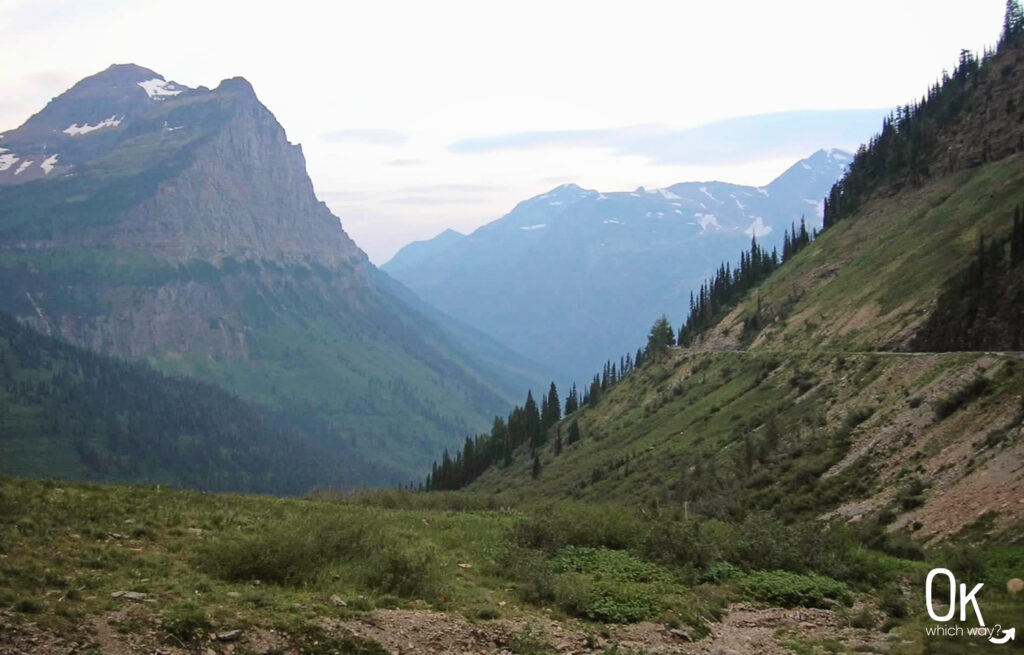 Columbia Gorge in Oregon

After Montana, Idaho, and Washington, we made it to the Columbia Gorge and Hwy 84 with Mt. Hood in view. We are almost home.
It was a marvelously tiring vacation full of amazing sites. We traveled 4300 miles, through 8 States, 3 Provinces, 5 National Parks, 2 National Monuments, 1 National Memorial, and numerous random stops along the way.
I couldn't have asked for a better trip. We saw a lot of our great country, with no major hiccups.
We enjoyed it so much we did another road trip 6 years later in 2012.
Thinking About Road Tripping?
Pin This ⬇