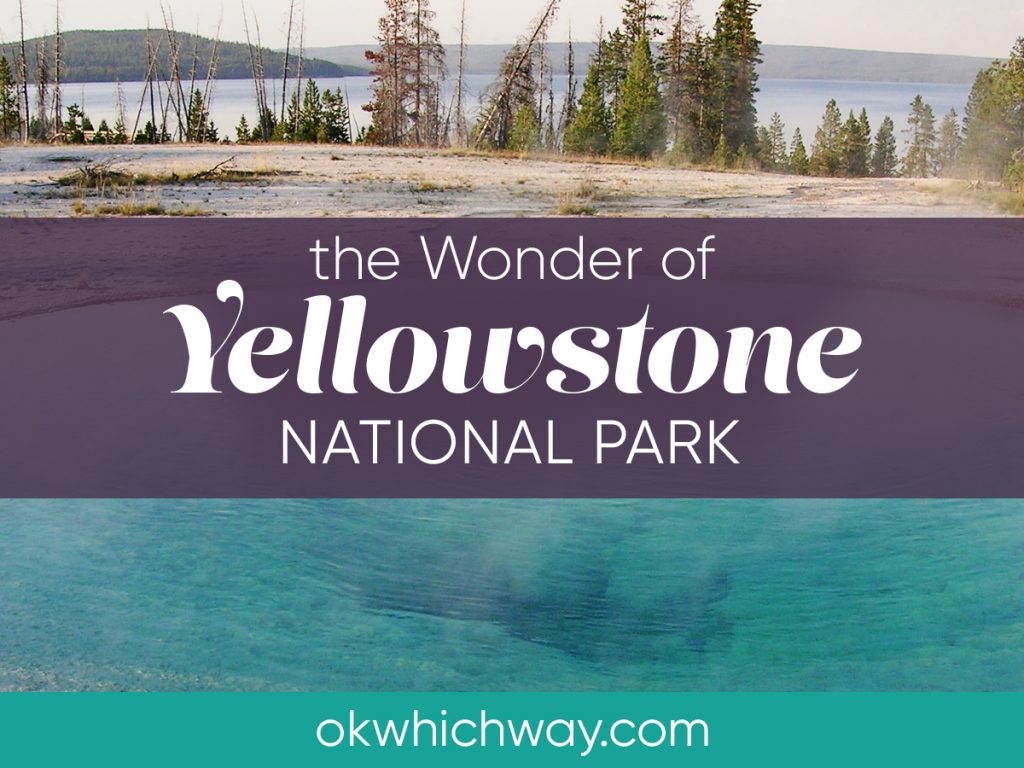 The Wonder of Yellowstone National Park
Yellowstone is a natural wonder. It was our nation's first National Park. It is fabulous.
Our trek through Yellowstone consisted of making it most of the way around the Lower Loop. We entered the park using the south entrance since we were coming from the Grand Tetons. There is so much more to explore, we just didn't have time.
Park Info
Location: NW Wyoming, with a small section of the park also in Idaho & Montana.
Established: 1872
Elevation: 5,282 – 11,358 feet
Things to See: Old Faithful, Grand Prismatic Spring, Lower Falls, Wildlife such as bison, elk, and bear
Things to Do: Paddleboard on a lake, Hike through the forest, Earn junior ranger badge
Lodging/Camping: Nine lodges, 12 campgrounds, and backcountry camping available
Food: Restaurants and cafes are located near the lodges
Dogs: Pets are allowed only in developed areas. They are prohibited on boardwalks, hiking trails, backcountry, and thermal areas.
Entrance Fee: $35/vehicle for 7 day pass click here to see current fee pricing
Park Maps: Link to park maps
Yellowstone Lake
Yellowstone Lake is the largest high elevation lake in North America and freezes over every winter.
We pulled off our shoes, hiked up our pants, and stepped in the lake. Yep. Yep, it was nearly freezing.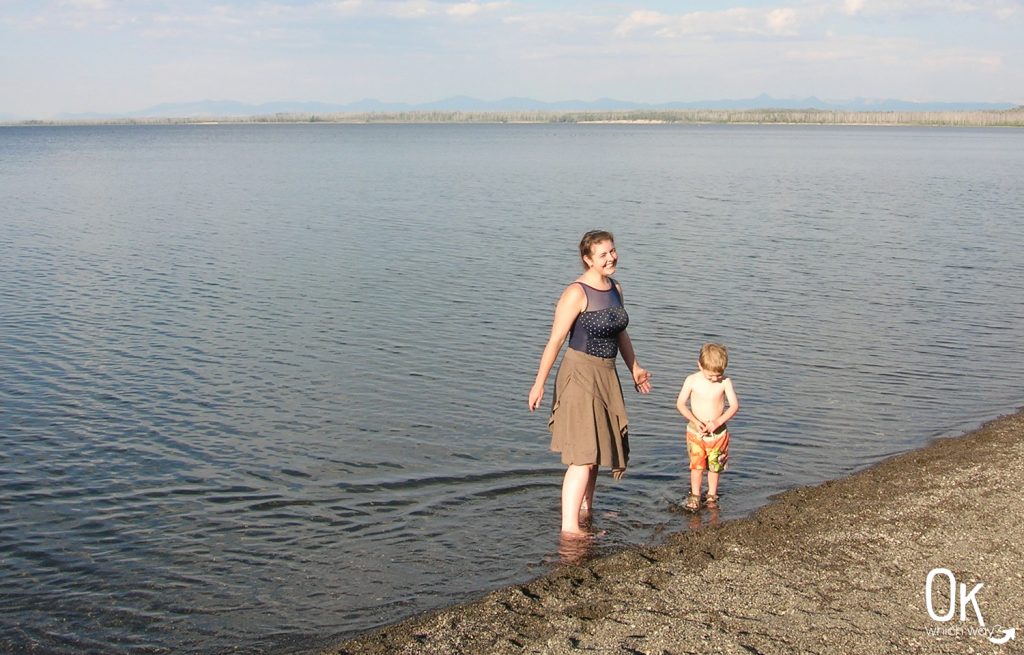 West Thumb Geyser Basin
Situated along Yellowstone Lake is a unique area filled with geysers, pools, springs, and steam vents.
Something I found interesting is that the West Thumb section of Yellowstone Lake is a caldera like Crater Lake and about the same size.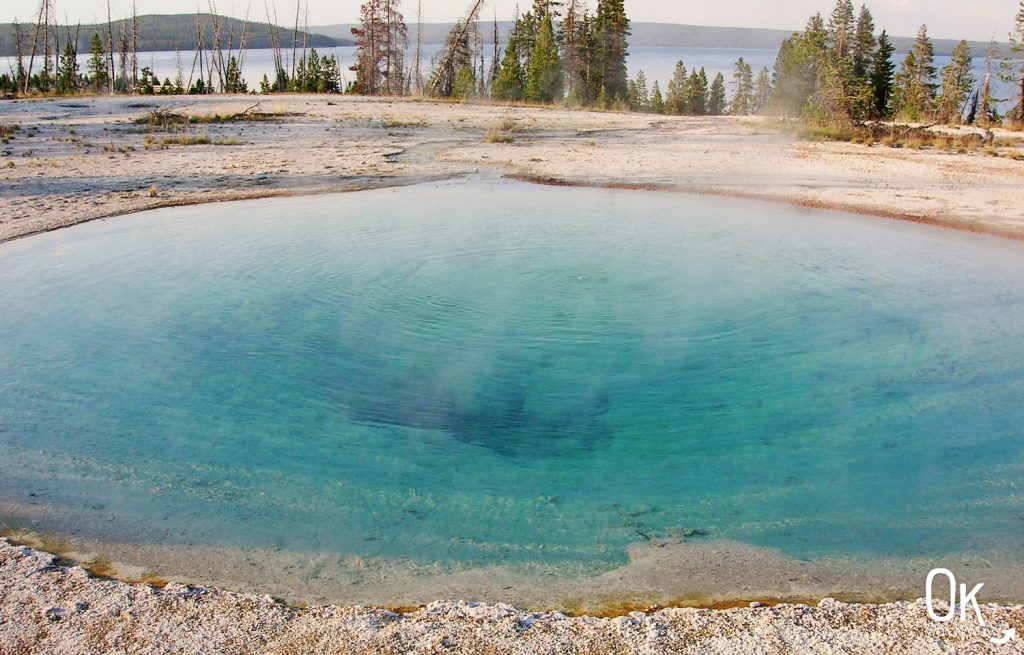 Upper Geyser Basin & Old Faithful
When Yellowstone is not your typical vacation spot, a stop at Upper Geyser Basin is a must. It is home to largest concentration of geysers in the world, including the ever popular Old Faithful. Enjoy this hydrothermal basin by strolling along the boardwalk.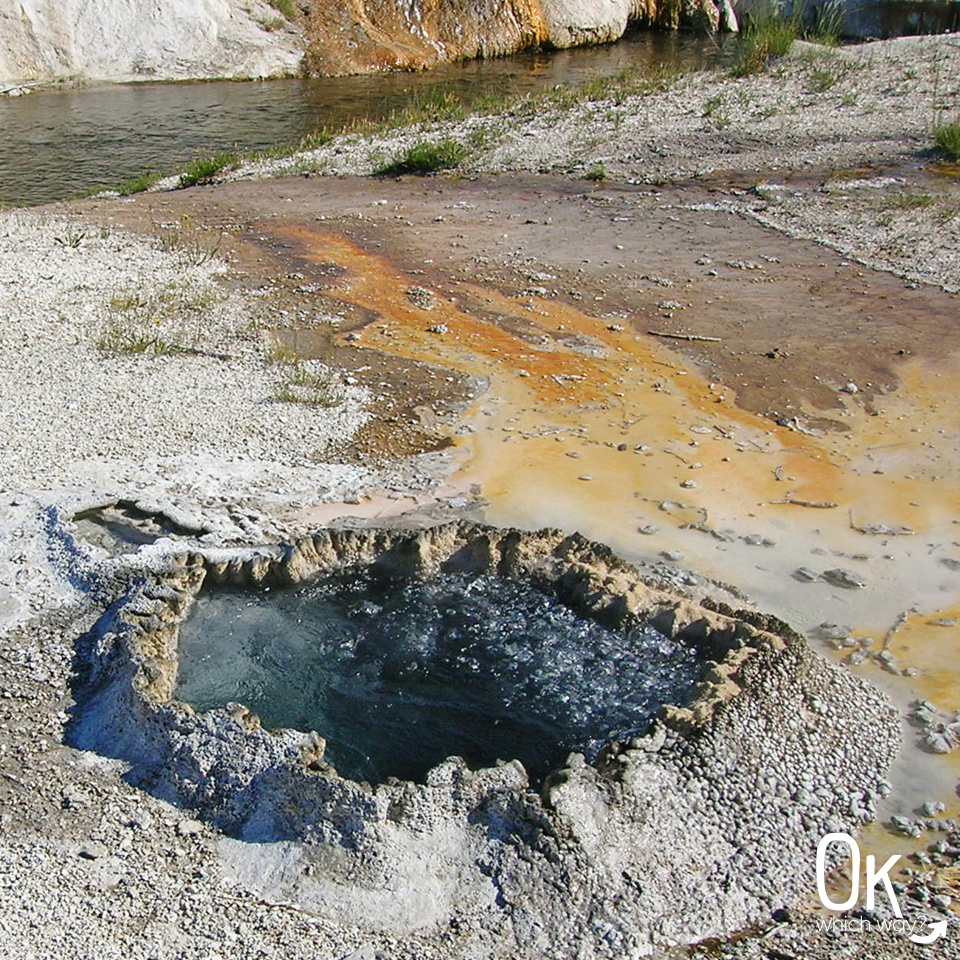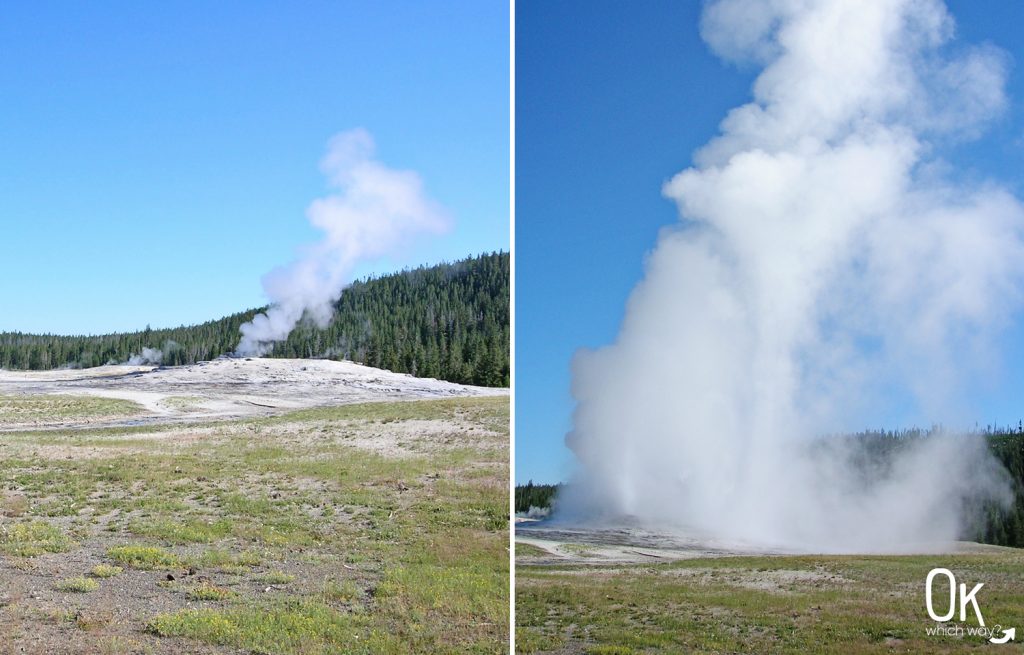 Camping in the Park
Yellowstone has over 2000 campsites to choose from, most needing to be reserved in advance. We arrived in the afternoon and stayed only one night.
Driving the Lower Loop
We packed up camp fairly early in the morning before heading towards Old Faithful. Afterwards, we continued along the Lower Loop and only stopped a couple times to take in the amazing views.
Lower Falls and Yellowstone River in the Grand Canyon of Yellowstone. The canyon is up to 1200 feet deep.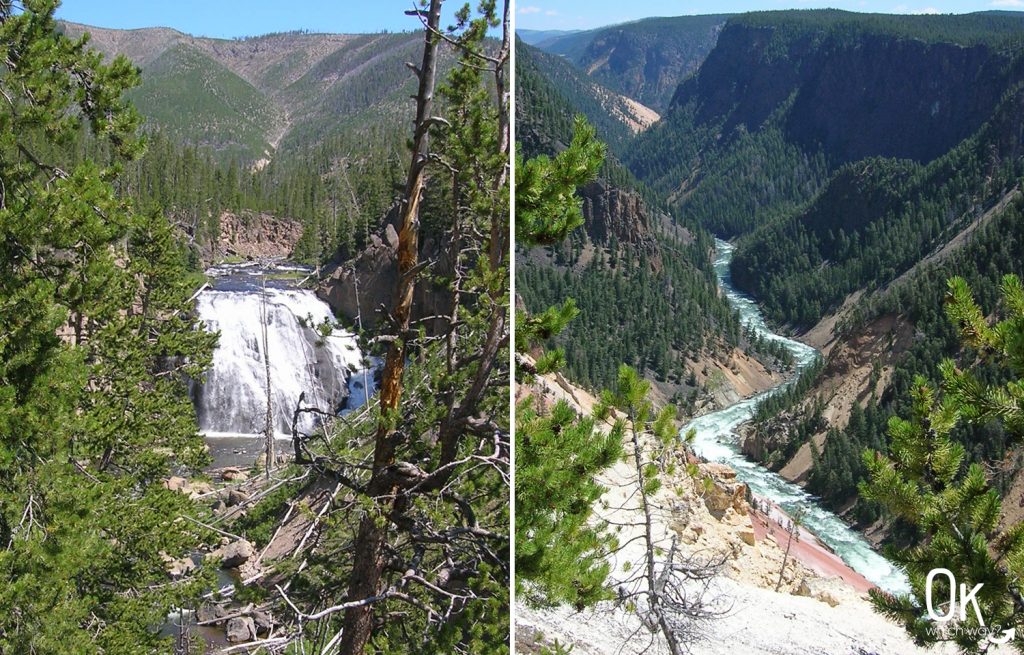 We did have to wait for bison to cross the road.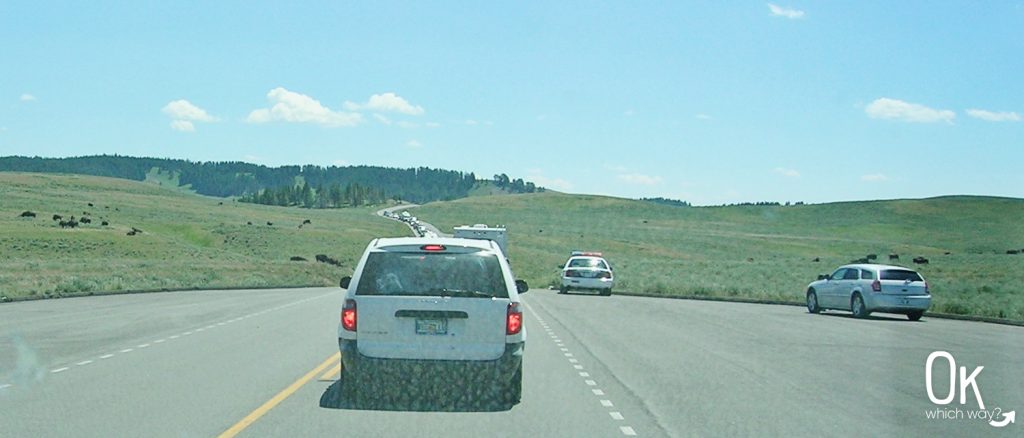 And, we saw a bear.

Our stop to Yellowstone was quick, but fabulous.
Next stop heading east – Cody, Wyoming.
Personal Info
Yellowstone National Park:
Days 4 & 5
of 20 Day Road Trip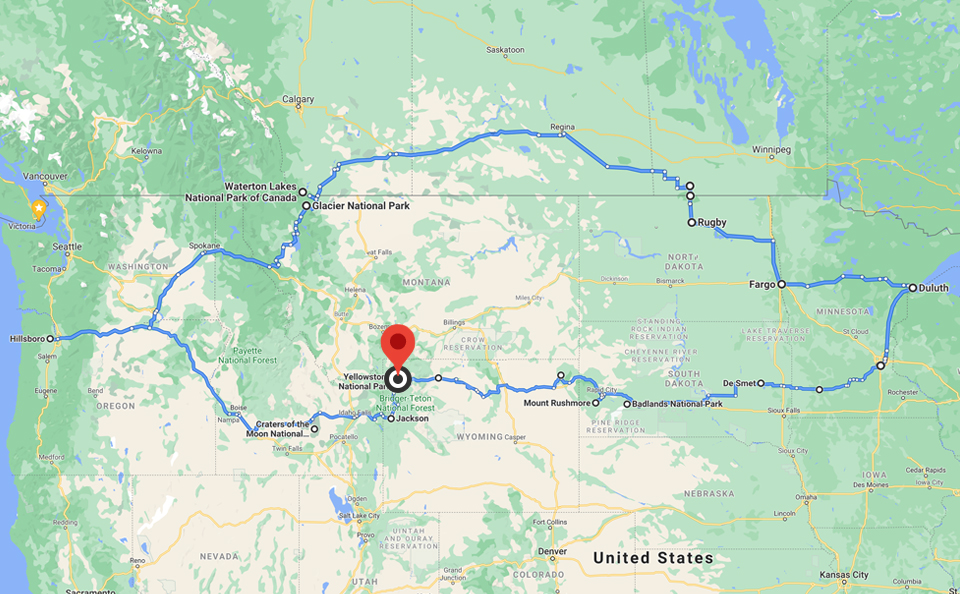 LEAVE NO TRACE
Weird, but True
There are more than 10,000 hydrothermal features in Yellowstone, including more than 500 active geysers
UNESCO World Heritage Site
A World Heritage Site is a designated area with "outstanding universal value" administered by the United Nations Educational, Scientific and Cultural Organization. The goal is to preserve and protect these cultural, historical, or natural areas throughout the world. Yellowstone is under this protection.
Pin This ⬇