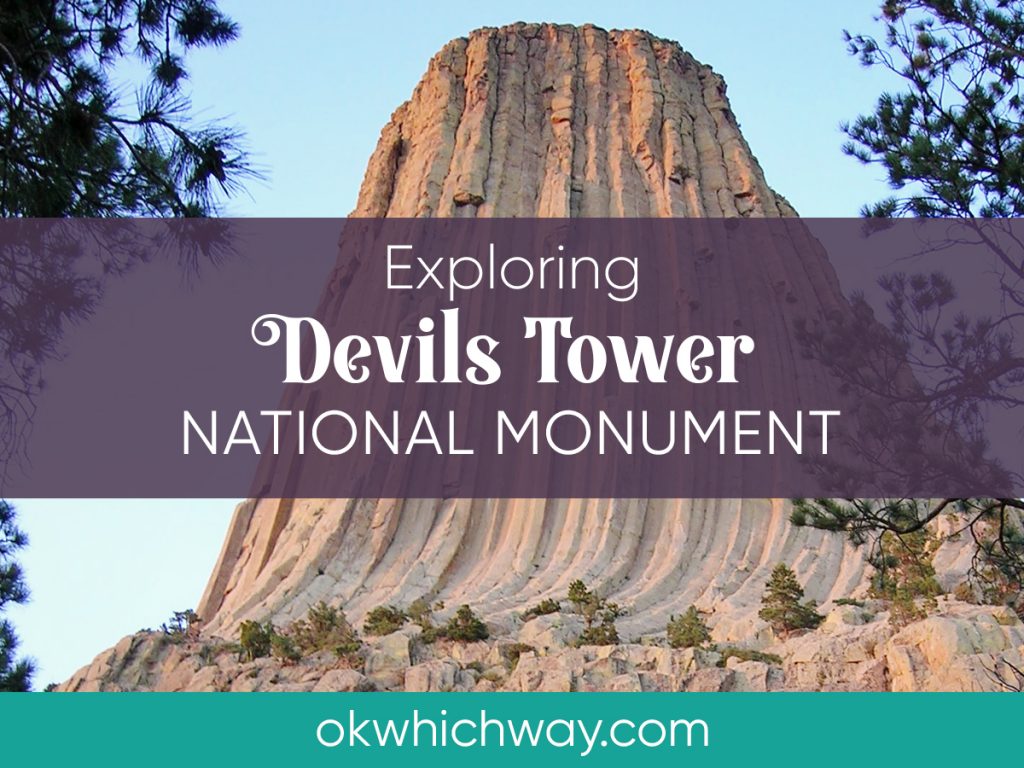 Exploring Devils Tower National Monument
Located in northeastern Wyoming, Devils Tower is a rock formation rising 867 feet out of the prairie. It was our first national monument.
To many Native American tribes the tower is sacred and known as Bear Lodge.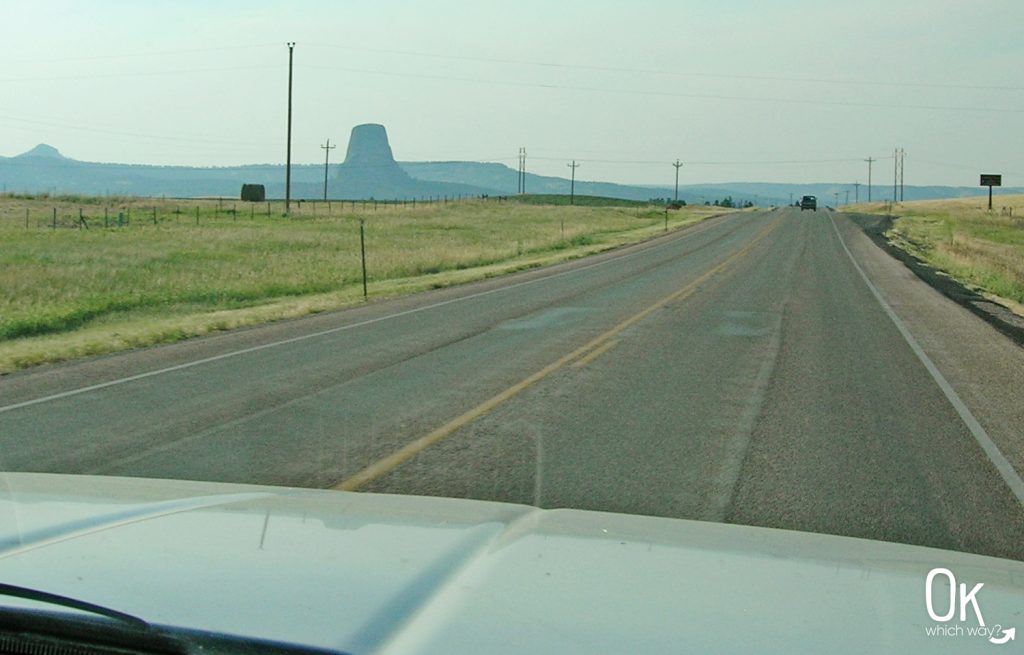 Park Info
Location: Northeastern Wyoming. About an hour and a half drive from Rapid City
Established: 1906
Elevation: 5,112 feet
Things to See: the tower, Belle Fourche River, prairie dog town
Things to Do: become a Junior Ranger, observe geology, climb an 867′ tower, hike, & stargaze
Lodging/Camping: Belle Fourche River Campground, first-come first-served
Food: No restaurants
Dogs: Prohibited in Visitor Center & on trails. They are allowed in the campground, picnic, and parking areas.
Entrance Fee: $25/vehicle click here to see current fee pricing
Park Maps: Link to park maps
Please note: This info primarily relates to warmer months. Be sure to check park status during the colder season.

Visitor Center
Built in the 1930's by the Civilian Conservation Corps, the Visitor Center is listed on the National Register of Historic Places.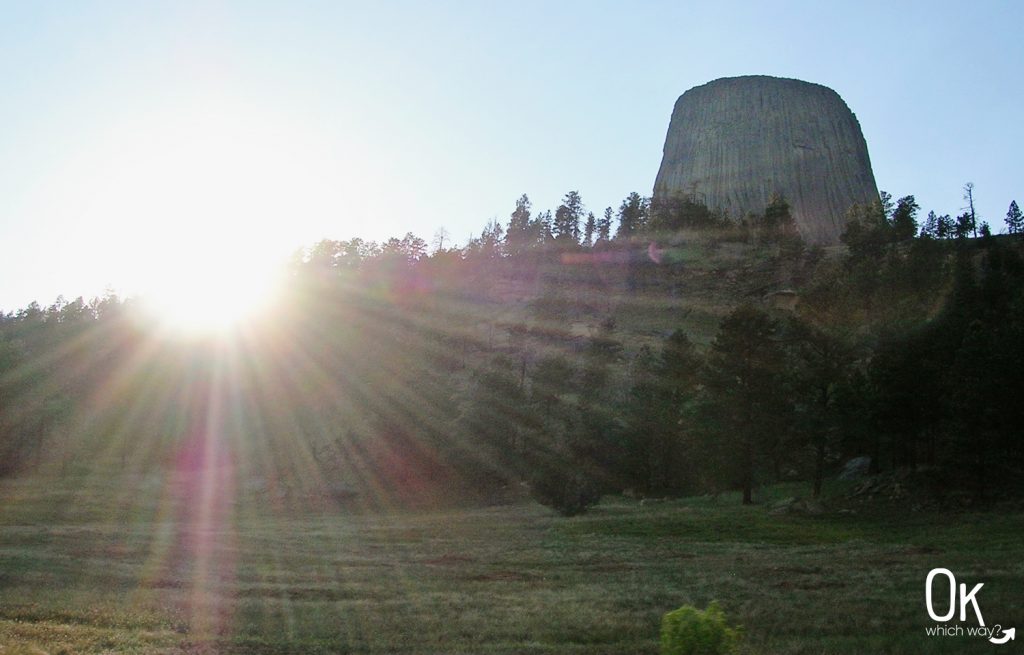 Tower Trail
The base of the tower is about 1 mile around and the Tower Trail follows it. The trail is paved, but is unstable in some spots. There are benches along the way and stunning views. As you hike around the tower, it is fun to notice how the formations change.
Be Respectful: Devils Tower is a sacred place to Native Americans. Prayer cloths are tied to tree branches around the base of the tower. Be respectful and do not disturb them.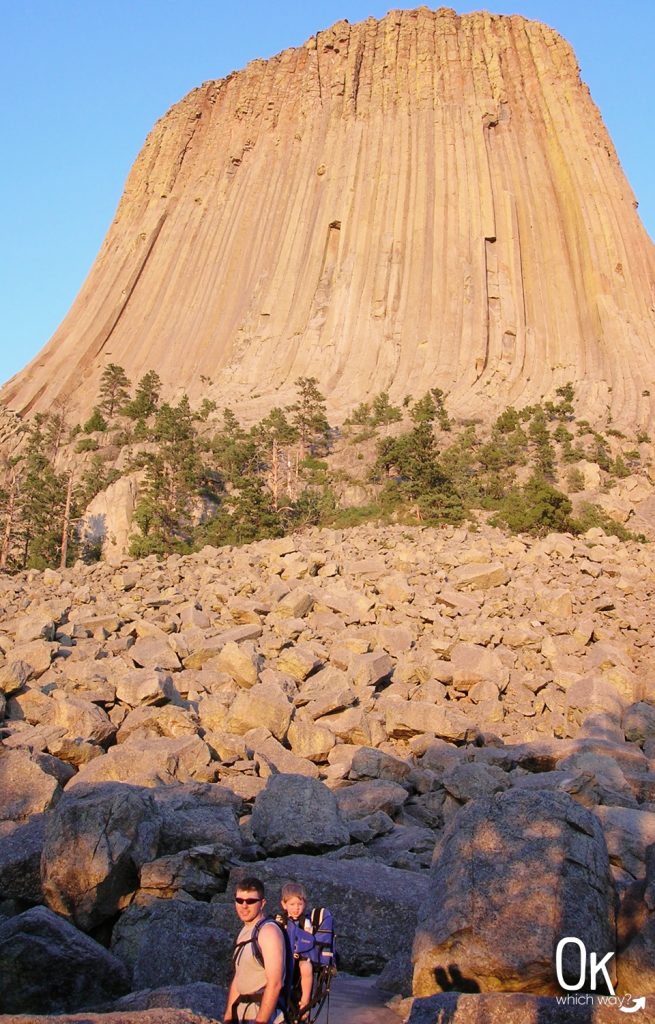 Quite the view from the base of the tower.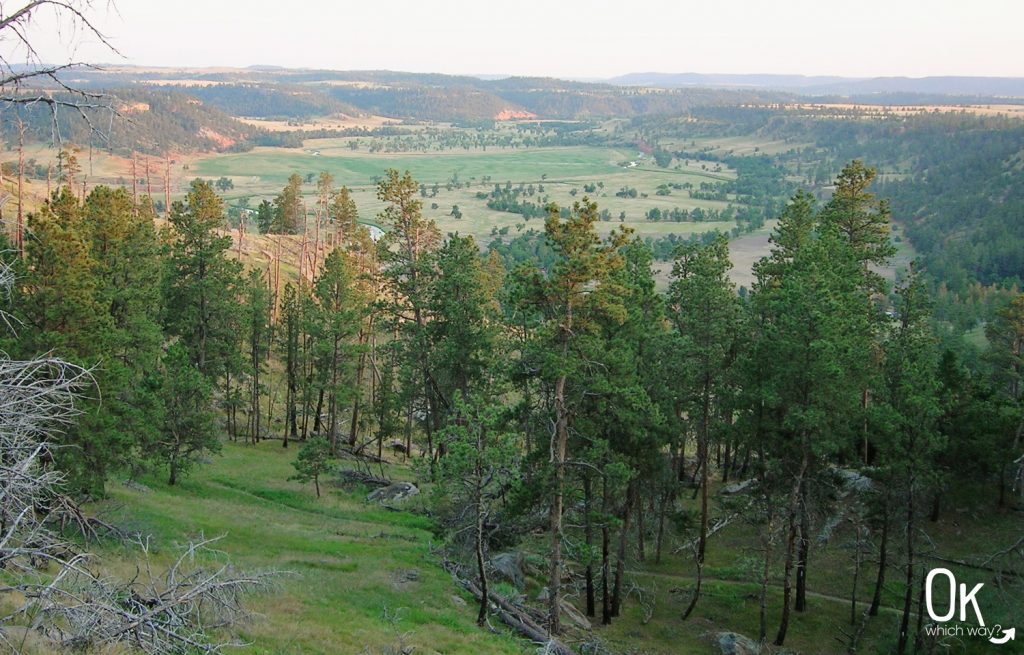 Climbers on a tower column. These columns are huge! This type of rock is created from magma – a hint into the tower's geological history.
Same tower, different views along the trail.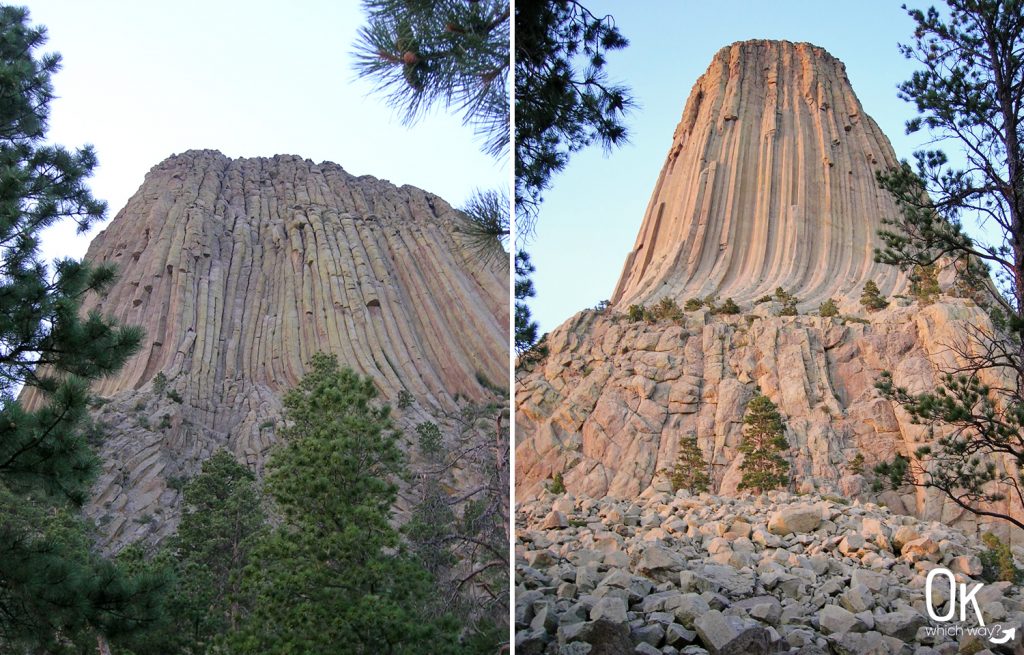 Wildlife
A variety of animals live near the Tower. We spotted a white-tailed deer among the ponderosa pines, a desert cottontail and numerous prairie dogs in the grasses, and a prairie rattlesnake laying in the road.
Belle Fourche River Campground
The Belle Fourche River Campground, located inside the park, is first-come, first-served.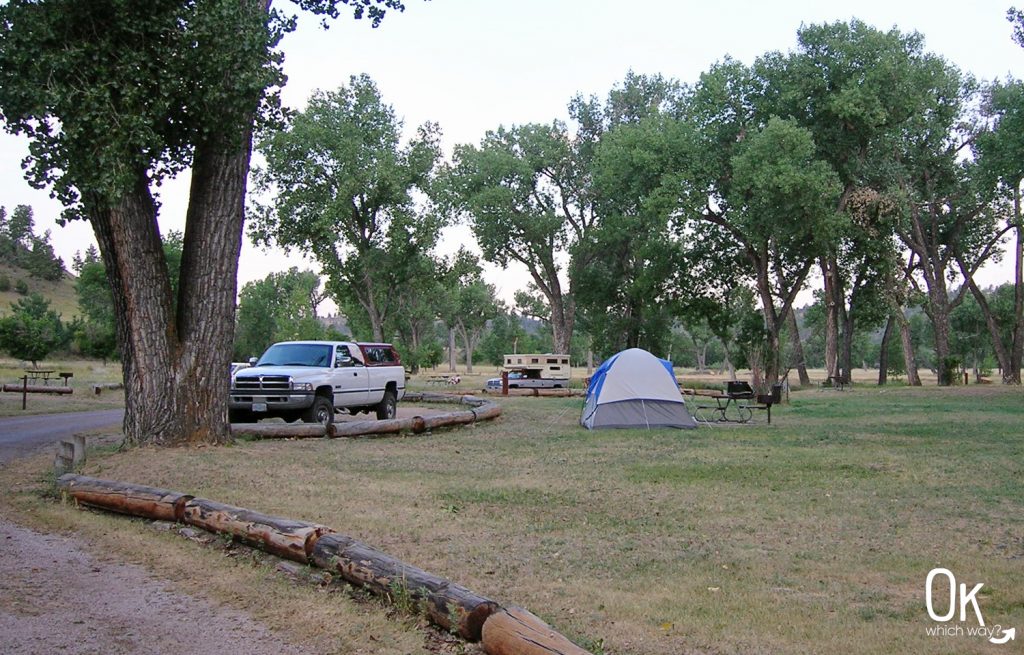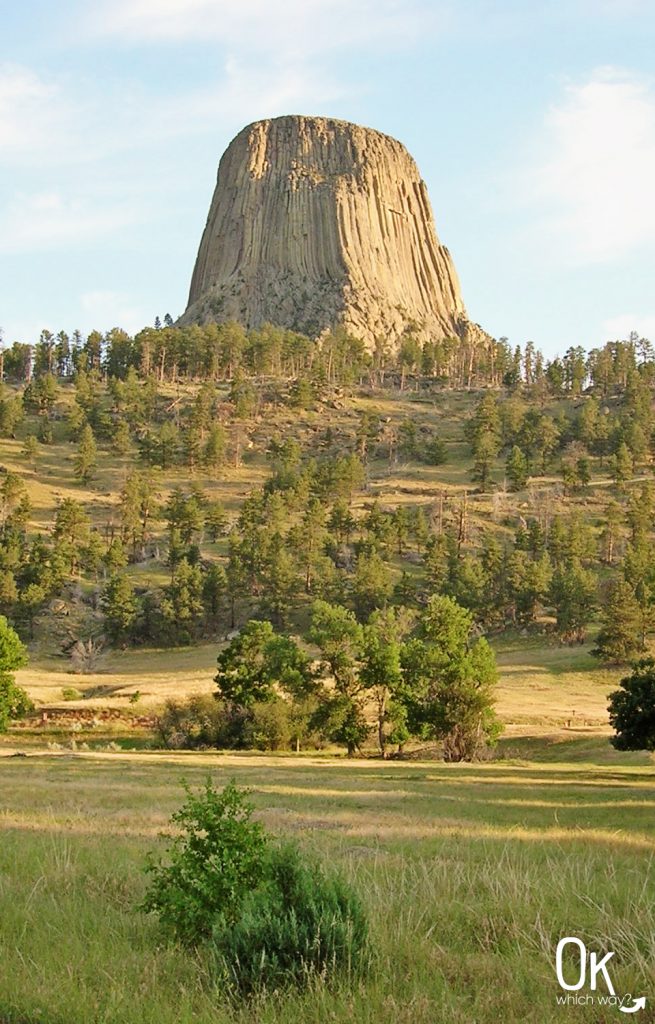 Personal Info
Date Visited: July 2006
What I Would Love to See Next Time: Circle of Sacred Winds sculpture – it wasn't there when we visited and I'd love to see it in person

Devils Tower:
Day 6
of 20 Day Road Trip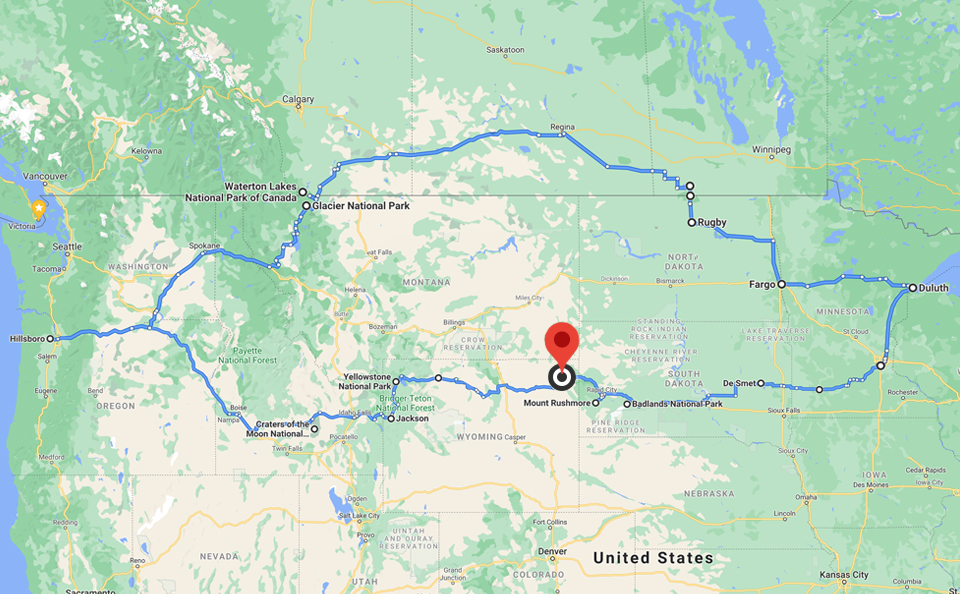 LEAVE NO TRACE
Weird, but True
Devils Tower is not a volcano even though it was formed by magma. Geologists have determined the tower was formed underground by magma that pushed up through the rock on the surface. The tower is completely solid – you could say it is rock solid.
Thinking About Exploring Devils Tower National Monument?
Pin This to Help Plan Your Trip ⬇