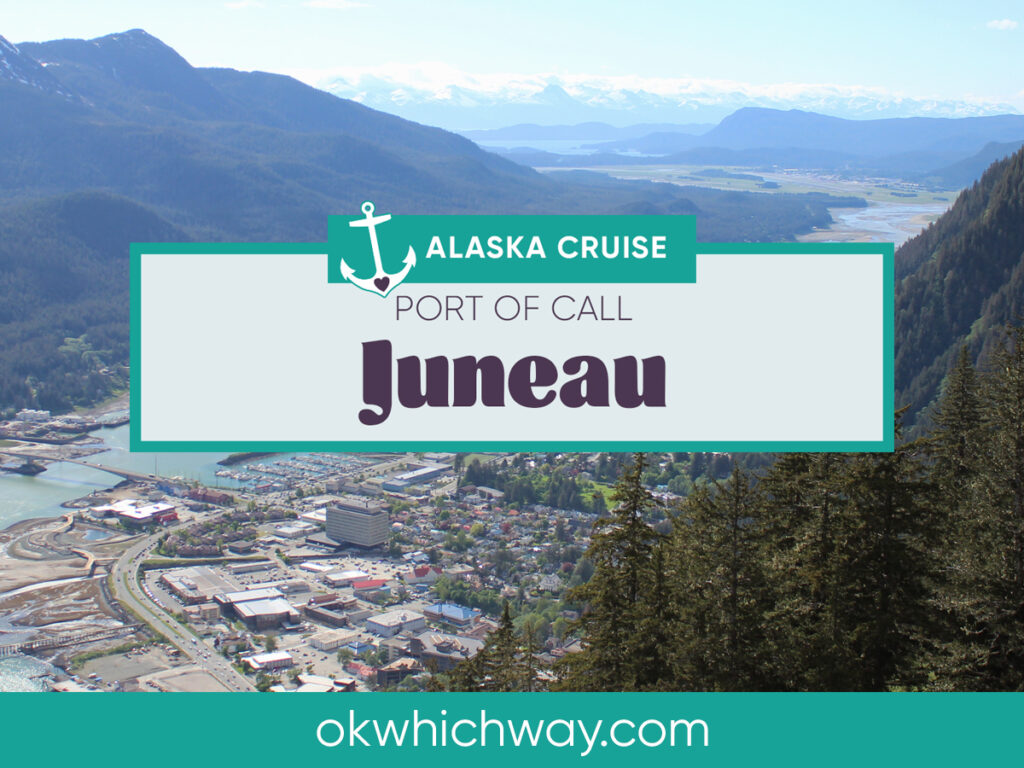 Holland America Alaska Cruise Juneau Port of Call
Our first port of call was Juneau, Alaska's capital city.
Many things make this area interesting, but one thing that stands out to me is that due to the mountainous terrain there are no roads connecting Juneau to the rest of North America, even though the city is on the mainland. Since everything needs to be shipped in, our tour bus guide said housing was quite expensive. We drove by what I would consider typical single family homes. Their cost? Half a million dollars.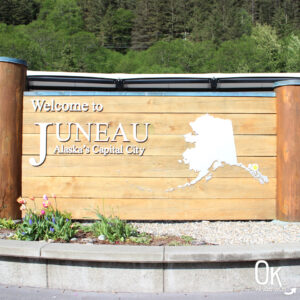 View from the Ship
The view from the ship was lovely. Photo on the left is the boardwalk with Mount Juneau in the distance and the one on the right shows the Mount Roberts Tramway.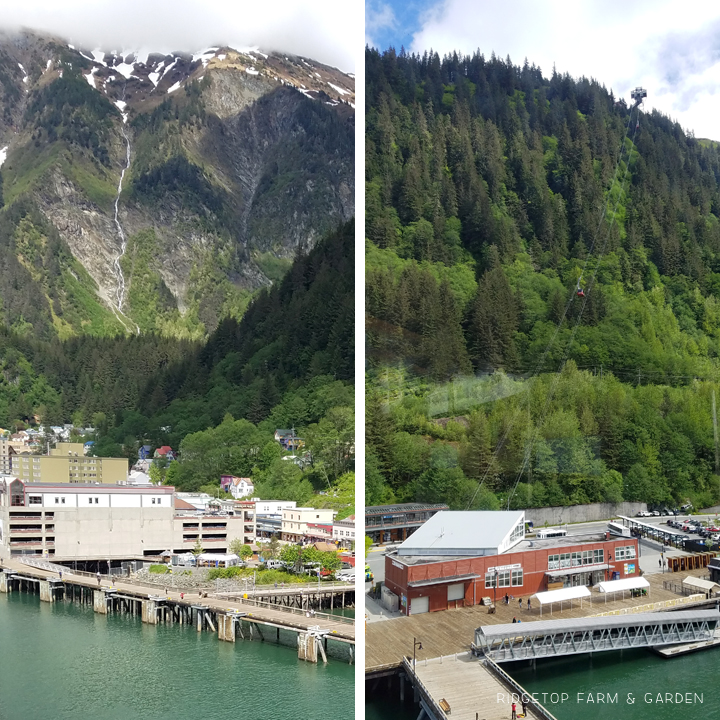 I booked an excursion to Mendenhall Glacier because I wasn't sure how easy it would be to find transportation. I'm pretty sure it would have been easy. The parking lot and shuttle pick up/drop off was right at the cruise terminal. Next time I will figure out our own transportation, so we have more time at the glacier.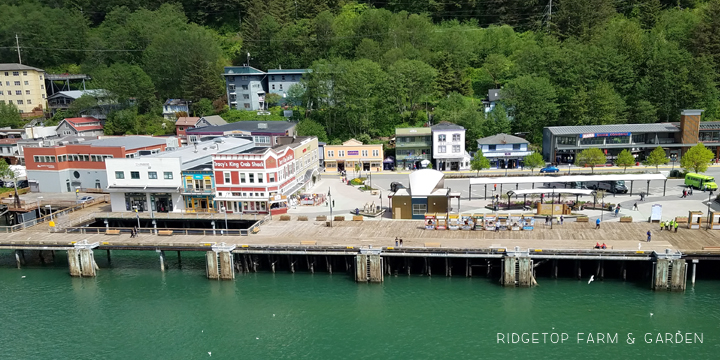 The nice thing about going with the excursion, though, was the guide pointed things out along the way. This area had more bald eagles than I have ever seen in one place. It was amazing.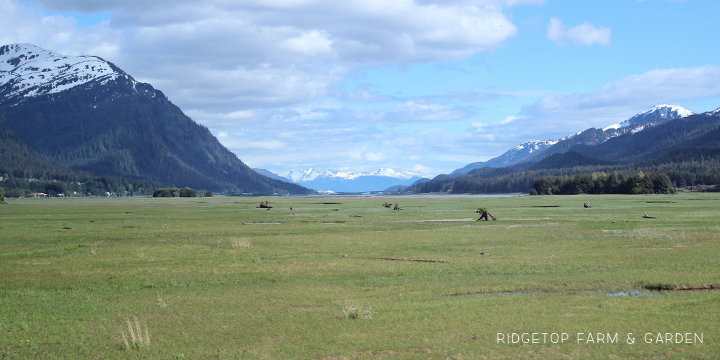 Mendenhall Glacier
It was a quick 20ish minute drive from the cruise terminal to the Visitor Center.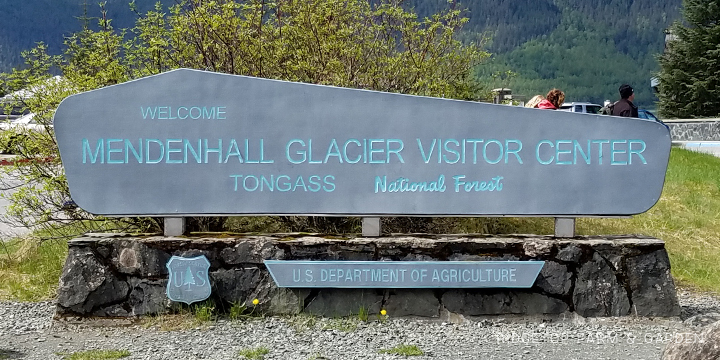 Our first stop was Photo Point, which has a great view of the glacier. Along the way were lovely forest sights.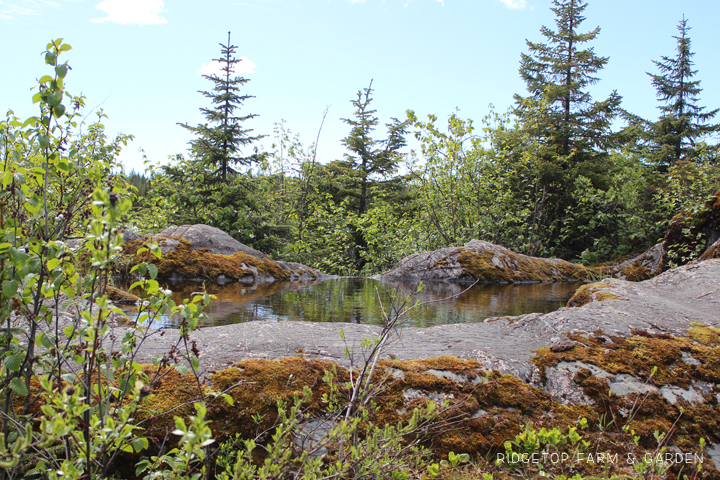 Mendenhall Glacier on the left. Nugget Falls on the right. In between is Mendenhall Lake.
Look at all that snow & ice! Mendenhall Glacier is one of many glaciers that come from the massive Juneau Icefield.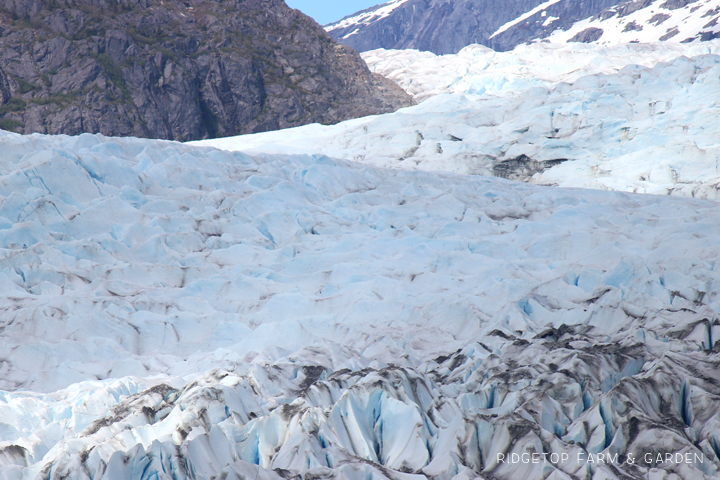 The thicker parts of a glacier absorb more red light than blue light. This results in the blue tint we see.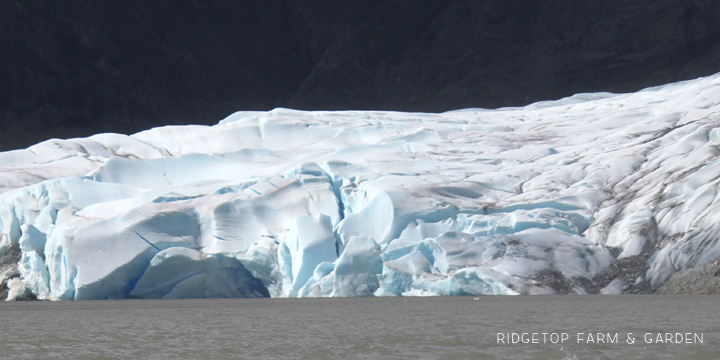 After ooing and aahing over the glacier we walked the one mile trail quickly to Nugget Falls. There is an outstanding amount of water gushing down this waterfall.
Unfortunately, we couldn't stay too long because we needed to walk the mile back to meet our tour bus.
From the beach area at Nugget Falls, facing the opposite direction was probably my favorite view of the entire trip. This photo doesn't even come close to showing off the amazing beauty of this natural area.
The Lake ♥ The Mountains ♥ The Trees ♥ The Icebergs ♥ The Colors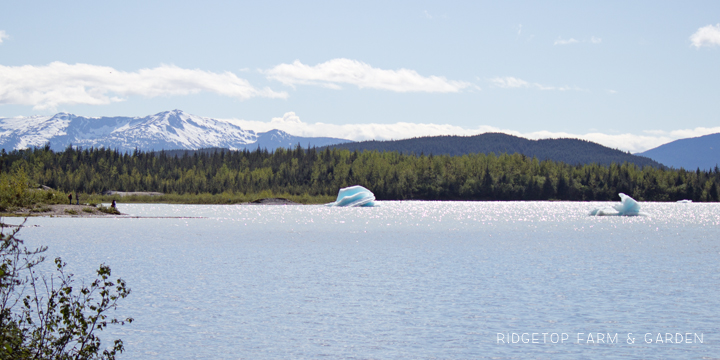 Close up of an iceberg in the lake. I can't help but wonder when did it break off the glacier and how long will it last.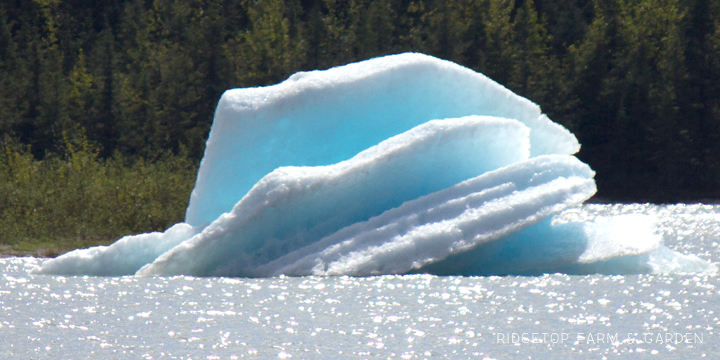 We didn't have time to explore the Visitor Center. But, I did run in and stamp our Passport to Your National Parks book.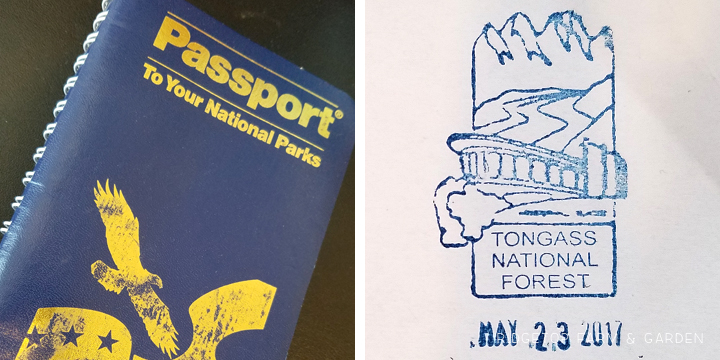 Mount Roberts Tramway
I'd give this portion of our Juneau visit about 2 out of 5 stars. There is certainly potential for it to have been a better experience, but ours was not.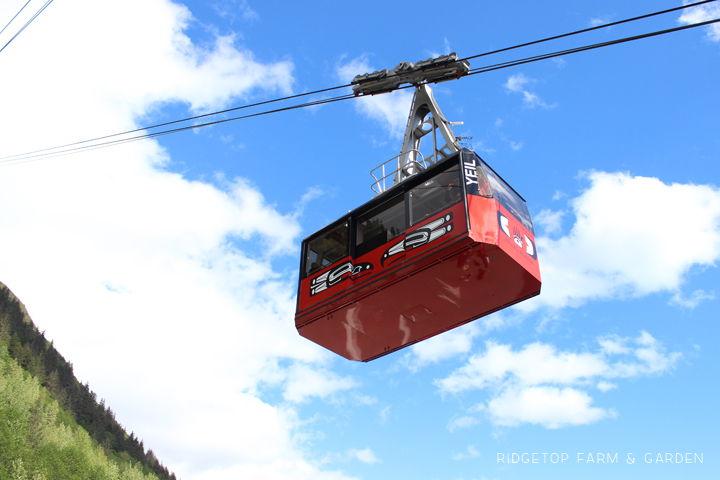 We boarded the tram at the bottom of the mountain with what seemed like plenty of time to explore the trails at the drop off point. Wrong. The line to get back down the mountain was an hour and half long. We pretty much had to get back in line as soon as we got there because our ship was going to be leaving not long after that hour and a half wait. Waiting in line took up all the time we had to explore. It was disappointing and made me a tad grumpy.
Instead of taking the tram, there is a trail you can hike to get down the mountain. We very much considered this option. However, we were told it would take an hour and half to two hours. We weren't exactly prepared for such a hike, but I thought the kids could handle it. In the end, we decided it seemed too risky. If there were any issues, we would miss our ship departing.
I really don't know if this wait is typical on a day when a ship is in port, or if it was a fluke.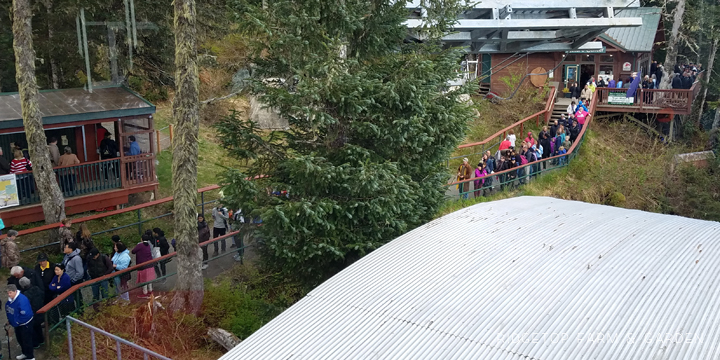 We did take a quick peek at Lady Baltimore, a bald eagle on site, and walk on a trail for maybe 5 minutes.
Left: The Tongass National Forest. I wish we could have seen more of it, but in many ways I thought it was similar to the forest we live in.
Right: Lady Baltimore. She was found shot on nearby Douglas Island. The shooting resulted in her being blind in one eye and injuring her right wing. She spends the summer at the tramway, serving as an education bird. She has a 7′ wing span and weighs 10.5 pounds.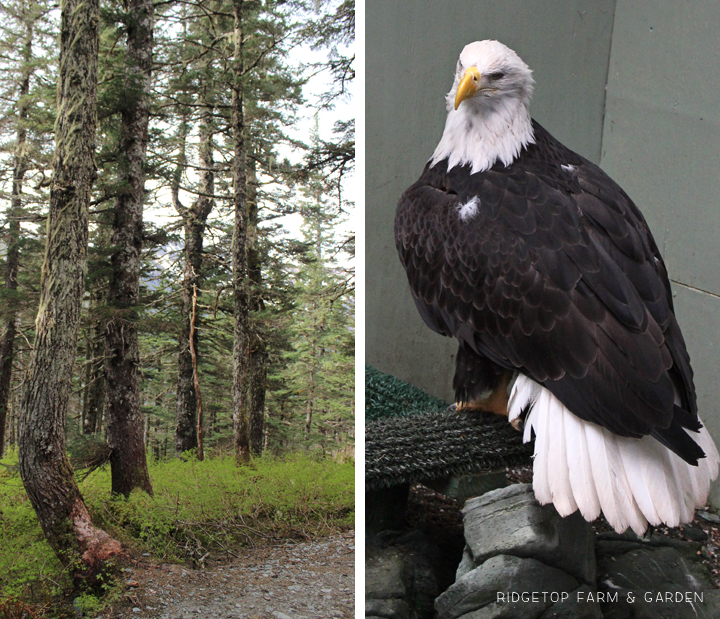 We quickly found a letterbox hidden a short distance up a trail. I was excited we found it – this almost made the wait in line worth it.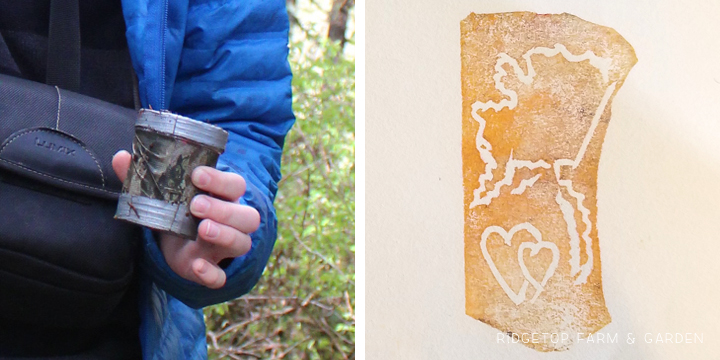 The view was pretty spectacular of the Gastineau Channel and Douglas Island.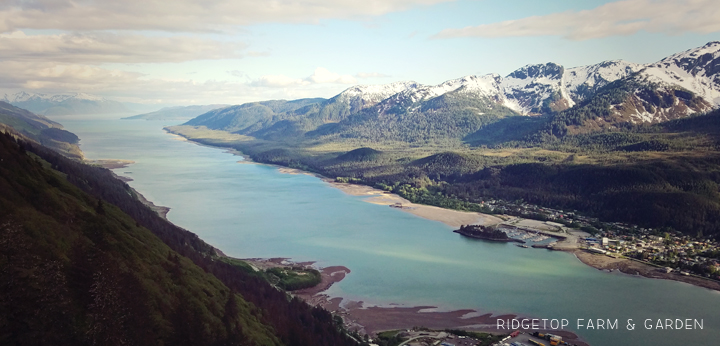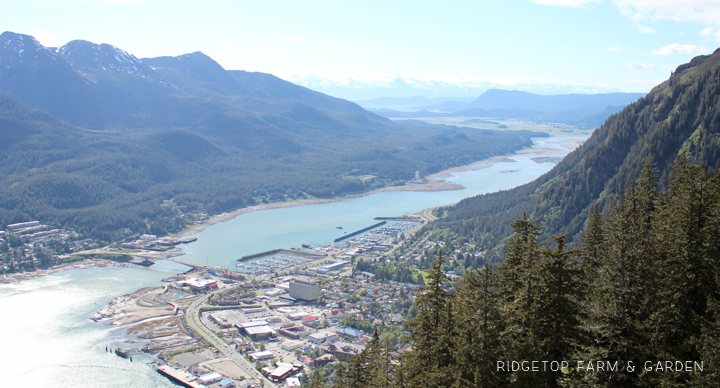 Our ship, the ms Oosterdam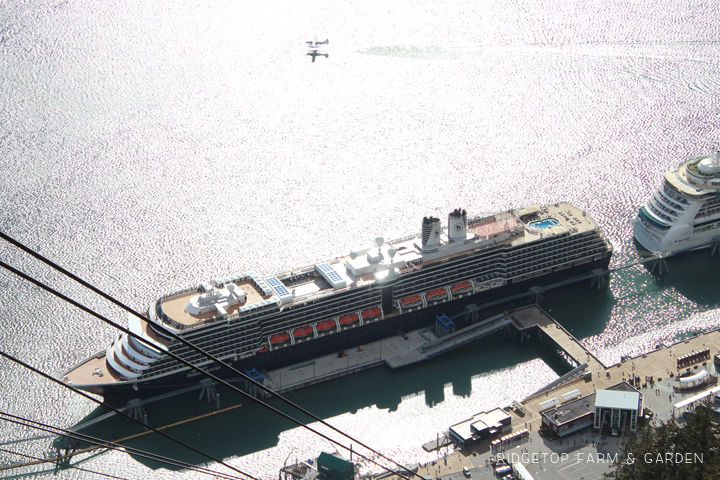 Shops
I don't know if they squeezed more passengers on each tram or had less wait time between rides, but our presumed hour and a half wait was only an hour. We used our extra half hour to take a short walk on Franklin Street.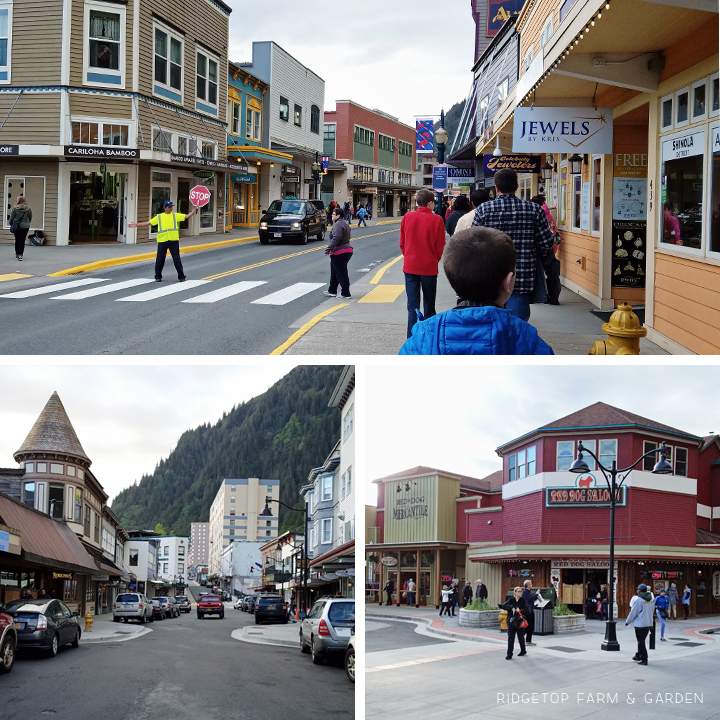 This was a day of ups and downs. Our visit to Mendenhall Glacier was a highlight of our entire cruise. I only wish we had more time to explore. When we're traveling on our own, I research many things to see with the hopes of seeing everything. But, if we're enjoying somewhere we stay a little longer and maybe give up seeing something else. In this case, we probably would have stayed as long as possible at the glacier and not had time for the tram. I would have been bummed to skip the tram, but would have felt less rushed at the glacier, therefore enjoying the day more.
Even with my least favorite parts of the day, I'm thankful we got to experience all that we did. Would I go back to Juneau? Yep.
7 Days on an Alaskan Cruise:
Thinking About Going to Juneau?
Pin This to Help Plan Your Trip ⬇