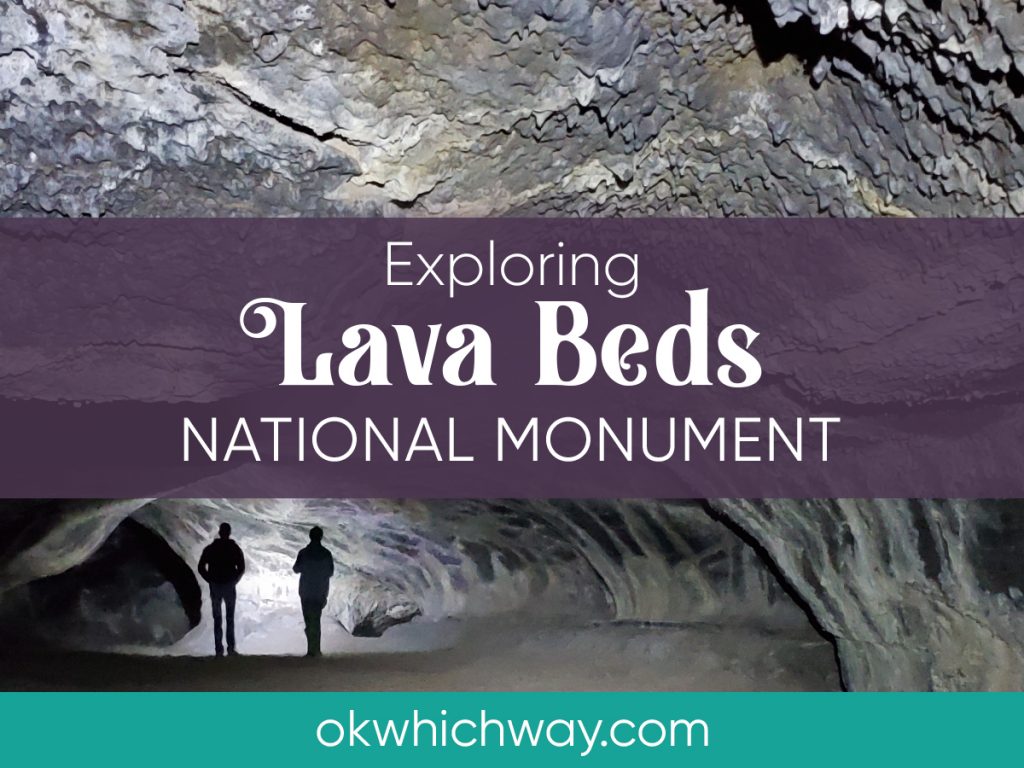 Exploring Lava Beds National Monument
On a Saturday in October, my boys and I explored Lava Beds National Monument. The caving enticed us to check out this lesser known park.
The majority of the parks infrastructure, such as roads and trails, were built by the Civilian Conservation Corps during the Depression.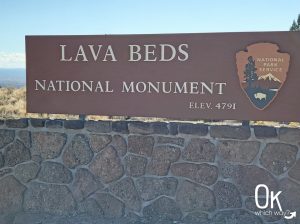 Park Info
Location: NE California. About an hour south of Klamath Falls.
Established: 1925
Elevation: 4791 feet
Things to See: lava flows, lava tubes, the Great Rift, spatter cones, & cinder cones
Things to Do: Explore the Visitor Center, become a Junior Ranger or Lunar Ranger, observe geology, go spelunking, climb a cinder cone, & stargaze
Lodging/Camping: Indian Well Campground. first come, first served.
Food: No restaurants
Dogs: Permitted in the campground and parking lots. Prohibited in the caves, Visitor Center and on trails.
Entrance Fee: $25/car click here to see current fee pricing
Park Maps: Link to park maps
Safety Reminder
Bring a jacket
Wear close-toed shoes
Carry two light sources per person
Getting to the Lava Beds
Lava Beds National Monument is located in north eastern California, pretty much near nothing. It's about an hour south of Klamath Falls and two hours from Mount Shasta.
We were coming from Klamath Falls and stopped by Tule Lake National Monument on the way, which meant we took County Road 111 into the park passing Petroglyph Point and Captain Jack's Stronghold. We should have stopped and explored those places because we didn't drive back by them on our way out of the park. We also should have bird watched at Tule Lake. That section of the lake had water.
When we left the park, we took the little bit quicker way back to K Falls via the Volcanic Legacy Scenic Byway. I intended to enjoy the birds at Tule Lake National Wildlife Refuge along the way. However, what I didn't know was that section of the lake had been drained.
A highlight of the drive were the multiple views of Mount Shasta.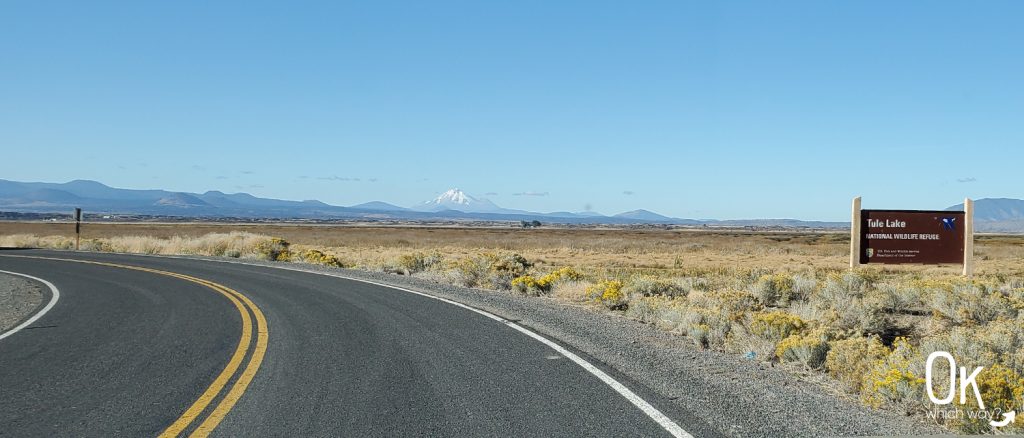 Visitor Center
The visitor center is located near the south end of the park. We entered at the north end, so it was a bit of a drive to reach the visitor center.
This is where you will get your cave permit. It's free. It's the park's way of ensuring you understand the concerns of white-nose syndrome in bats and how to keep it out of the caves. If you are going spelunking you need to get this permit and place it on your rearview mirror.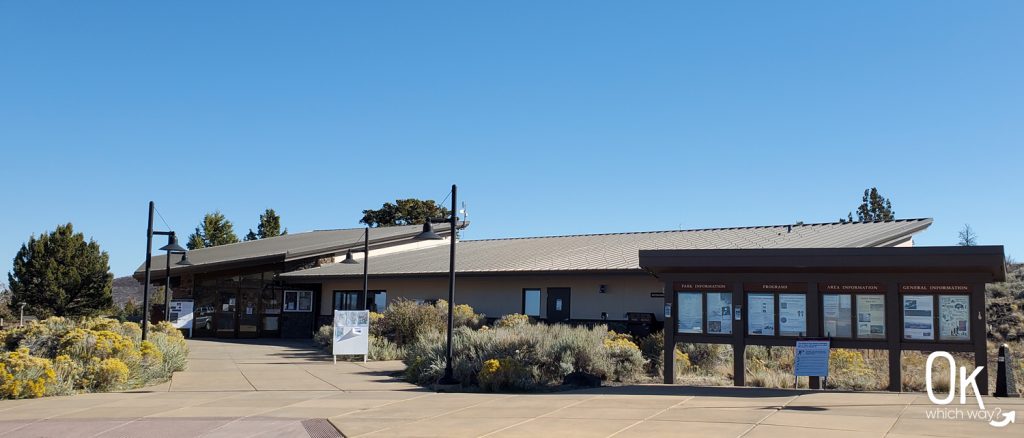 Spelunking
Lava Beds National Monument has hundreds of caves created from the Medicine Lake Volcano lava flow. During the eruption, molten rock flowed away from the volcano. Eventually, the lava began to cool and solidify on the outer edges forming tubes, with hot lava still flowing inside. The lava inside drained and left behind what we refer to as lava tubes.
The caves vary in difficulty. Some are kid friendly with easy entry and a path. Others require crawling over rocks and ducking to avoid bonking your head on the cave ceiling.
We asked a ranger at the visitor center which caves to consider. I'm glad we did because some were closed due to bats nesting in the caves and some were closed due to recent fires in the area.
We chose to explore five caves rated as easy.
Mushpot Cave
770 foot lava tube
I highly recommend this cave, especially if you have someone with you that is nervous about caving. It's located along a paved path from the visitor center. The cave is lit and has multiple interpretive signs. It's also not very long, but long enough to get the feeling of being inside a cave.
I'll admit, I thought it was going to be too easy and not very enjoyable. I was wrong. It was a great intro to our day of caving.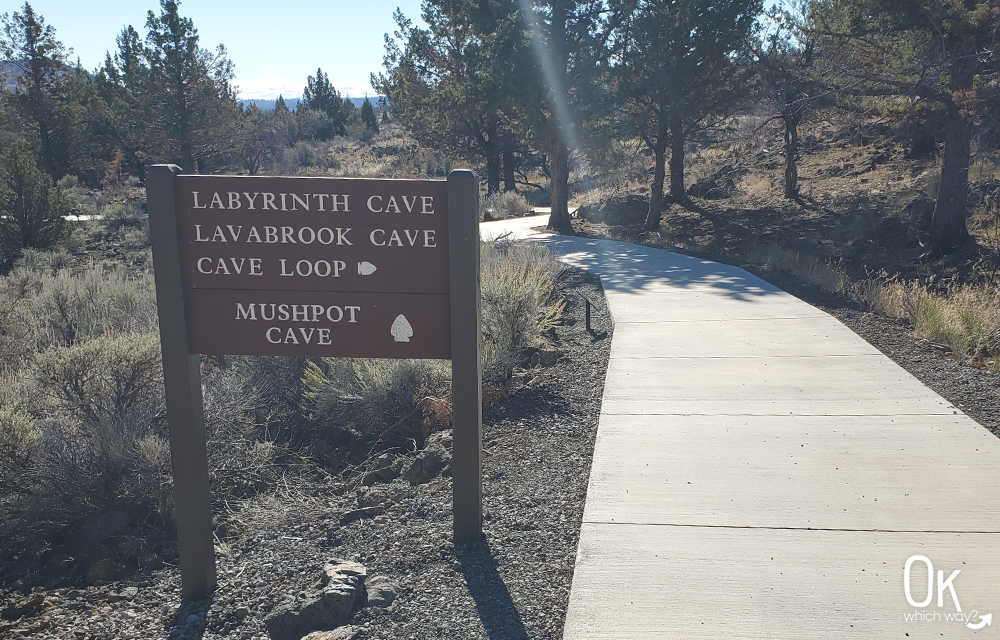 This mushpot, is the namesake of the cave.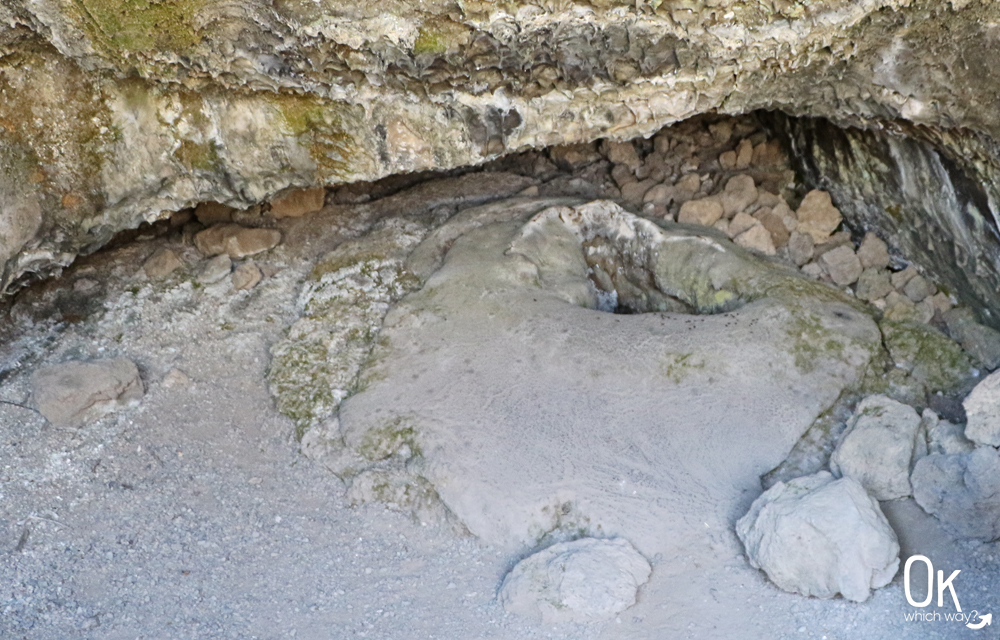 A lava tube full of textures. 💛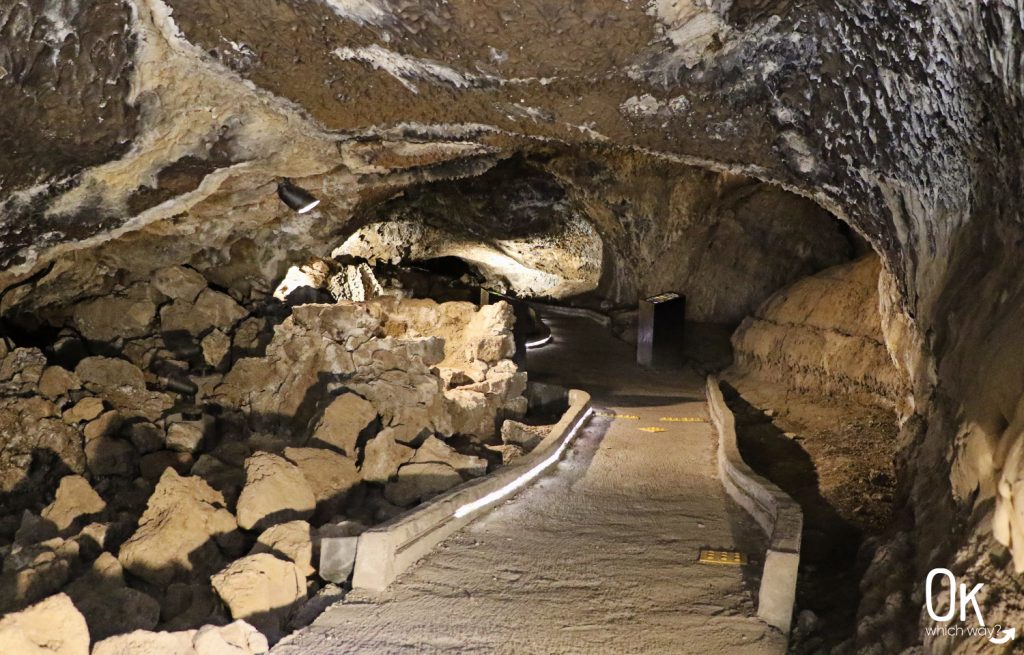 Skull Cave
580 feet long
I enjoyed walking into this large cave. It was pretty wide and had a path to walk along.
The cave got its name from the many bones discovered inside.
The reason we picked this cave was for the ice. After descending down metal stairs we came to the end of the cave. It was blocked off and we could peek through to see the ice. We were there in October, so maybe it gets more impressive during the winter. But, I wasn't overly excited by the ice.
Look up. We noticed a few icicles hanging from the ceiling over the ice.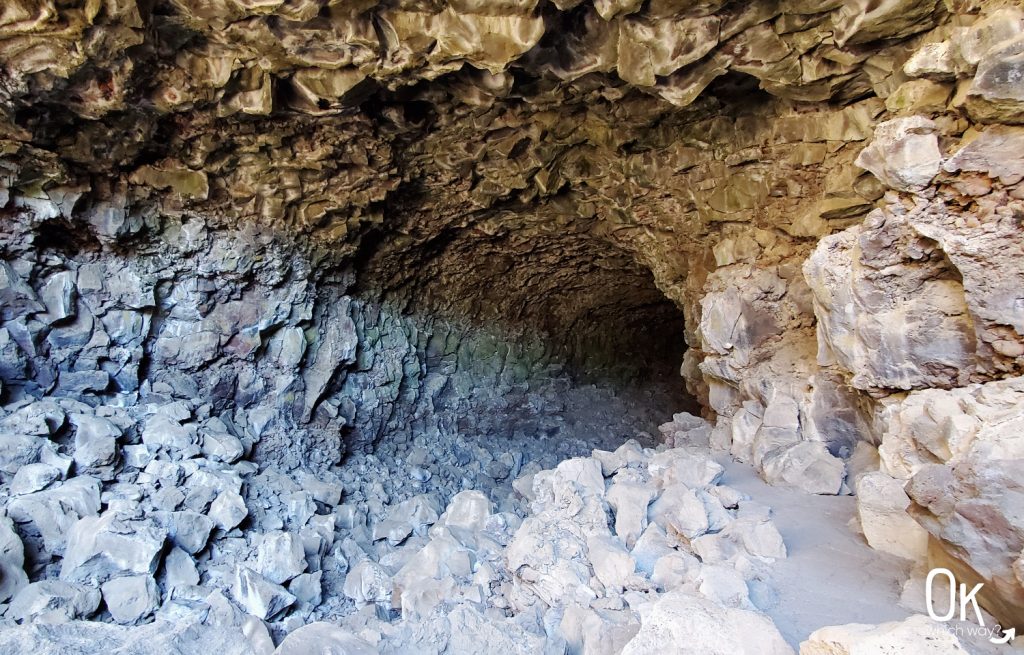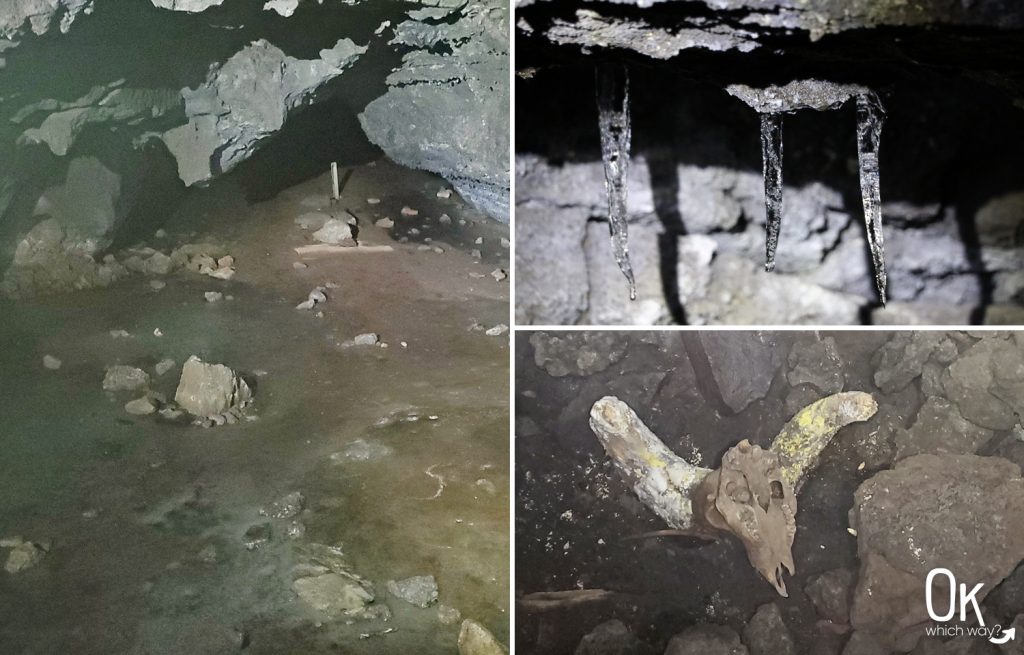 Symbol Bridge Trail
Located along the same road to Skull Cave is the Symbol Bridge Trail which meanders through the lava bed to Big Painted Cave and Symbol Bridge.
The trail goes about 3/4 of a mile walking towards Schonchin Butte.
It wasn't a problem for us as it was kind of a chilly day, but there is no shade along the trail. I can imagine it would not be a pleasant hike on a summer afternoon.
The highlight of these two caves are the Native American pictographs.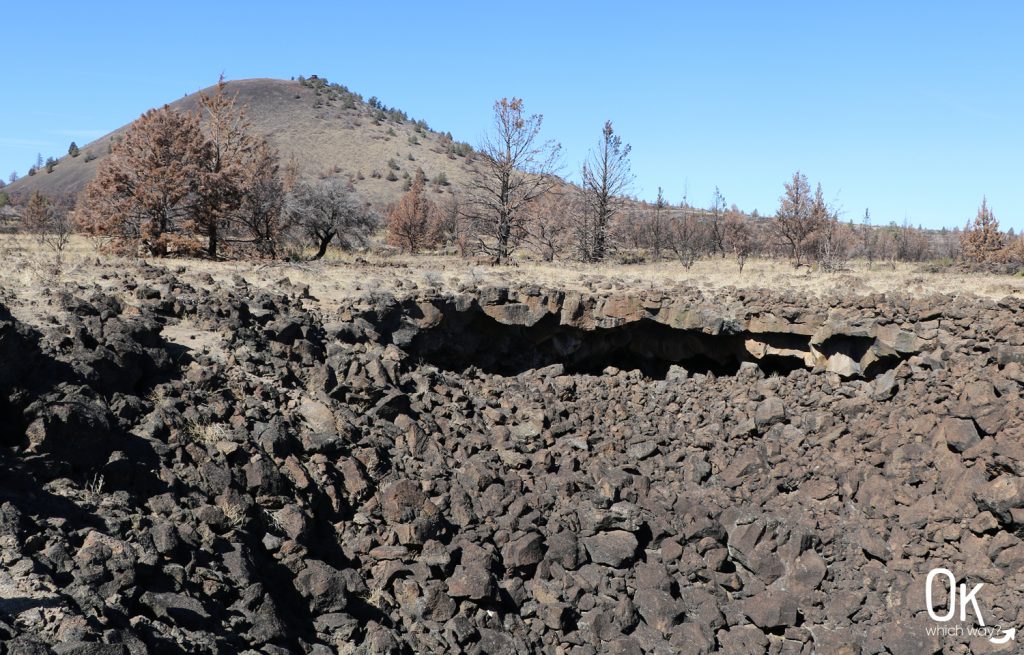 There are no signs directing which way to go. When you reach this fork in the path – to the left is Big Painted Cave and a little bit further ahead to the right is Symbol Bridge.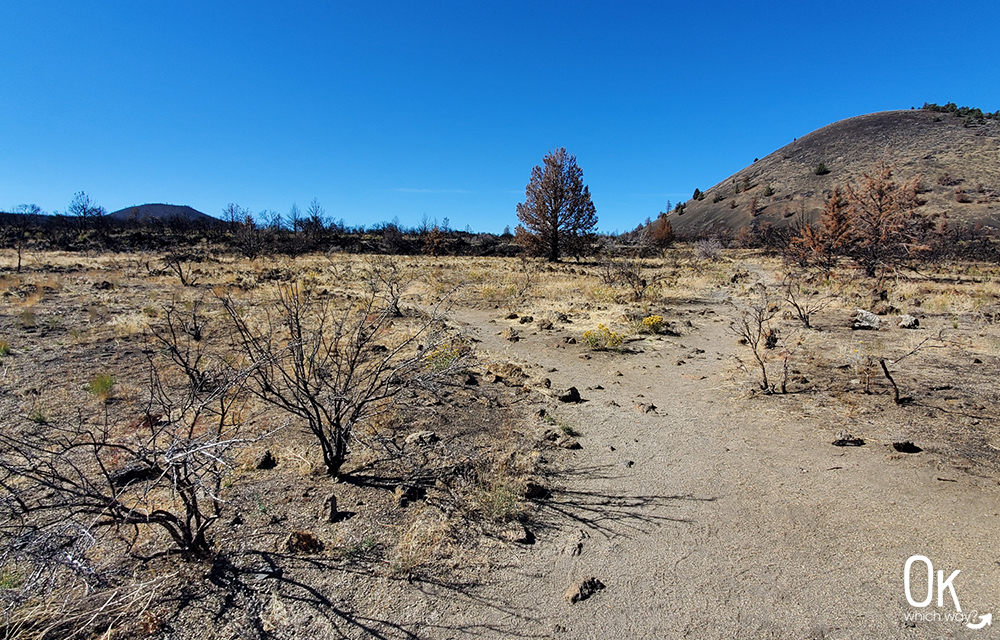 Big Painted Cave
266 foot deep cave/bridge
I was thankful for these steps, so I didn't have to climb over rocks to reach the pictographs.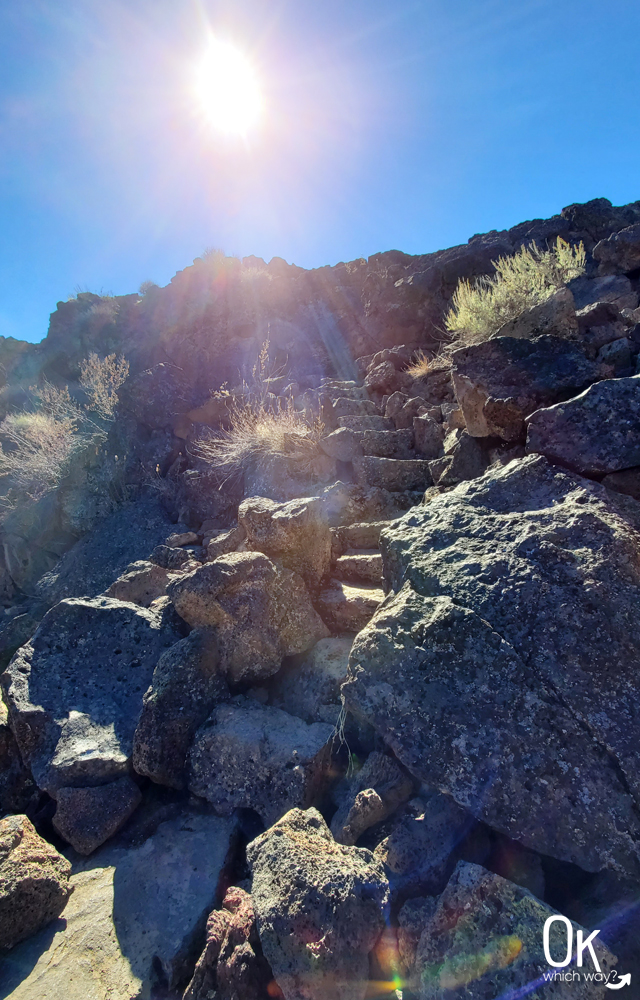 The pictographs in this cave were kind of difficult to spot, but we did notice some along the skinny path going deeper into the cave.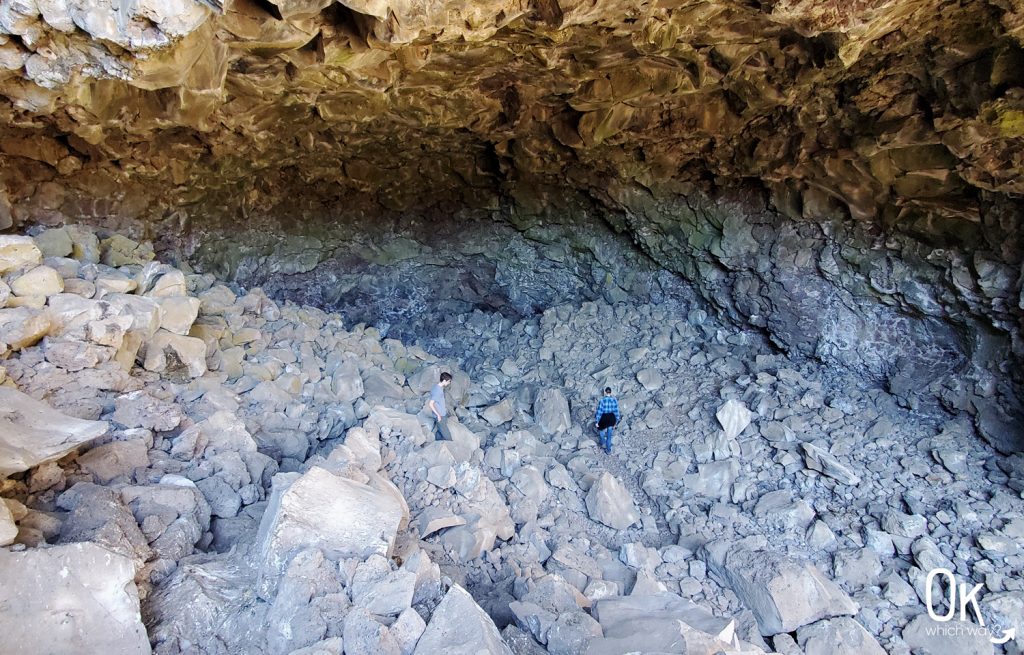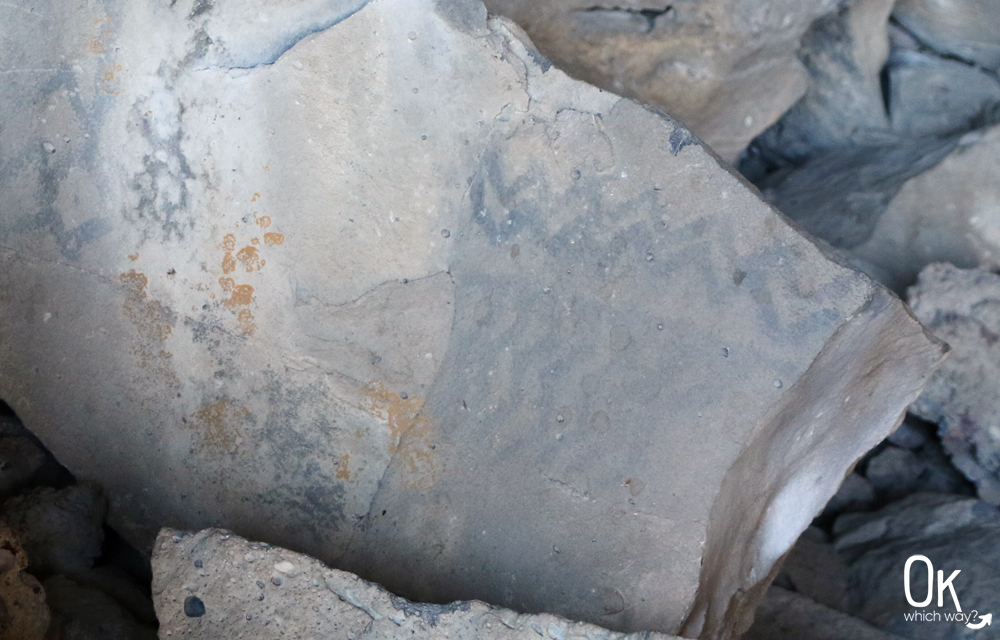 Symbol Bridge
148 foot deep cave/bridge
This cave is shallow. A good choice for those not interested in dark places.
Once you descend into the cave, the pictographs are along the wall off to the right.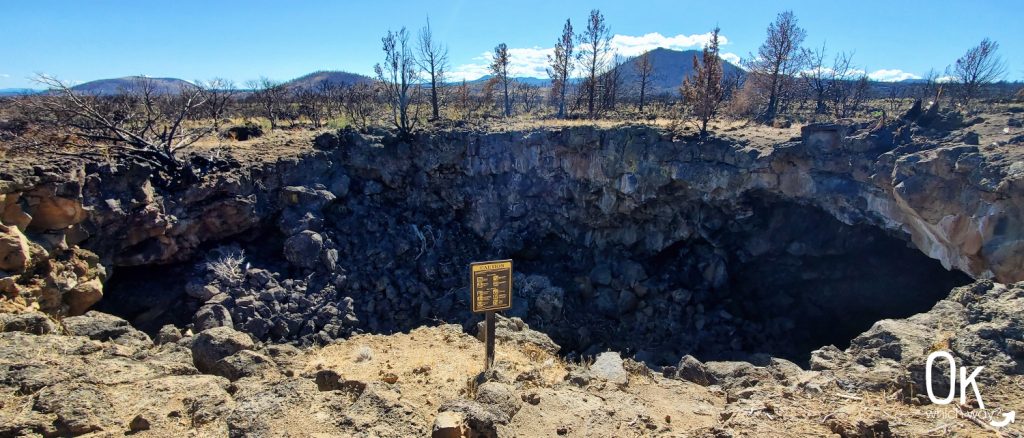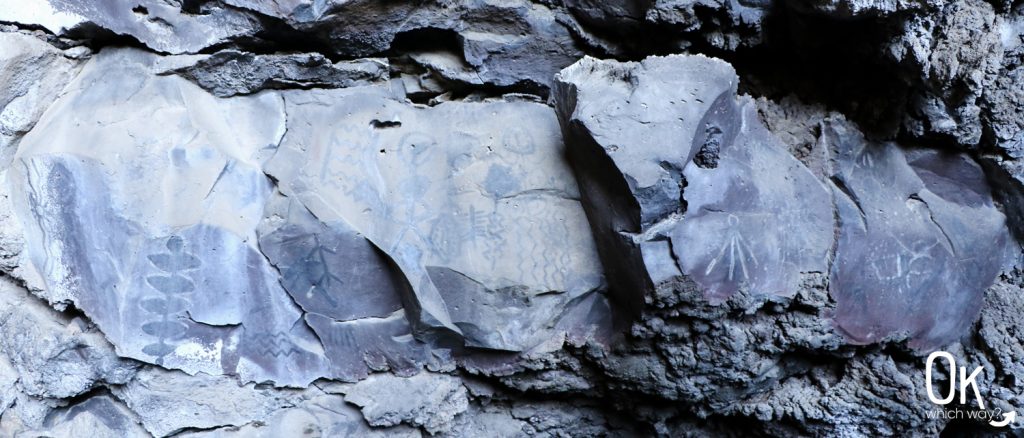 Valentine Cave
1,635 foot lava tube
Valentine Cave was, by far, my favorite to explore.
It is a lava tube, so much longer than the shallow caves of Big Painted Cave and Symbol Bridge.
I simply enjoyed the sheer size of this cave. For the majority of the cave we could stand and walk reasonably easy on the uneven ground.
At the entrance of the cave, we met a boy who was leaving. He was in awe and told me, "It's beautiful back there. It's like gold on the ceiling!" He wasn't exaggerating. It was spectacular.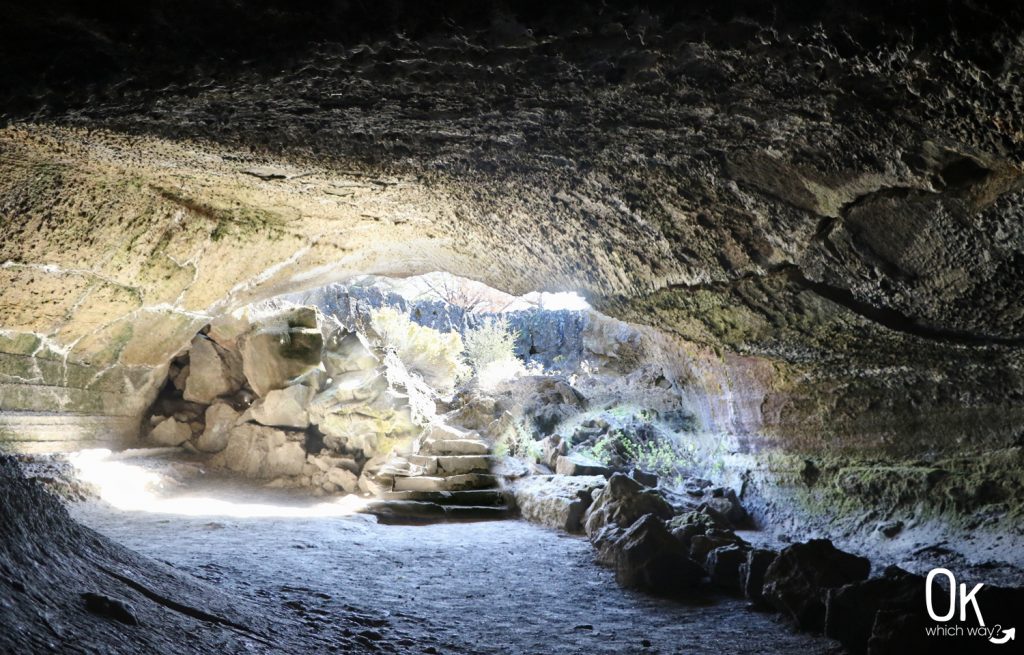 As soon as you descend into the cave you are greeted with a grand centerpiece. The wow factor of this cave was on point.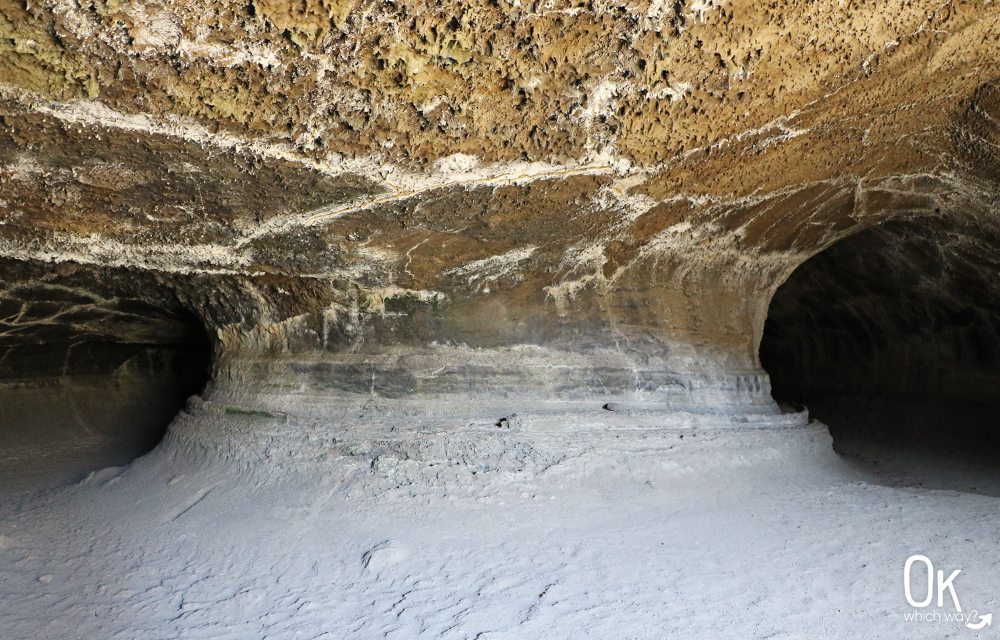 This cave was full of textures. One of my favorites is the drippy bits hanging from the ceiling.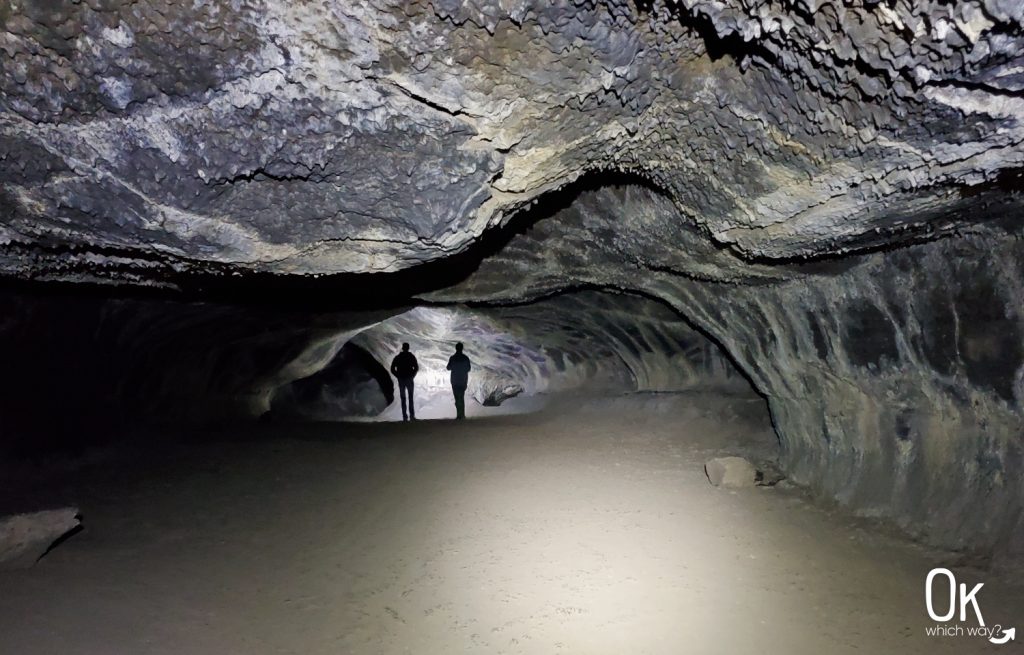 This just doesn't come close to how amazing the ceiling was. It appeared to sparkle in silver and gold. Even individual water droplets dotted the ceiling creating a different effect.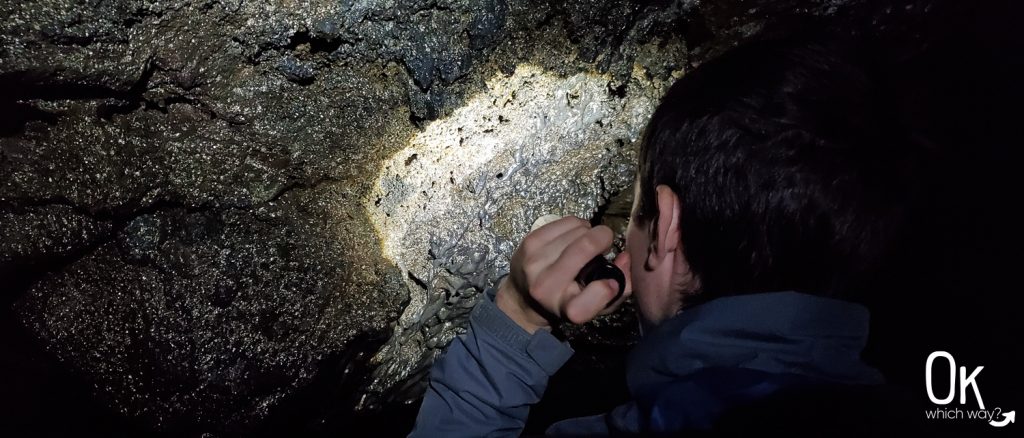 Walking passed the silver and gold ceiling led us to a section that we had to crawl through. We didn't go far, but it was fun crawling over the old lava flow.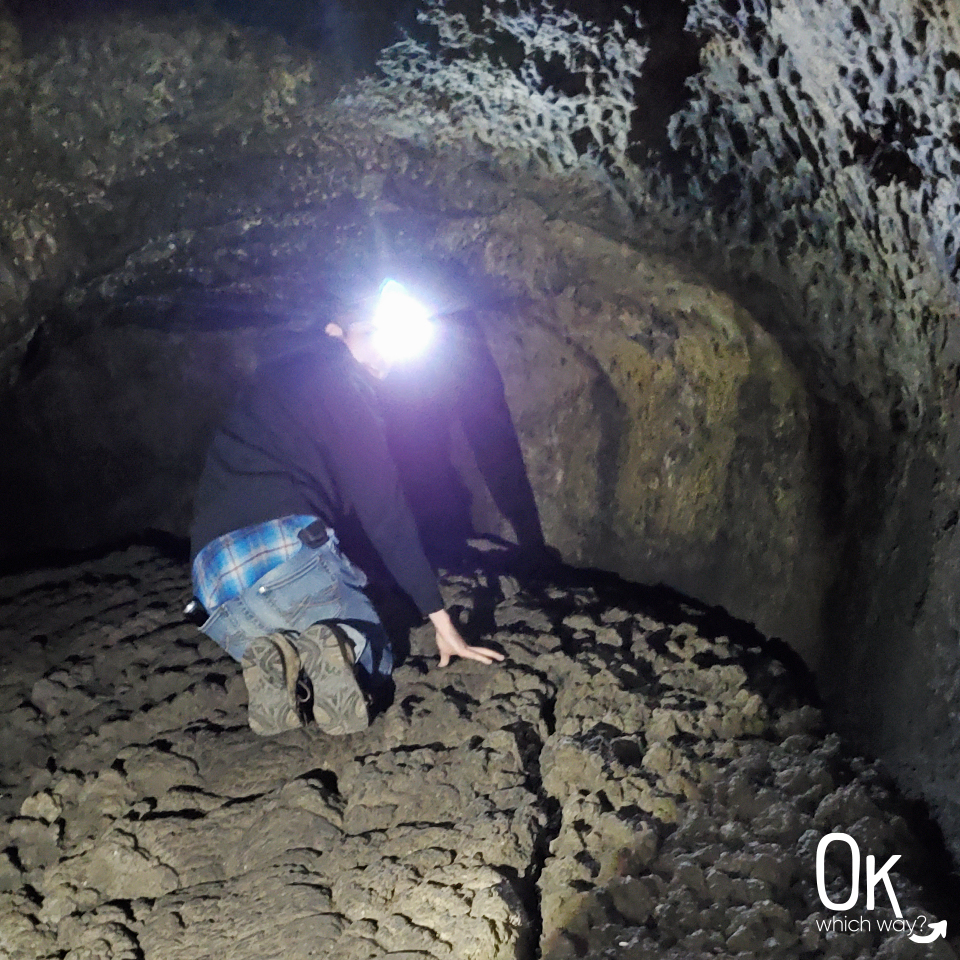 Look closely. There is a lot to discover in this cave.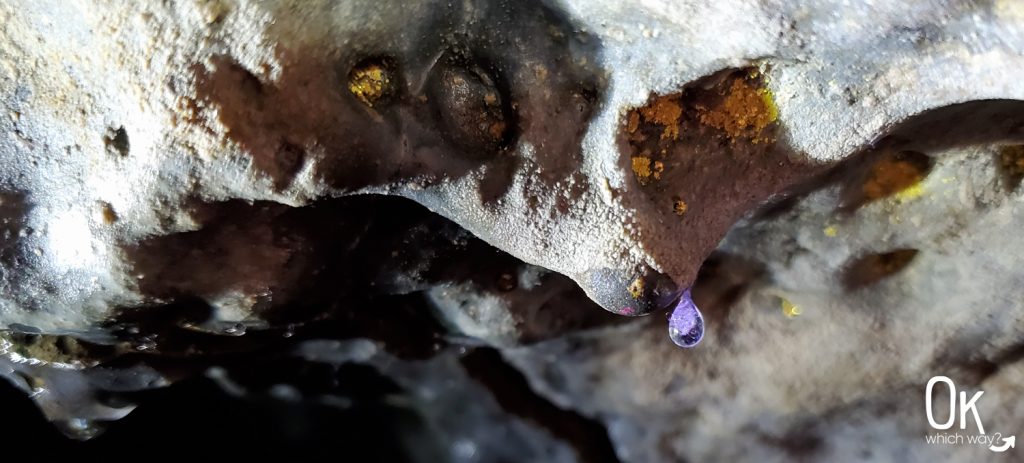 More to See
The caves are definitely the highlight of this park, but there is plenty to see above ground, as well. I get so excited seeing natural elements of an area.
Lava Types
The different forms and character of lava amaze me. I especially like the rope-ish Pahoehoe lava.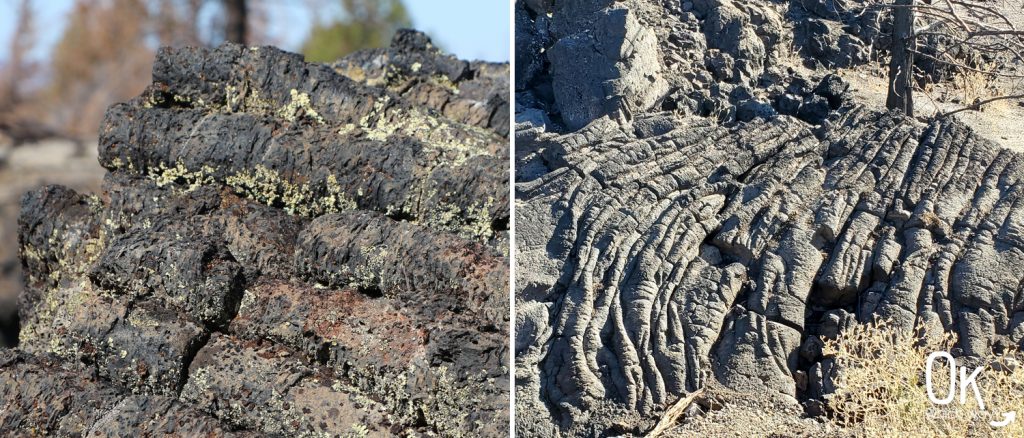 Flora
We visited in October. There wasn't much, in the way of colorful flowers, but we did notice some.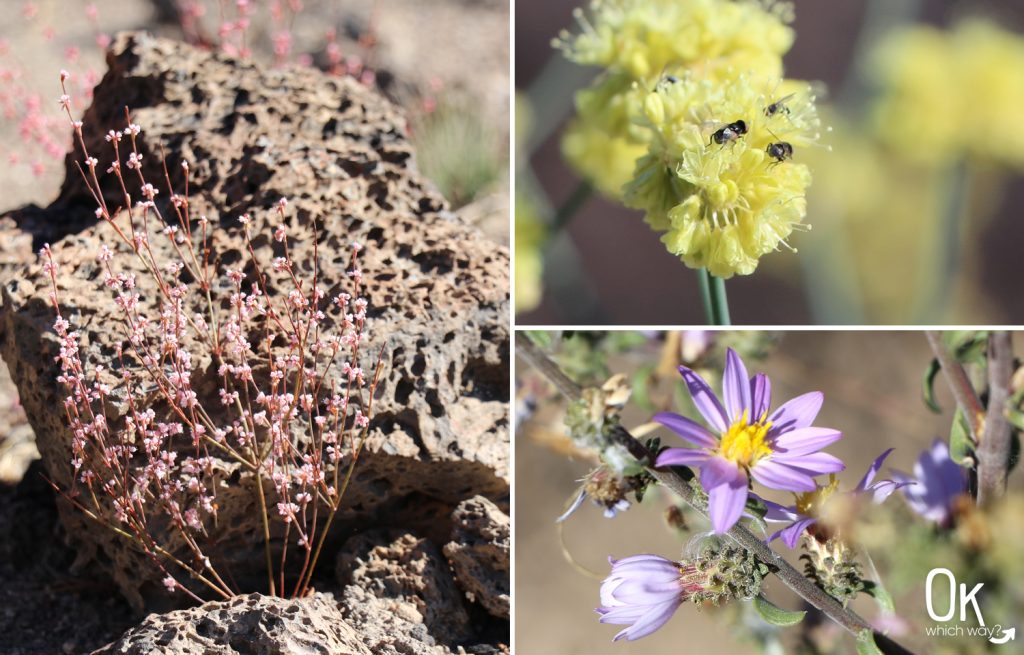 Wildlife
We spotted a couple lizards, deer, squirrels, and birds. There are also snakes in the area including rubber boas, which would have been fun to see. Rattlesnakes are also located here, which I'm perfectly content having not seen.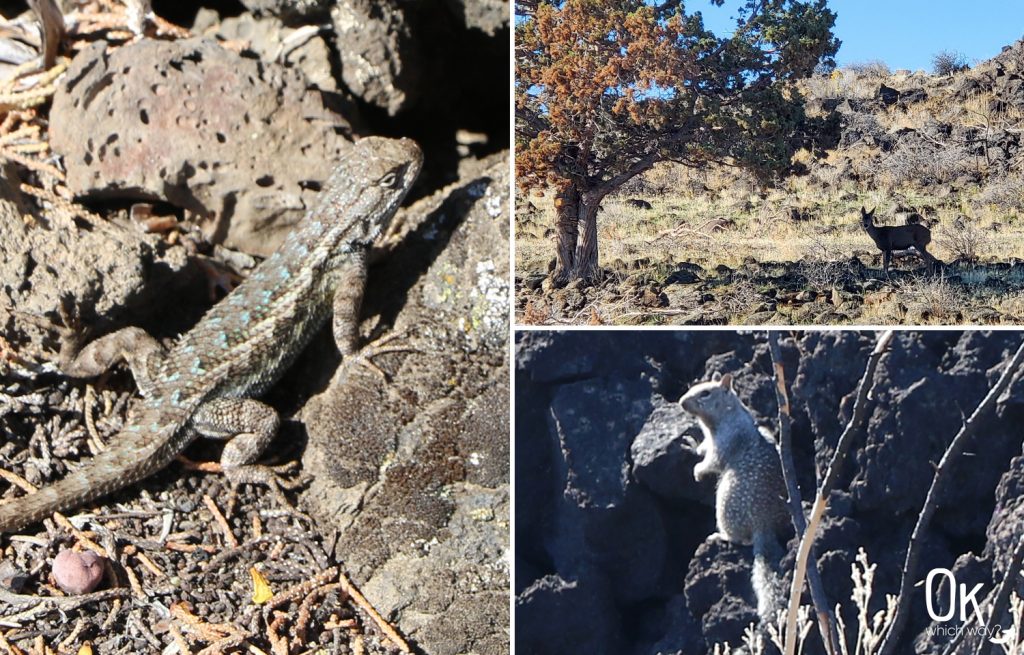 Where to Stay
The park does have one campground, available on a first come, first serve basis. If camping is not your thing, there are lots of hotel options in Klamath Falls. We've stayed in good hotels there, but I cannot post this without mentioning not to stay at the Super 8.
Optional Items to Bring
Circle of Discovery Road Trip
Lava Beds National Monument is one of 7 national park sites located in southern Oregon and northern California:
Volcanic Legacy Scenic Byway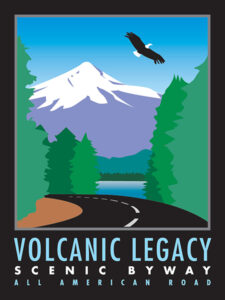 The highway to Lava Beds National Monument is part of the Volcanic Legacy Scenic Byway. This All-American Road travels through southern Oregon and northern California highlighting a number of volcanoes and National Parks including Crater Lake National Park and Lassen Volcanic National Park.
Thinking About Exploring Lava Beds National Monument?
Pin This to Help Plan Your Trip ⬇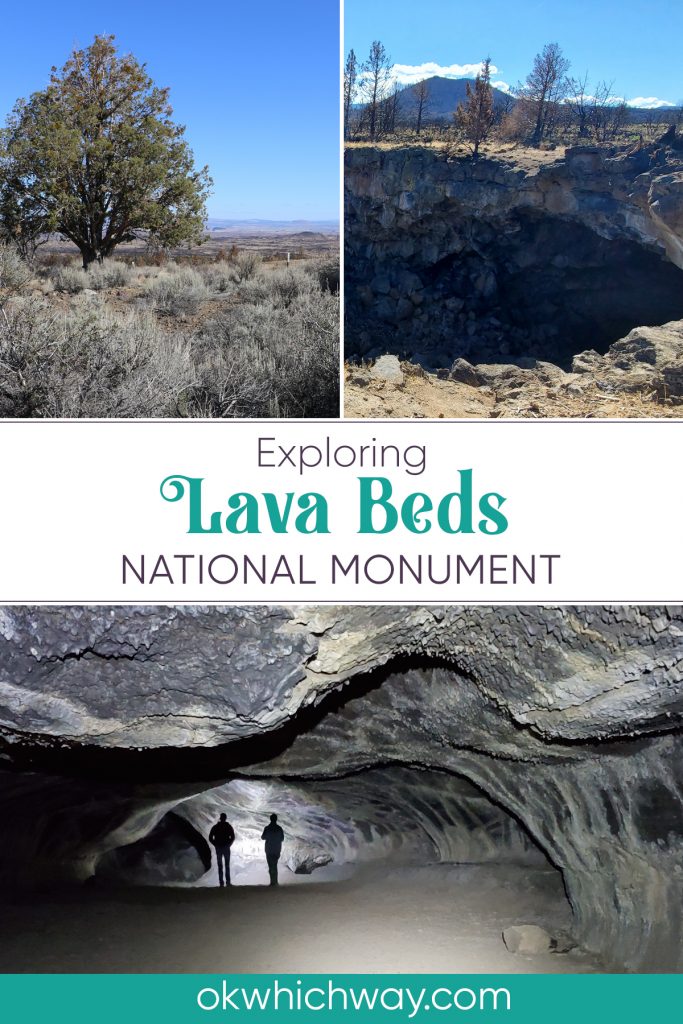 Other Places to Visit in Northern California