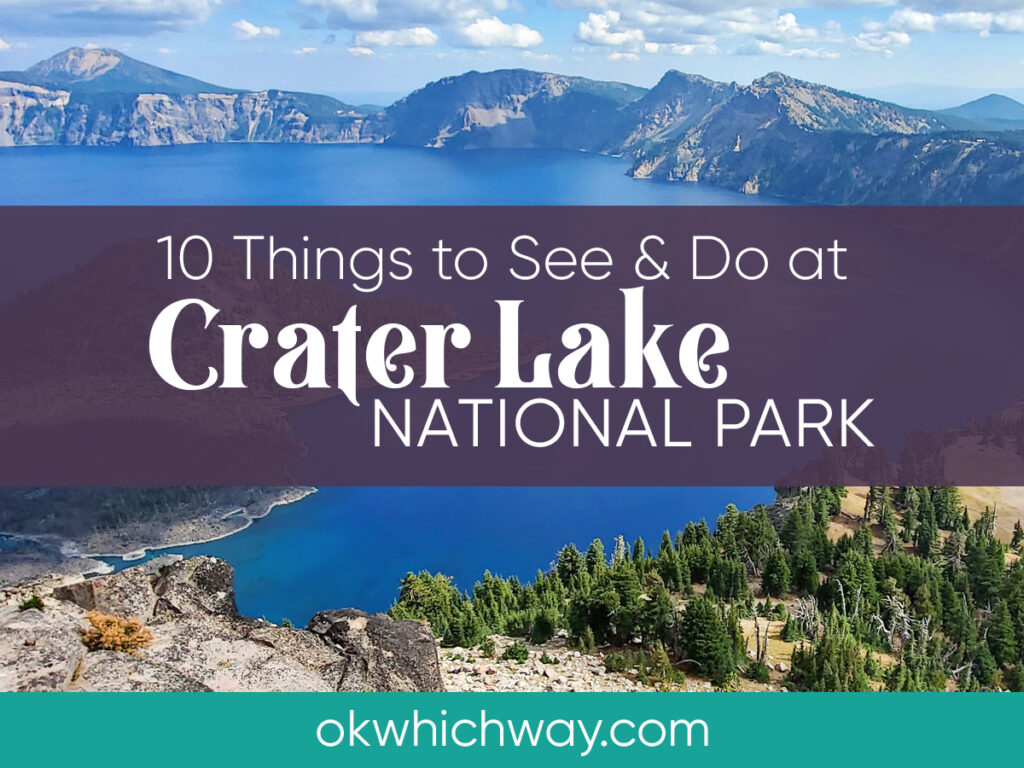 The Best of Crater Lake National Park
As an Oregonian and a National Park enthusiast, I think Crater Lake is pretty darn awesome. The lake sits within the caldera of Mount Mazama, a stratovolcano that once stood 12,000 feet tall. After Mazama erupted, emptying it's lava filled conical structure, it collapsed. Over time, rain and snowmelt filled the lake. When visiting the Pacific Northwest, don't miss spending a day or two at this picturesque location.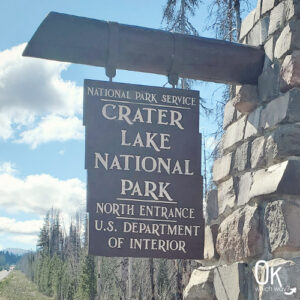 Ok Which Way is a participant in the Amazon Services LLC Associates Program. Our posts may contain advertisements or affiliate links, which means we will make a small commission if you buy any products that have been linked to on this blog.
Park Info
Location: Southern Oregon – not near a whole heck of a lot. Less than an hour's drive from Klamath Falls. 2 hours from Bend. 3 hours from Eugene.
Seasonal Closures: The park is open year round, but much of it is closed to vehicles from about November until June. We went once in July, and most of the Rim Drive was still closed due to snow.
Established: Designated a National Park in 1902
Lodging/Camping: 2 lodging options: Crater Lake Lodge and The Cabins at Mazama Village. 2 campgrounds: Mazama Campground and Lost Creek Campground. Backcountry camping allowed with permit.
Food: 3 restaurants and a general store. Some places are seasonal, so bring snacks just in case.
Entrance Fee: $20/vehicle in winter. $30/vehicle in summer. click here to see current fee pricing
Park Maps: Link to park maps
Fun Facts About the Lake
• Lies within a caldera that is 5 – 6 miles in diameter
• At a depth of 1943 feet, it is the deepest lake in the US
• It is considered a closed ecological system with no rivers or streams flowing into or out of the lake
• The amount of rain and snow coming into the lake is close to the same amount lost to evaporation and drainage into the ground
• One of the clearest lakes in the world
• The water is blue, really blue. One of the bluest lakes in the world.
• Fish were introduced into the lake. Currently there are Rainbow Trout and Kokonee Salmon. Crayfish were also introduced and now may be presenting a problem.
Visiting Oregon's only National Park is a feel good, nature experience. From gazing at the vibrant blue lake, to hiking among the old growth forest, Crater Lake National Park is a place to explore geological history. Enjoy the view from your car or immerse yourself on a backcountry hiking trip. Below is a list of activities to get you started planning your trip.
10 Things to See and Do at Crater Lake National Park
1. Drive the Rim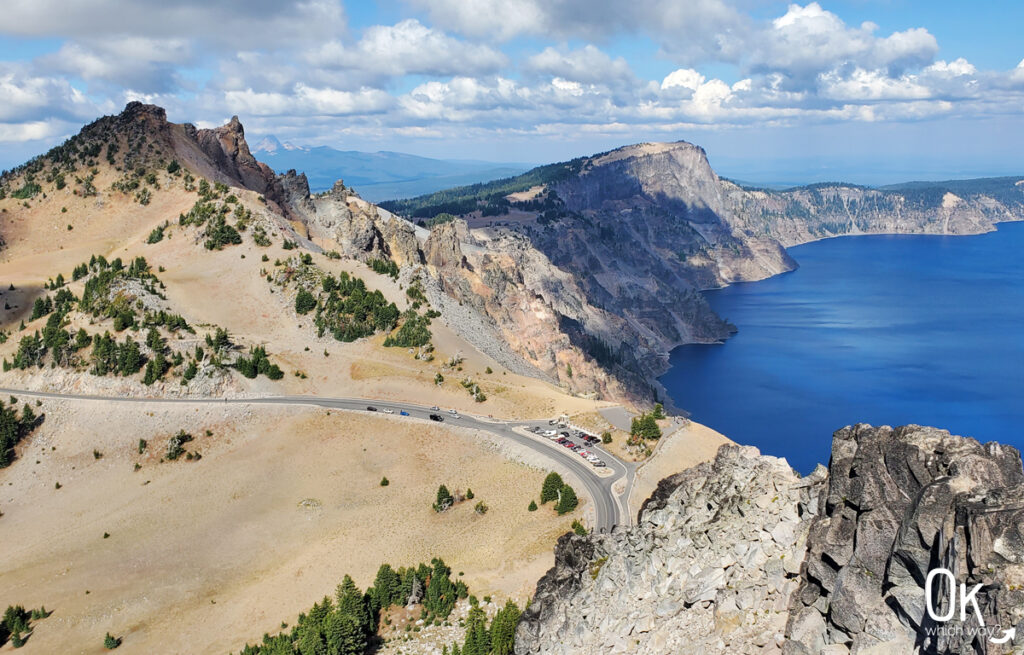 The rim drive is a must when visiting Crater Lake – assuming it's summertime.
The drive is 33 miles, on a narrow road, that winds entirely around the lake. Plan about 2 hours to finish the entire loop. It can be done in less time, but there are 30 overlooks. You should definitely take a few moments to admire the lake from different viewpoints.
Some popular overlooks are:
• Merriam Point – The first viewpoint you'll come to when entering the park from the north
• Cloudcap Overlook – The highest elevation overlook
• Phantom Ship Overlook – Offers a look at the Phantom Ship, which can sometimes be hidden at other viewpoints
• Rim Village – The most iconic viewpoint, and odds are you're coming to this location anyway
• Watchman Overlook – Offers a great view of Wizard Island
In the winter, you will have a different experience. Much of the rim drive is closed, but the caldera covered in snow is a spectacular sight.
2. Stop at a Visitor Center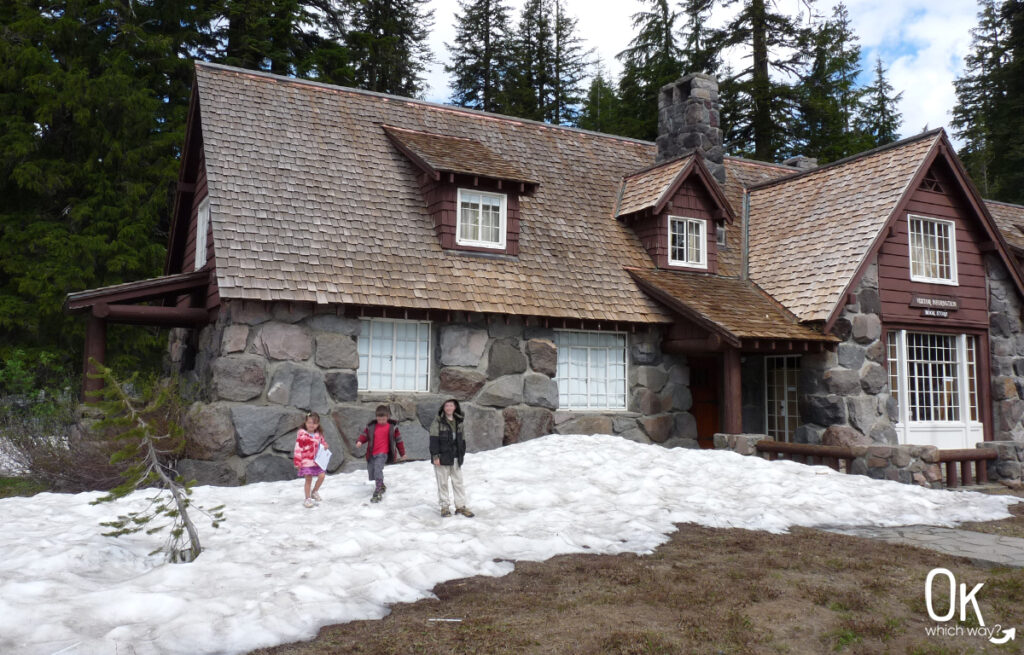 One of my first stops when arriving at a park is their visitor center. I usually gain knowledge that helps me feel confident in exploring the unknown area. Often there are signs listing information about the day – weather, flowers in bloom, or animals seen recently. Sometimes I ask a ranger about a particular hike I'm interested in or ask their advice on one they think fits our time and fitness level. And I always get my stamp for my Passport To Your National Parks book.
Crater Lake has two visitor centers, both at the southern end of the park.
RIM VILLAGE VISITOR CENTER
The actual building of the Rim Village Visitor Center is quite small. It was originally built in 1921 as a photographer's studio. However, this area is a hub for guests, with other places nearby to visit including the Sinnot Memorial Overlook, Rim Village Cafe and Gift Shop, and Crater Lake Lodge. The Rim Village Historic District is listed on the National Register of Historic Places.
STEEL VISITOR CENTER
Located at the Park Headquarters, the Steel Visitor Center is open year round. If you want to send a postcard to a family member, this would be the place to do it – since there is a Post Office inside. Lady of the Woods nature loop is behind the visitor center.
Another option for food, gifts, or information is the Annie Creek Restaurant and Gift Shop. It's also at the southern end of the park, at the Mazama Campground and Cabins.
3. Hike Down to the Lake – Cleetwood Cove Trail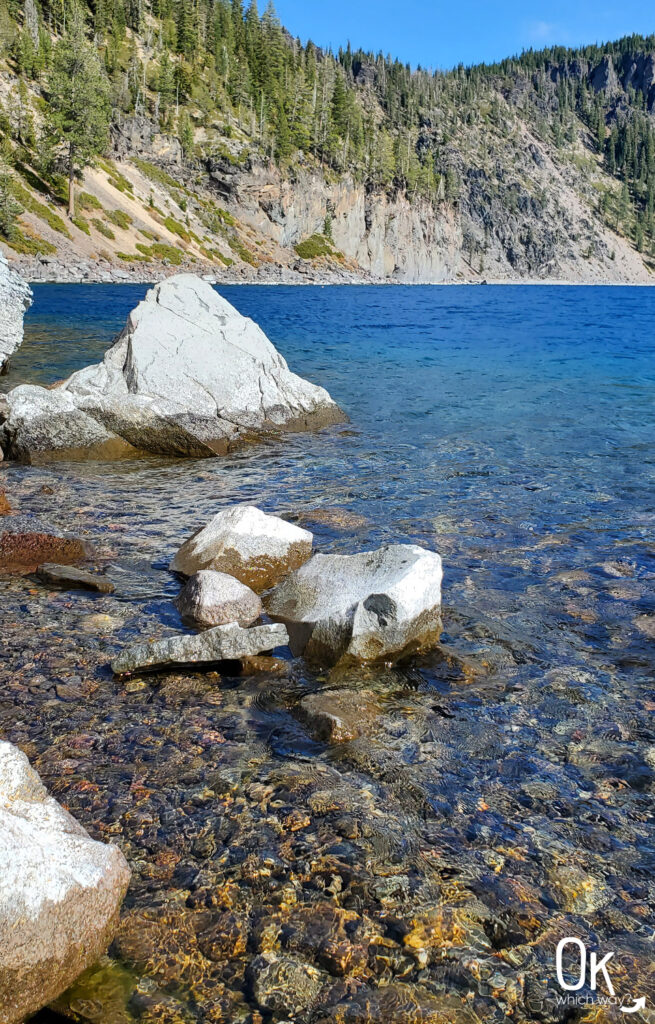 There is one way down to the water's edge – Cleetwood Cove Trail. The trail zig zags a little over a mile on a surface that can be a so dry it's slippery.
Once you reach Cleetwood Cove you are allowed to swim in Crater Lake. It's dang cold, but you can do it if you are so inclined. Swimmers must stay within the cove and 100 yards of shore. In an effort to control invasive species, typical lake items are not allowed such as flotation devices, snorkel and masks, kayaks, and paddle boards.
Things to keep in mind when determining whether to hike this trail:
• It is typically only open mid June to October
• It's steep. Give yourself plenty of time to take breaks.
• Pets are not allowed
4. Climb Up for a Different View of the Lake and Surrounding Wilderness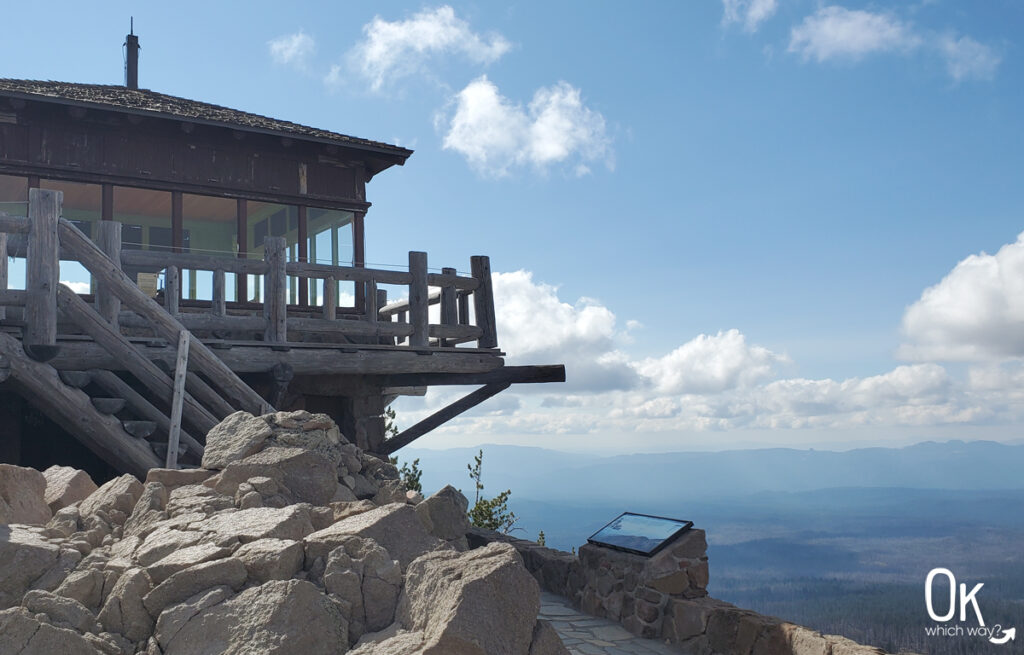 Rim Drive and the many viewpoints are situated above the lake. But going even higher offers a different vantage point that shows just how vast the Cascade Mountain Range is.
WATCHMAN PEAK – 1.7 mile out and back trail. Moderately challenging. Trailhead at Watchman Overlook, on the west side of the lake.
GARFIELD PEAK – 3.6 miles out and back trail to a summit of 8050′. Trailhead at Rim Village. Moderately challenging.
MOUNT SCOTT – 4.4 miles out and back trail. At 8929′, this is the highest peak in the park. Moderately challenging. On the east side of the lake.
Additionally, Crater Lake is one of 7 National Parks the Pacific Crest Trail travels through. Check out the NPS website for permit information.
5. Gaze at Wizard Island
You can't miss Wizard Island – it stands 763 feet, or so, above the water's surface on the west side of the lake, with much more hidden from view.
Wizard Island is a cinder cone that formed after Mount Mazama erupted while the caldera was filling with rain and snowmelt.
Wizard Island can be viewed from many places. However, Watchman Overlook along the Rim Drive is a favorite due to how close it is to the island.
From July to September, weather permitting, it is possible to go on a boat tour of the lake. The tour includes a stop at Wizard Island with time to hike the Wizard Island Summit Trail.
6. View The Pinnacles
The pinnacles are so peculiar and are cool to see, but the road to them sucks.
From East Rim Drive, you will turn off and take a 6 mile adventure down narrow, pot-holey Pinnacles Road. The pinnacles are visible from the parking area, but there is also a nice path to view more.
These volcanic spires were formed during the eruption of Mount Mazama. An avalanche of pumice traveled rapidly downhill, completely filling this canyon. As trapped gasses escaped through vents, the matter surrounding the vents hardened. Erosion has carved away the softer ash and pumice leaving the spires.
I love the science of volcanoes. Here are a couple words to know:
PYROCLASTIC FLOW: A pyroclastic flow, according to National Geographic, is a dense, fast-moving flow of solidified lava pieces, volcanic ash, and hot gases. It is extremely dangerous to any living thing in its path.
FUMAROLES: Fumaroles, according to the USGS, are openings in the earth's surface that emit steam and volcanic gases
7. Spot the Phantom Ship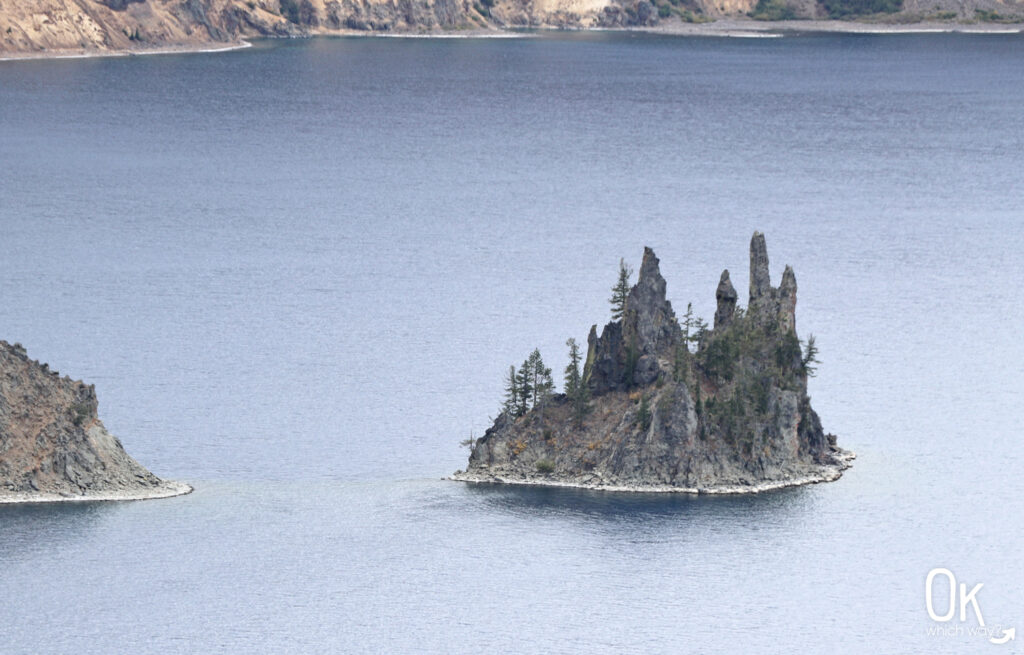 The 170 feet high Phantom Ship rock formation is the oldest exposed rock within the caldera. It remained intact even after the eruption of Mount Mazama. It can be seen from various places. The best viewpoint, though, is from the Phantom Ship Overlook along the Rim Drive.
8. See a Waterfall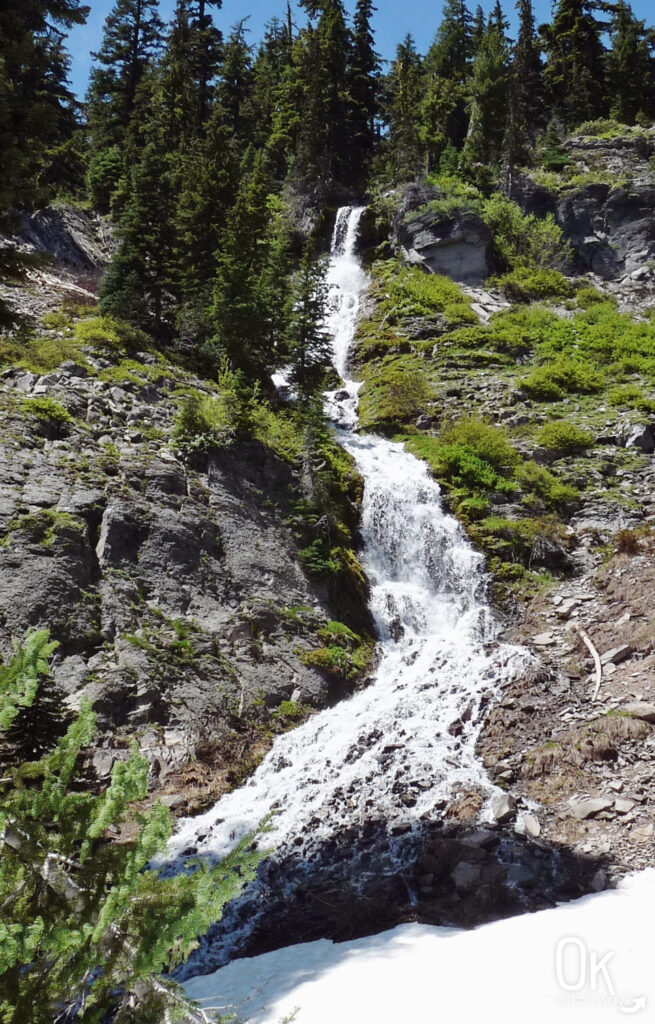 There are two falls fairly easy to see in the park – Vidae Falls and Plaikini Falls.
Vidae Falls can be seen from Rim Drive. If you want more than just a drive by peek, there is a small pull out near the falls to park at, then walk a short distance to the falls.
To reach the trailhead for Plaikini Falls, you will turn off East Rim Drive onto Pinnacles Road and go a little over a mile. From there it is an easy mile hike through the forest to reach the falls.
Duwee Falls is also within park boundaries, but isn't easy to see.
9. Find the Old Man of the Lake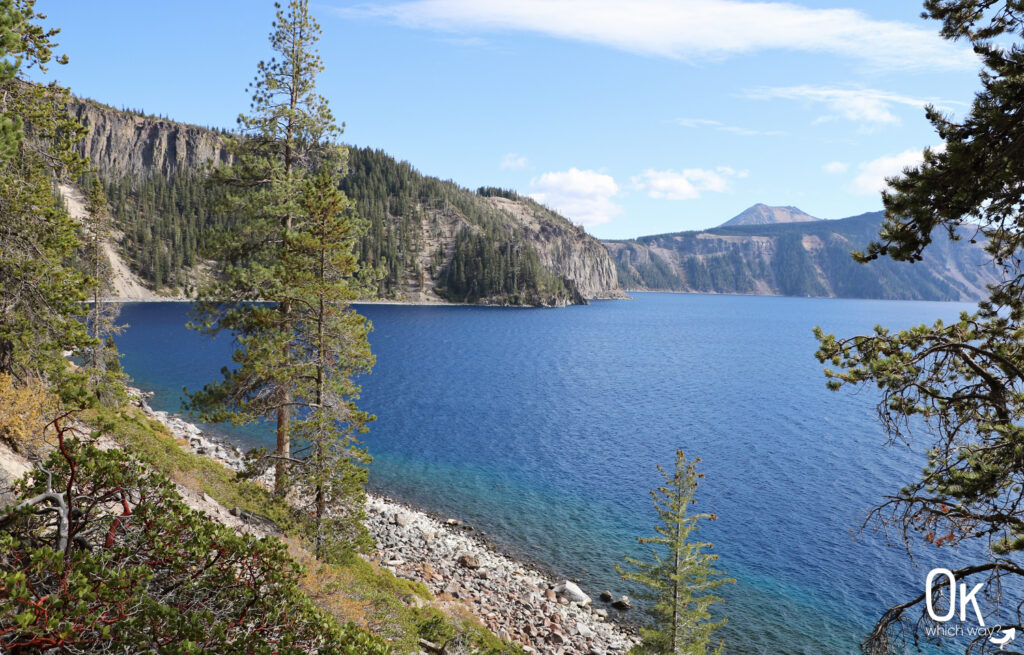 The Old Man of the Lake is a 30 foot mountain hemlock log that has been bobbing upright in the lake for over 100 years. It was discovered in 1896 and is still boppin' about! I look for the few feet of him that is above the surface every time I go to Crater Lake. Sadly, I have never found him. But, I'm going to keep looking.
10. Become a Junior Ranger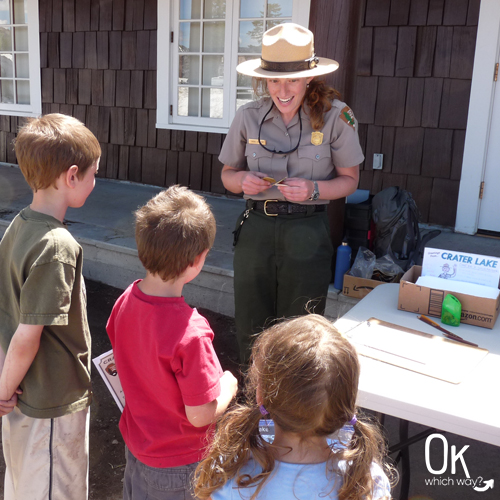 When my kids were little, I always encouraged them to earn a Junior Ranger badge. I love the program. Pick up a Junior Ranger book, and explore the park while completing a few required tasks. Then, a super cool ranger presents them with an official Crater Lake Junior Ranger Badge.
There is even an online version.
Bonus Winter Activity: Go Cross Country Skiing or Snowshoeing
Visiting Crater Lake in winter when the Rim Drive is closed? Fear not! The park is still open and you can park at Rim Village and get a great view of the lake.
However, do be prepared. The road to Rim Village will be plowed, but could still be icy.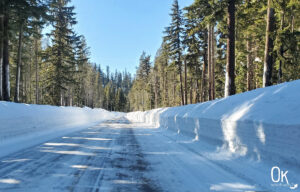 From Rim Village, there are a number of options for cross country skiing or snowshoeing. The routes aren't always marked, but a map and following tracks should aid you in the right direction. A nice snowshoeing adventure for a beginner would be heading northwest towards Discovery Point. It's only a little over a mile to the viewpoint, but since it's through the snow it seems longer.
Something to note: The trails and viewpoints aren't marked well in the snow. Use your best judgement on not getting too close to the edge or tree wells.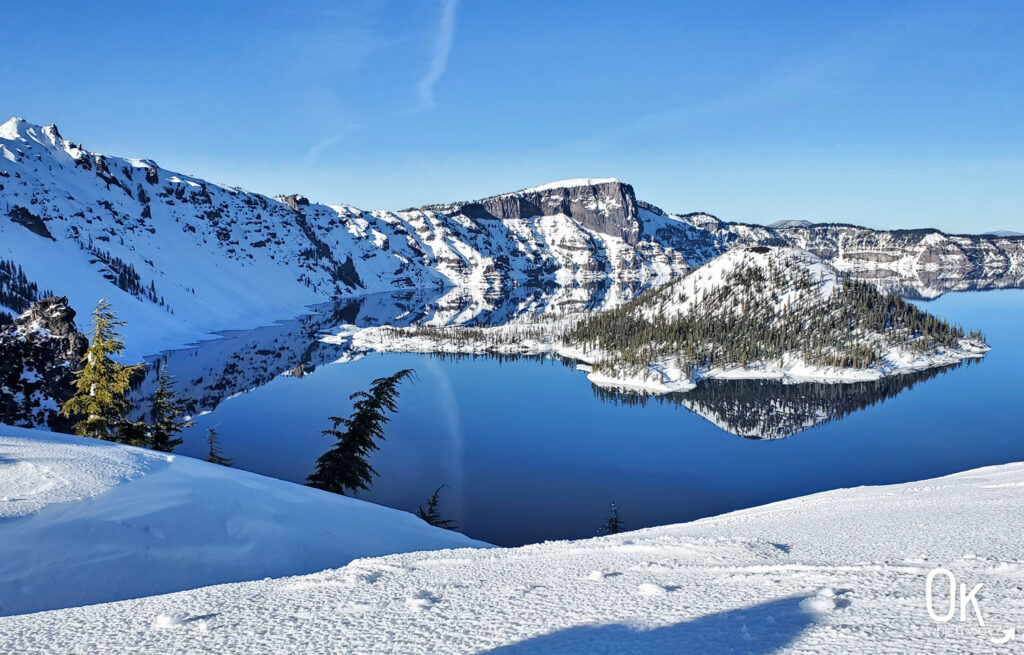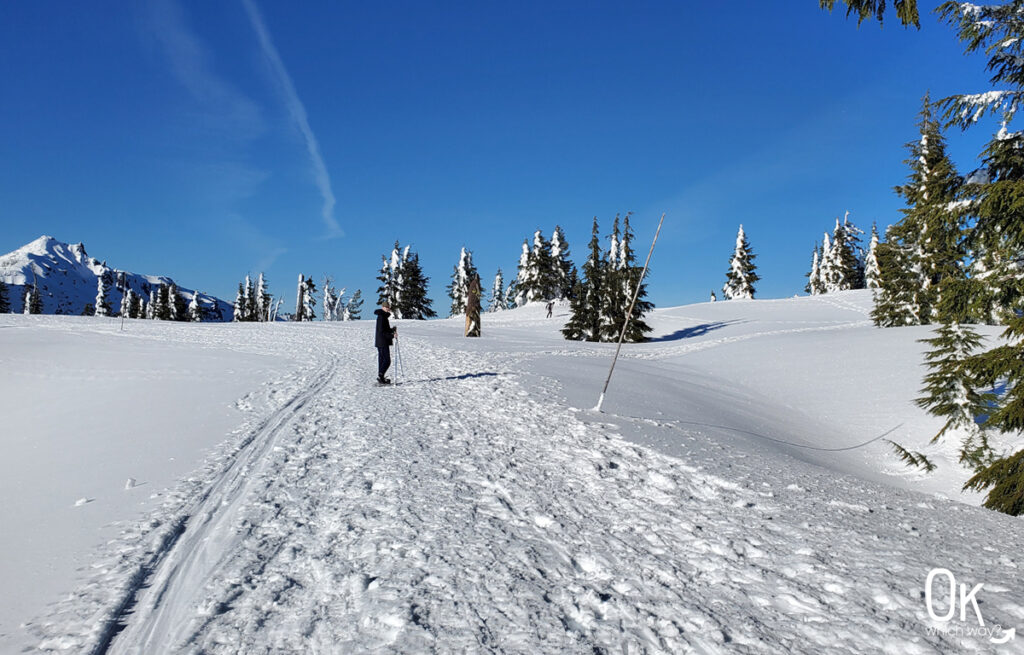 Mazama?
Known as Giiwas by the Klamath people, where did the name Mount Mazama come from?
William G. Steel first visited Crater Lake in 1885 and later acted as a guide for the area. In 1894, Steel, Henry Pittock, and a couple other men created a climbing group called the Mazamas. Steel was adamant about Crater Lake earning National Park status and hosted a 3 week long Mazamas convention in 1896. During this time, discussions were happening on what to call the mountain that held Crater Lake. Steel suggested Mazama, after the climbing group. Crater Lake became a national park in 1902 and Steel is known as the Father of Crater Lake.
Optional Items to Bring
Crater Lake National Park is one of 7 national park sites located in southern Oregon and northern California:
Geology
Crater Lake resides within the Ring of Fire, a chain of volcanoes that surround the Pacific Ocean.
Mount Mazama is part of the Cascade Volcanic Arc, which includes Lassen Peak in California north to Mount Meager in British Columbia. Most of these volcanoes were formed when an oceanic plate moved under the North American continental plate. Melted rock was created when the oceanic plate fell into the Earth's mantle. This magma worked its way to a weak spot, breaking through the Earth's surface, becoming a volcano. As the volcano continued to erupt, it got bigger. During the time of Mazama's massive eruptions, the magma emptied and the volcano collapsed inward forming a caldera.
Mount Mazama is dormant, but not extinct. It is ranked as the 17th most potentially dangerous volcano in the United States.
Volcanic Legacy Scenic Byway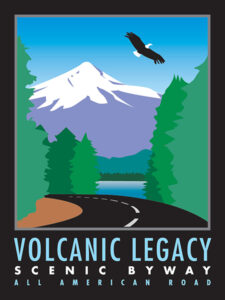 The Rim Drive around Crater Lake is part of the Volcanic Legacy Scenic Byway. This All-American Road travels through southern Oregon and northern California highlighting a number of volcanoes and National Parks including Crater Lake National Park, Lassen Volcanic National Park, and Lava Beds National Monument.
Thinking About Exploring Crater Lake National Park?
Pin This to Help Plan Your Trip ⬇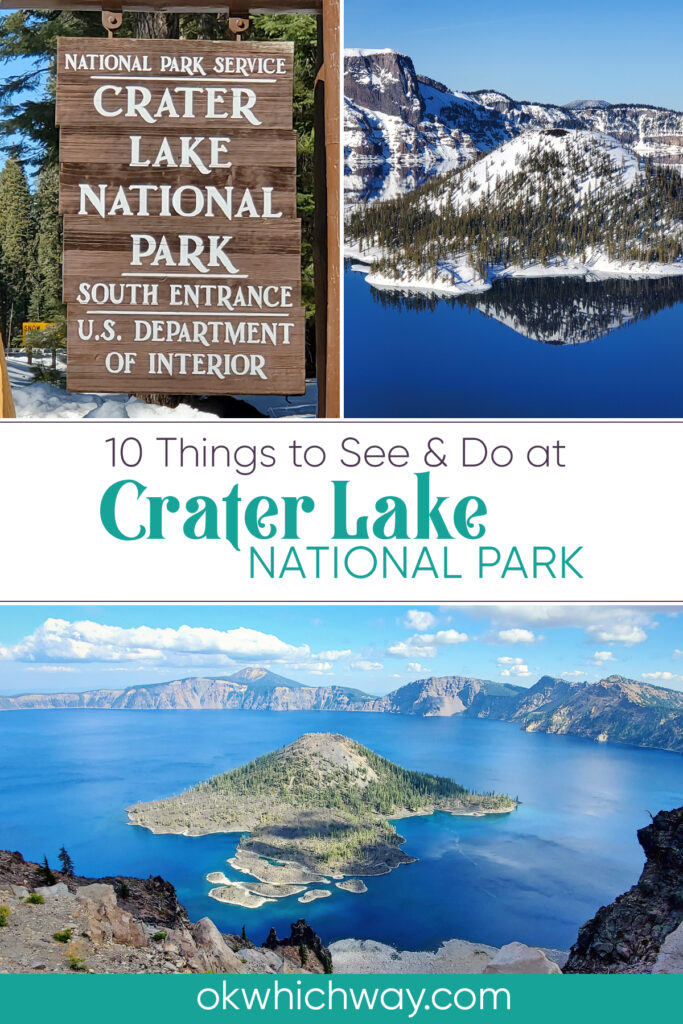 Other Volcanic Sites in Oregon and California