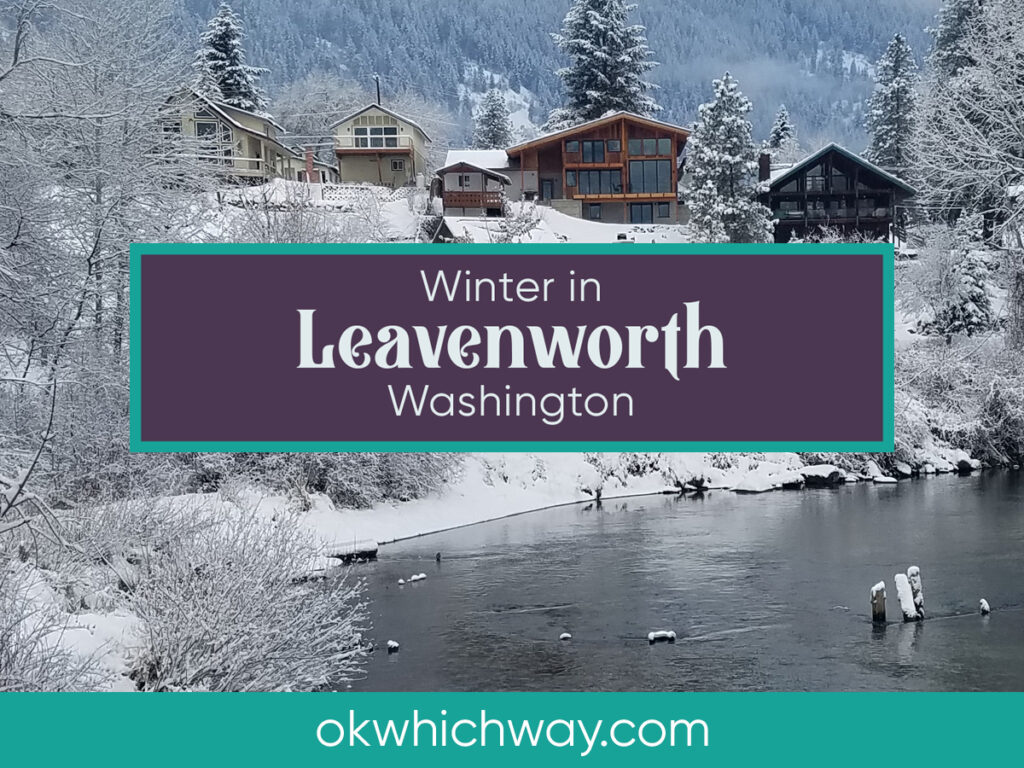 Winter in Leavenworth, Washington
Leavenworth is a small town that almost didn't make it. Then, in the mid 1900's community leaders decided to update the downtown area into a Bavarian theme. Brilliant! The little town now hosts over a million visitors every year.
I had been wanting to visit Leavenworth, Washington ever since we traveled to Bavaria, Germany.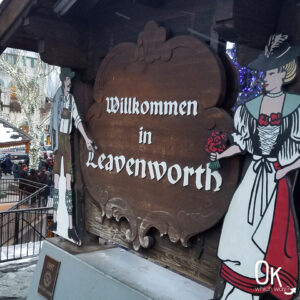 A gal I've been friends with since junior high said her & her hubby were taking a trip to Leavenworth and wanted to know if we wanted to join them. Yes! Yes, we did! We skipped all our commitments that weekend and had a fabulous time in this faux German town.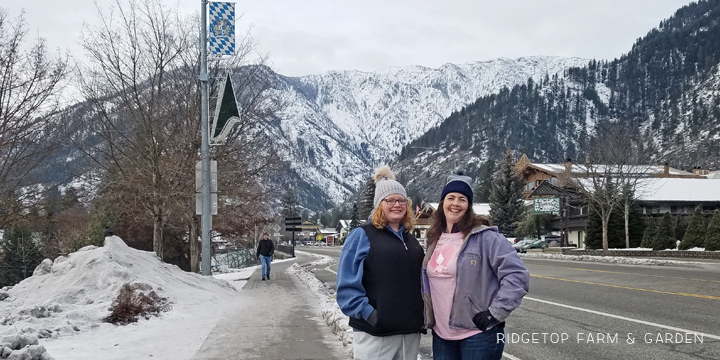 Friday Night
Leavenworth is a long way from most anywhere. It took us a little over 6 hours to get there, which got us to our hotel around 9pm. The town was looking a bit quiet when we drove through. Thankfully, München Haus was still open. It was freezing outside, but we still enjoyed our pretzels and sausages very much. The lights along Front Street created a gorgeous Christmas atmosphere.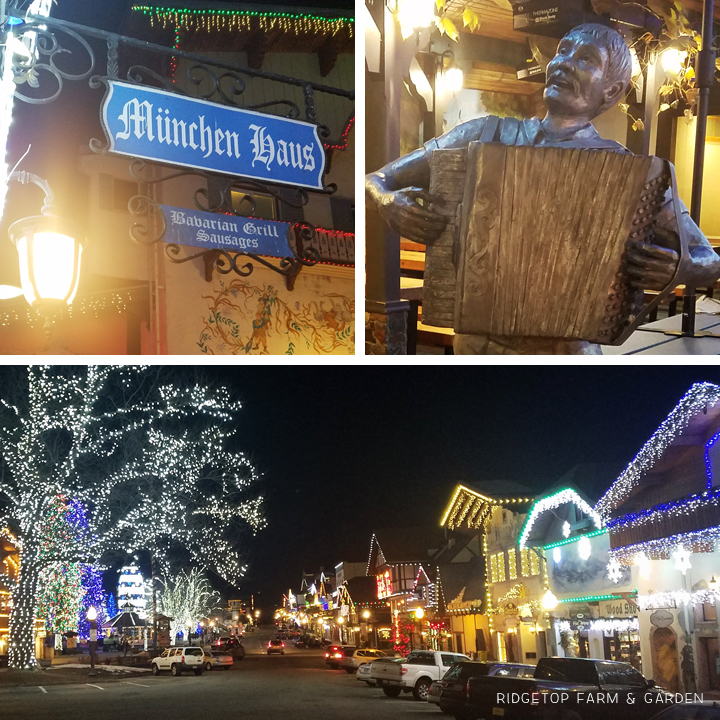 Saturday & Sunday
The town is nestled among the Cascade Mountains enhancing the magical feeling.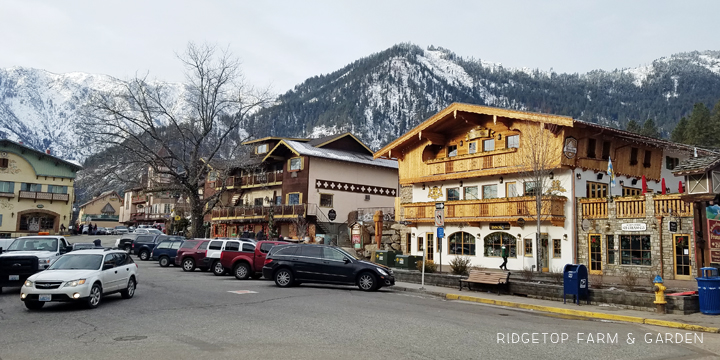 As we were walking from our hotel Saturday morning to Front Street we spotted two guys in lederhosen playing alphorns at the Enzian Inn.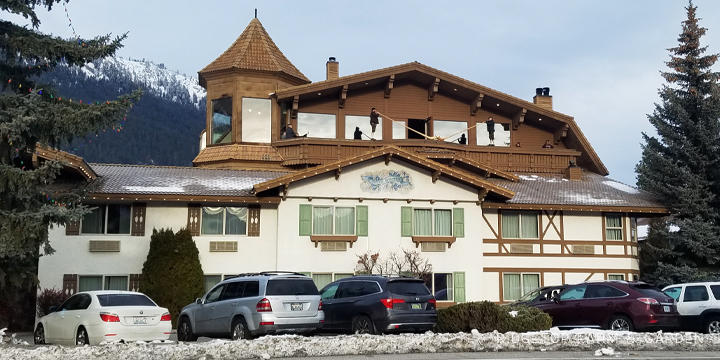 Front Street
I adored the small village:
I loved the architecture & decor. ♥
The signage was very old time Bavaria. ♥
There was a goat sculpture. ♥
There was a pretzel tree. ♥
Sparrows were enjoying the pretzels on the tree. ♥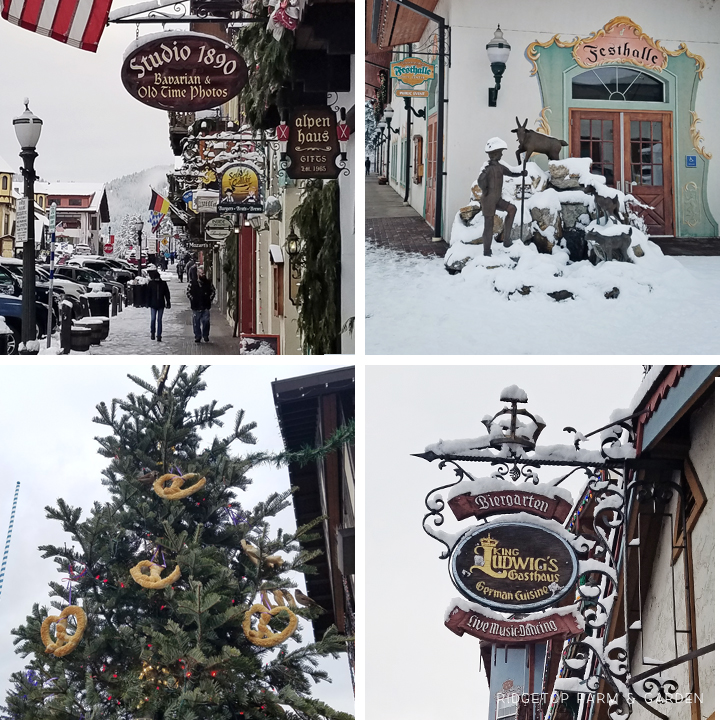 I'm not much of a shopper, so it's not my typical go-to while on vacation. But the little shops are one of the focal points of Leavenworth, so we spent time wandering through them.
One place we visited was The Oil & Vinegar Cellar. For a couple bucks you receive a small portion of bread to dip in their various oils & balsamic vinegars. The couple bucks went towards a purchase, if you bought something – which, I did. My friend told me, though, that when she was there the day before, she didn't have to pay the couple bucks. So, maybe that's just a weekend thing.
We also went to the year 'round Christmas shop, Kris Kringl.
My favorite shop was The Cheesemonger's Shop because… well… cheese. Samples of cheeses and meats were available. Yum! My hubby and daughter picked out the Vampire Slayer flavor to bring home. It was garlicky goodness. I wish we would have bought more so I could try it in homemade mac & cheese.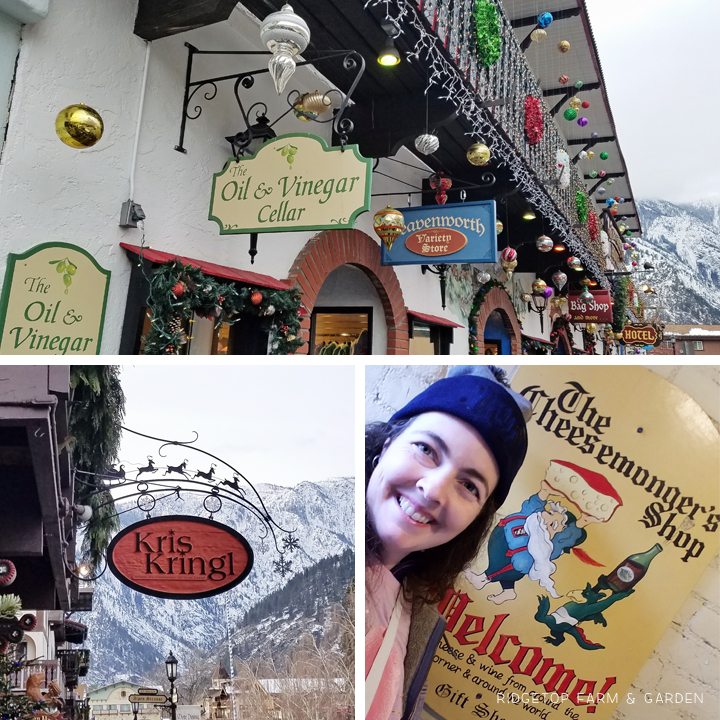 Our Hotel
During our time in Leavenworth we stayed at Fairbridge Inn & Suites. The price was decent. The room was clean. And, the continental breakfast was pretty good. I would stay there again.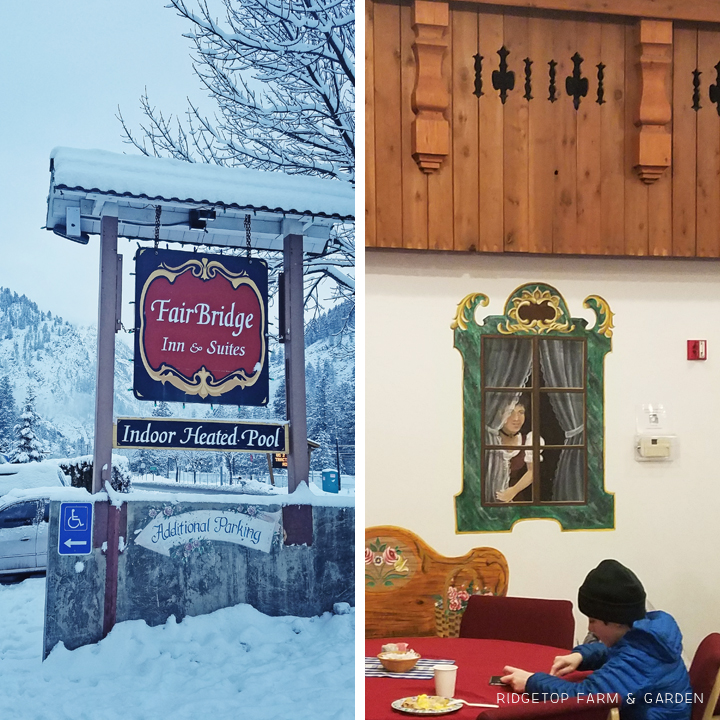 Next to the hotel was a good pizza place, Rudloofs Pizza und Brats. We ate there twice. Once, for pizza and once for a pretzel & sausage snack.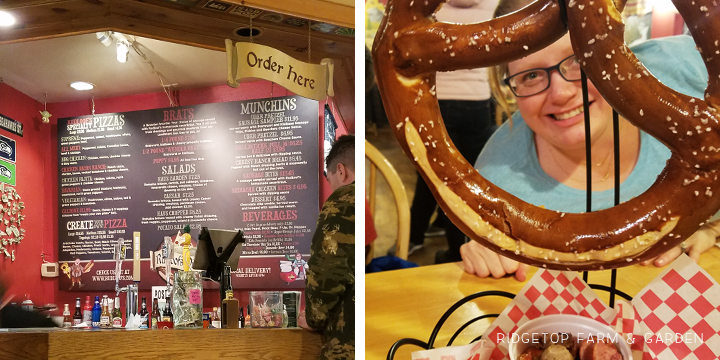 Dinner in Leavenworth on a Saturday in December means long waits wherever you go. We ended up going to Kristall's, which was near the hotel. I don't recommend it.
Before leaving home, I crafted a plastic wrap ball full of prizes. We had a blast playing the fast paced game during some down time at the hotel.
Snow!
A draw to Leavenworth in winter is the snow. It had been a fairly dry year in the Pacific Northwest, though, so Leavenworth hadn't received much snow. When we arrived, the majority of previous snow had melted.
But then, Saturday night it snowed. ♥
Many people brought out sleds to go down the small hill right in the downtown area.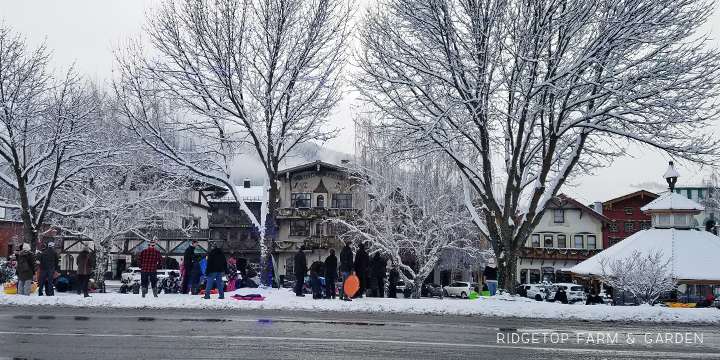 Enchantment Park
Sunday morning was beautiful with the freshly fallen snow.
The hotel was within walking distance of the entrance of Enchantment Park, so we headed there first thing Sunday morning. A few kids were sledding in the park. It looked amazing.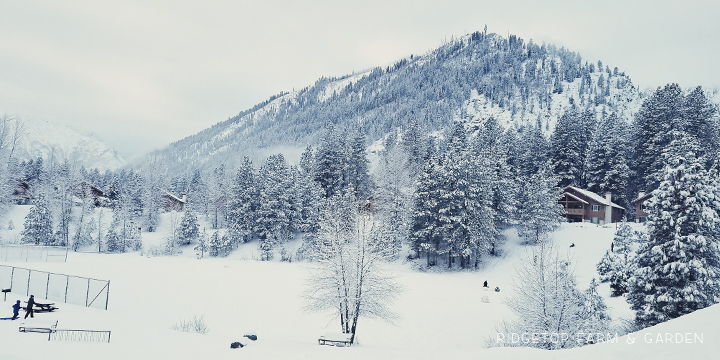 I was on a mission to find a geocache in the park. But… I got skunked. I tried to get to it from three different angles, but it didn't work out due to the snow. Eventually, I gave up and just enjoyed the peacefulness.
Serene.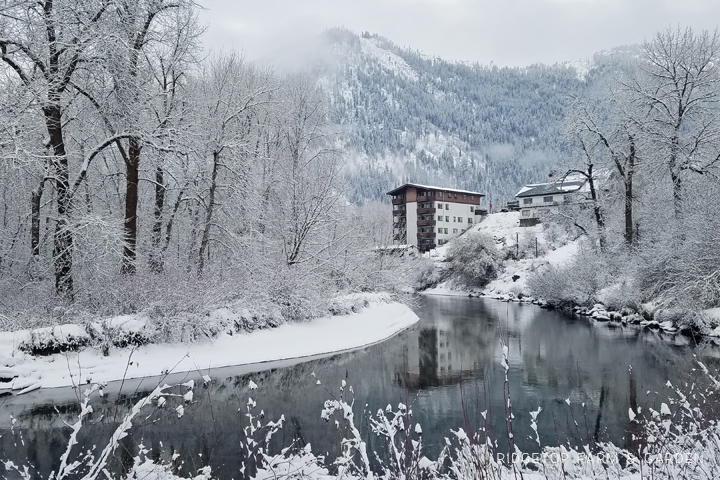 I didn't reach the geocache, but we did track down a letterbox in town.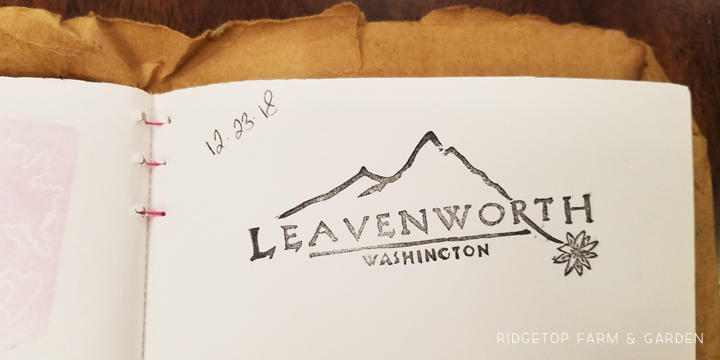 Aplets & Cotlets
Not far from Leavenworth, in the town of Cashmere, is the Aplets & Cotlets Factory. Before heading home we stopped to check it out. The store was open, but the factory wasn't operating that day. We tried a few samples and bought a few goodies.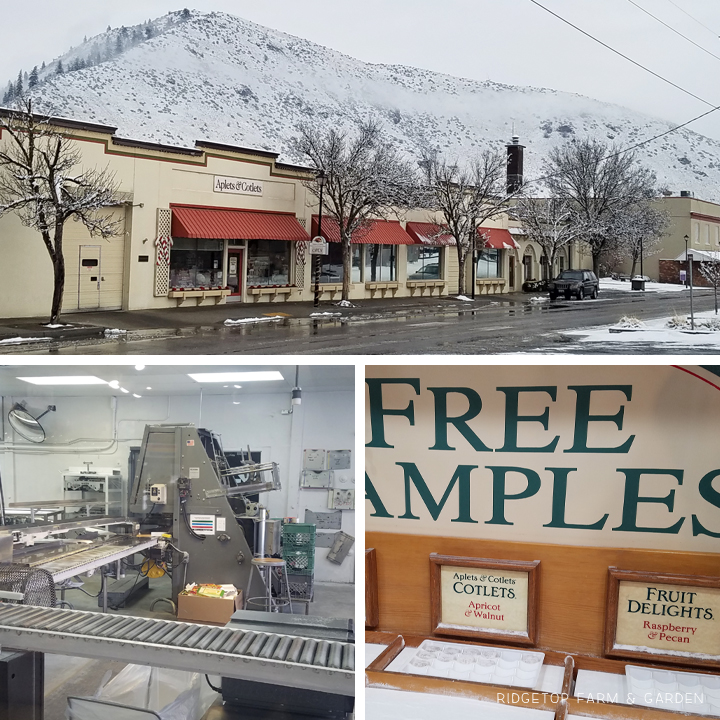 We found both a geocache & a letterbox near the factory.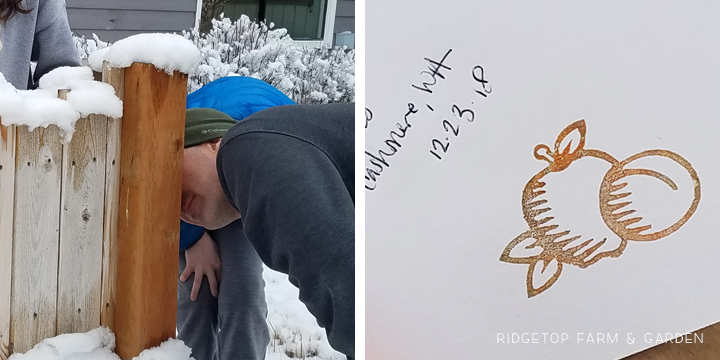 It was a great weekend. I'm trying to decide the next time to go back – Winter because it was awesome, or Spring when the wildflowers would be blooming, or in Summer to watch a live performance of The Sound of Music, or during Oktoberfest.
Have you been to Leavenworth? What was your favorite thing to see or do?
Thinking About Going to Leavenworth?
Pin This to Help Plan Your Trip ⬇