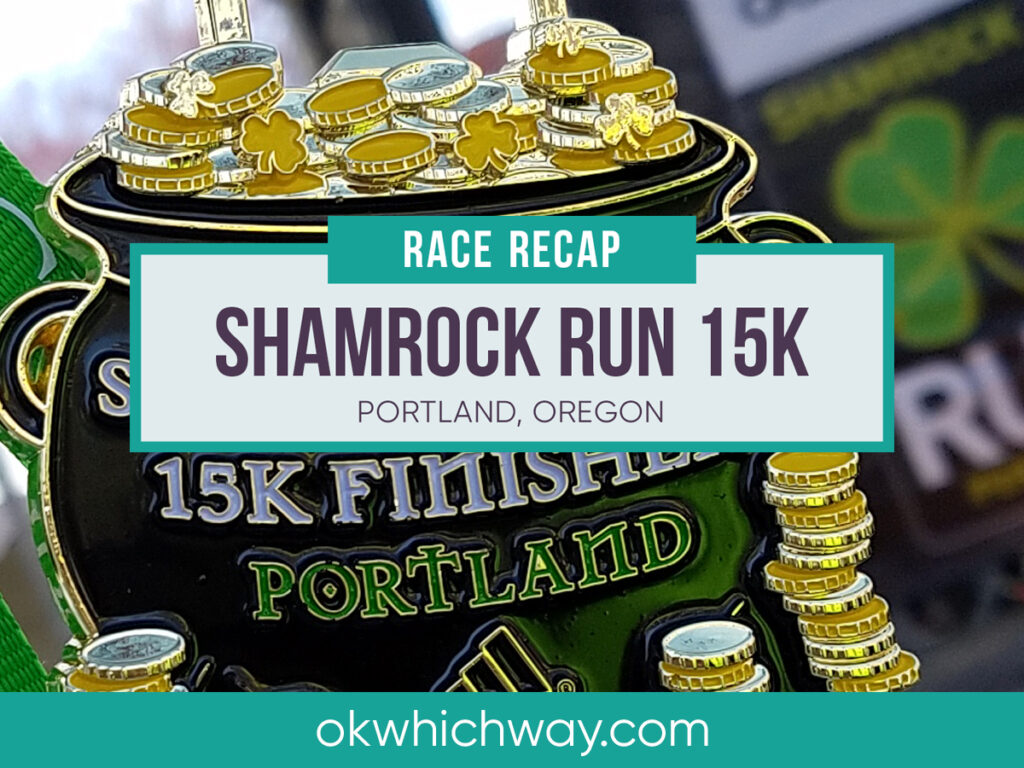 Shamrock Run Portland 15K Race Recap
My first legit race of 2017 – the Shamrock Run in downtown Portland. In 2014, John and I ran the 5K. We had a great time, but I haven't ran it again… until now. And, I upped my game. I ran/walked the hilly 15k.
Race Start: Tom McCall Waterfront Park
Race Finish: Tom McCall Waterfront Park
Race Distance: 15k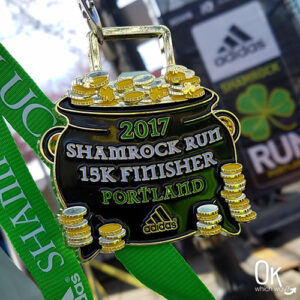 Ok Which Way is a participant in the Amazon Services LLC Associates Program. Our posts may contain advertisements or affiliate links, which means we will make a small commission if you buy any products that have been linked to on this blog.
FLAT JENNIFER
I bought a new shirt from Sparkle Athletic and a skirt from Sweet Spot Skirts for this event. I love them both. The tulle tutu was fun last time, but this outfit was so much better.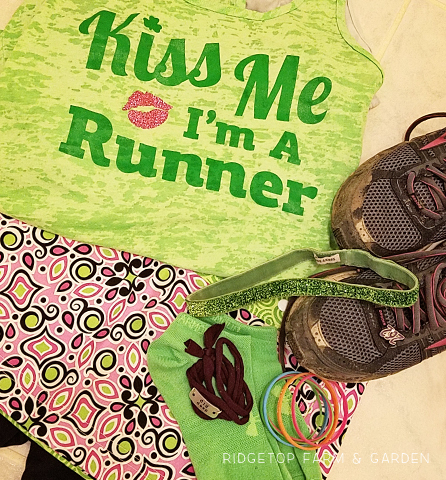 THE START
A friend from high school celebrated her 40th birthday the night before the Shamrock Run. I didn't drink too much or stay up too late, but being downtown early still kinda sucked. The start time was 8:50 and I got there with plenty of time to tend to all the pre race things, like visit the port-a-potty. I forgot just how big the Shamrock Run is. I was surprised to see the crazy amount of people lined up for the 15k.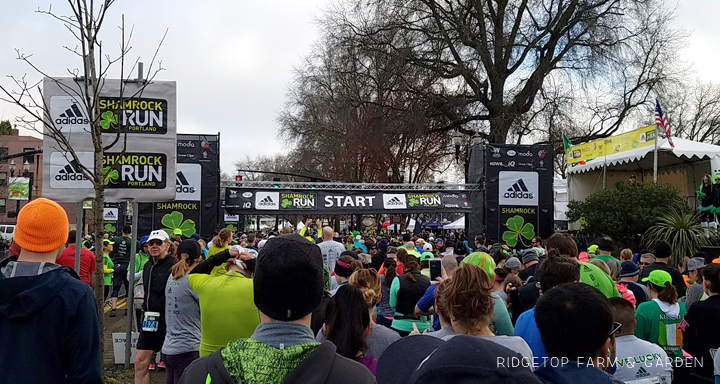 FIRST COUPLE MILES
The first section of this course was similar to the Portland Marathon I did in October. Start at the waterfront, run south on Naito to Barbur Blvd. This time I knew what to expect for this part of the event. It's not real steep, but definitely at enough of an incline that you feel it.
I remember looking up on the hill at OHSU thinking that's where we're headed. Eek!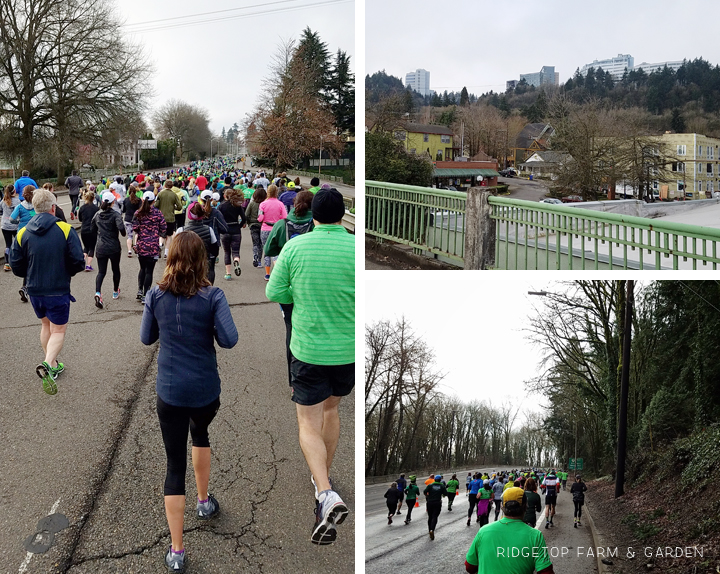 THE HILLY MILES
Once on Terwilliger Blvd it was up, up, up. It reminded me of the hill I run at home, except this was longer and not gravel.
The few glimpses of the Willamette River were awesome.
Bagpipes! Somehow that beautiful sound just makes you want to do your best. It's very encouraging.
It was a welcome sight when I saw the loading dock of the tram at OHSU. I knew the worst of the hills were behind me.
THE END IS NEAR!
Down I ran. Then, through the tunnel I could see the Koin Tower. Woop, woop! Just a little bit further!
DONE!
I crossed the finish line strong and grabbed the water, thermal blanket, and medal I was handed. I did it!
I had been training, but I hadn't gone a 15k distance in a number of months. I was a little concerned about how I would do, especially with the hills. I came in under a 12:00 minute pace. I'm thrilled with that. It's not fabulous, but it's right where I should have been. Most importantly, I felt good at the end.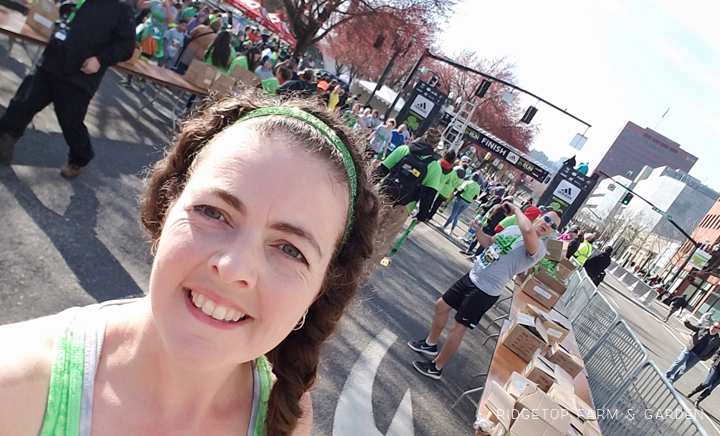 AFTER PARTY
It was a chilly day to be wearing a tank top. So, I was looking forward to the warm potato soup at the end. Not going to lie, I wasn't impressed by the looks of the soup and was slightly disappointed. But, remember that saying don't judge a book by it's cover. This soup was delicious.
A friend of mine and her neighbor finished the 8k right around the time I finished by race. We hit the beer garden together. I'm not a fan of beer. But… it's an Irish themed run and the sun was out and I enjoyed my run. So, I grabbed the free beer. We listened to the band and had a jolly time.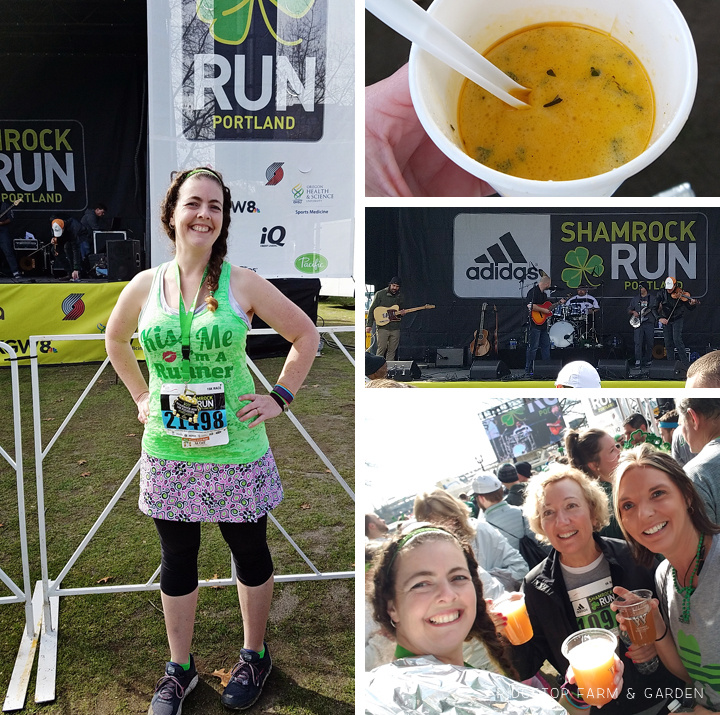 Want an easy way to reread this recap?
Pin it ⬇