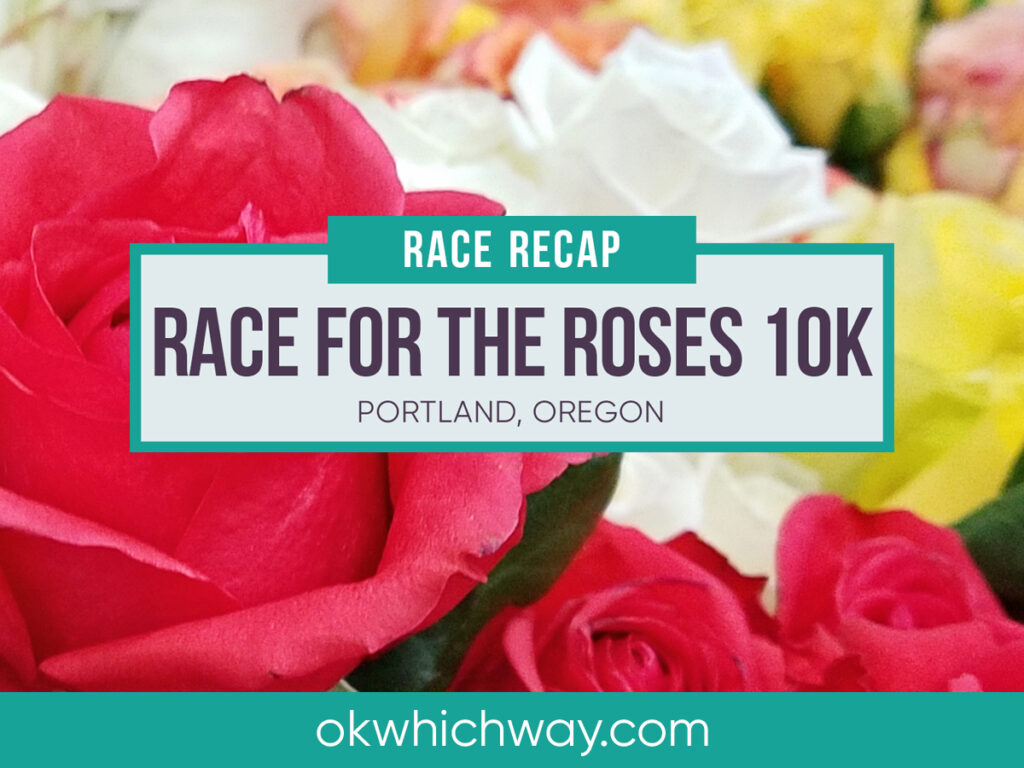 Race for the Roses 10K Recap
Race for the Roses is a fundraising event for Albertina Kerr, a non-profit organization that provides services to people with developmental disabilities and mental health challenges.
I'm trying to limit the events I sign up for this year – mainly because they get spendy. But…
I am signed up for another runDisney weekend later this year. (Woop, woop!) I can finish their races at the 16:00 required pace. But, I like to dilly dally. I like to stop for photo ops. I like to look around. I'm not there for a PR. I'm there to run a good race, feel good when I complete it, and have fun. That being said, I prefer not to be assigned to the last corral. I want all the extra time I can get, so I don't have the pressure to need to run my hardest.
I signed up for Race for the Roses 10K with the hopes to PR – so, I can submit the time to RunDisney and with any luck move out of the last corral.
Race Start: Oregon Convention Center
Race Finish: Oregon Convention Center
Race Distance: 10k
Ok Which Way is a participant in the Amazon Services LLC Associates Program. Our posts may contain advertisements or affiliate links, which means we will make a small commission if you buy any products that have been linked to on this blog.
PRE-RACE
The race started at the Convention Center. I loved that!
Prior to the start time, participants could hang out inside the Convention Center. It was great having a warm(ish) place to be while waiting for my start time. More importantly, I got to use a real bathroom before the race began.
There was lots of swag you could grab, if you wanted it – champagne glasses, pins, tattoos, hand sanitizer.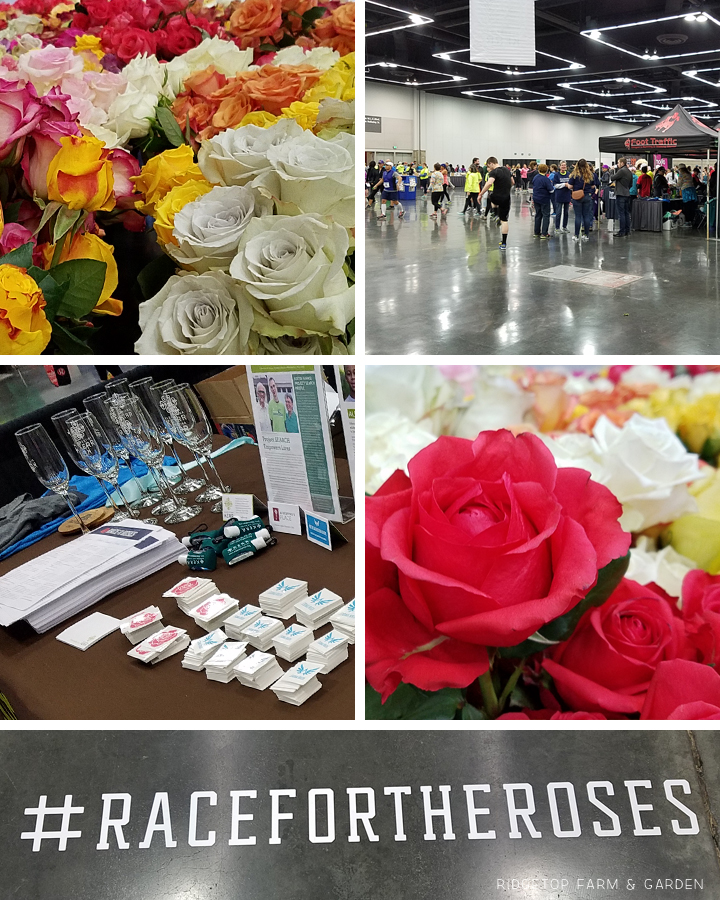 THE START
I waited inside until about 10 minutes before the start. Awesome! The start line was literally right outside the huge door of the conference room.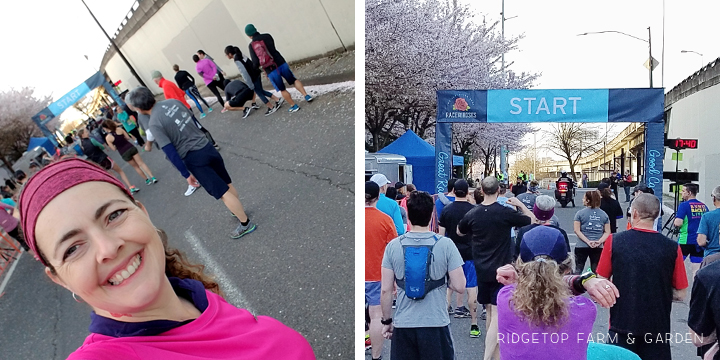 THE RACE
The course took us past the Moda Center, over the Broadway Bridge, through the Pearl District, to Vaughn Street, and back. I enjoyed the route. I don't often go to those areas of Portland. I'm pretty sure, though, that was not the route that was posted. Not sure what's up with that.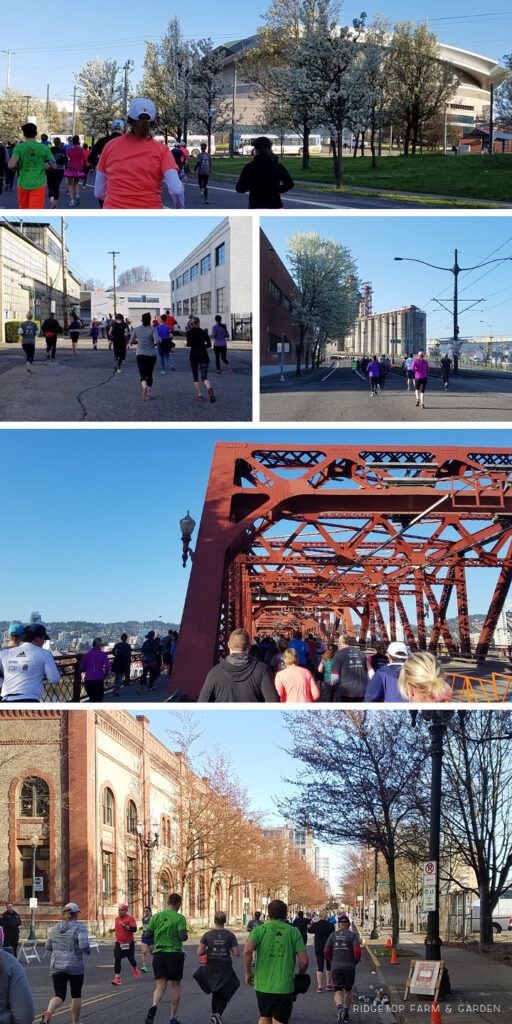 THE FINISH
It's always a great feeling to cross the finish line! I was greeted with a rose, medal, and water. So many thank you's to the volunteers.
Did I PR? Yes. Yes, I did. It was a couple minutes faster than my previous PR, but also a couple minutes slower than what I was aiming for. Either way, I updated my 10K time with RunDisney.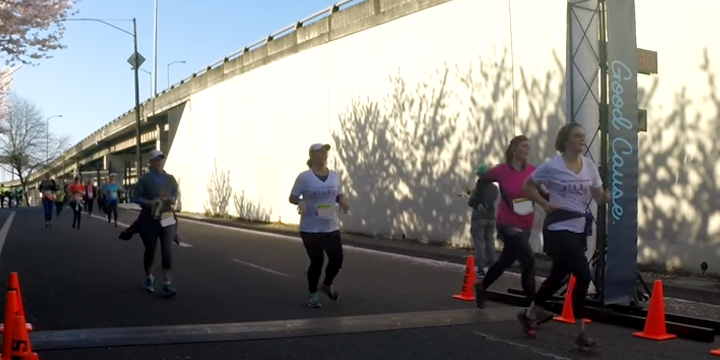 DONE!
Back in the room at the Convention Center – mimosa's, photo op, and a lovely assortment of food.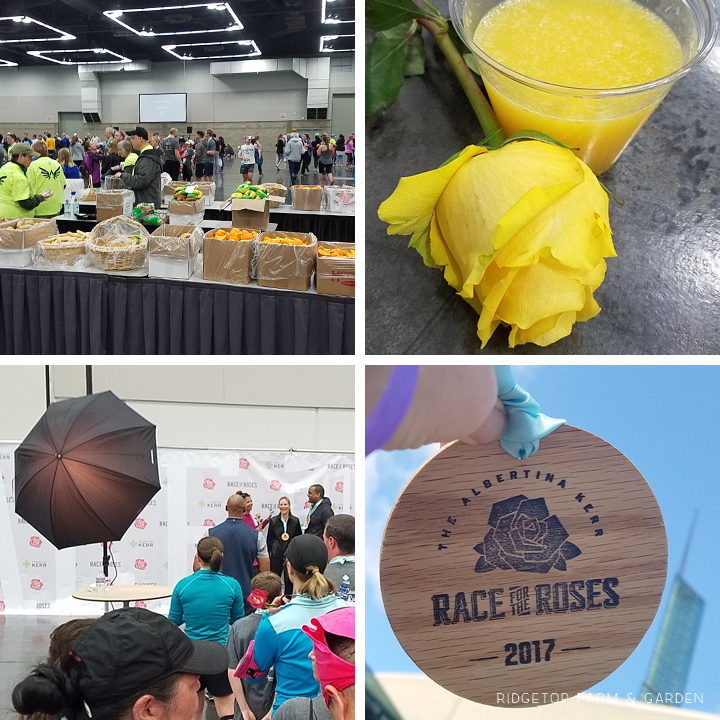 I would absolutely sign up for this event again. I can't think of anything I did not like. It didn't even rain!
Have you participated in Race for the Roses?