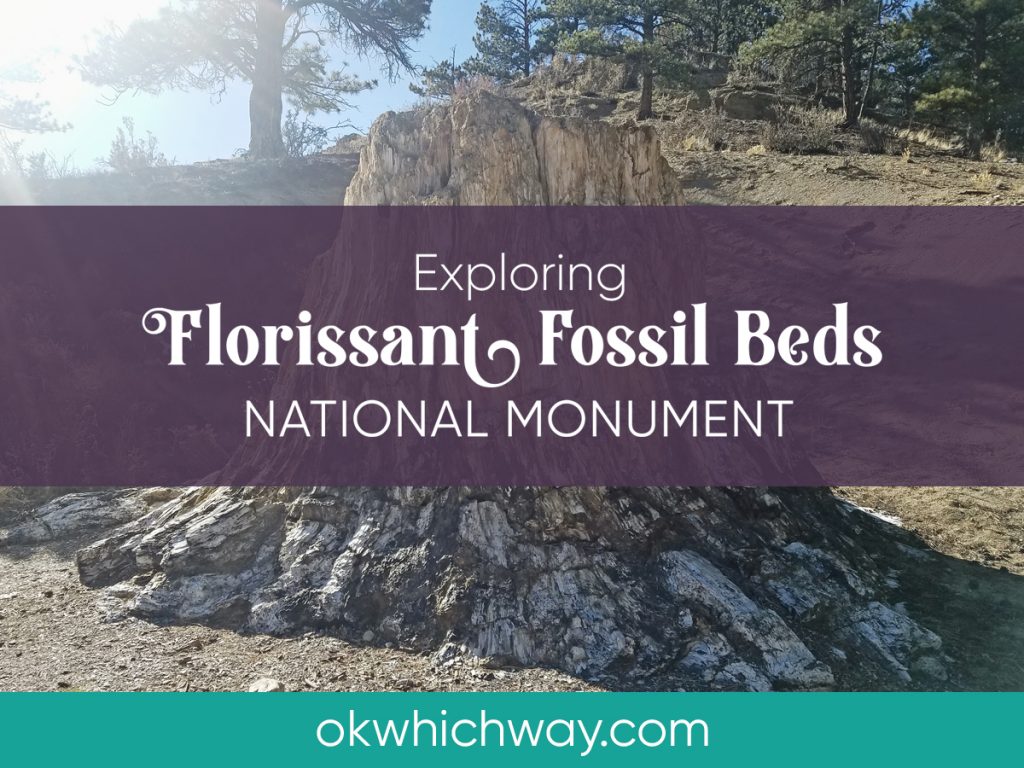 Exploring Florissant Fossil Beds National Monument
Florissant Fossil Beds National Monument is located in the Florissant Valley of central Colorado. Hidden beneath the grassy hills and Ponderosa Pine are layers of rock containing one of the most diverse fossil deposits in the world. To protect this magnificent history, the area became part of the National Park Service in 1969.
I love learning about natural history and how Earth has changed over time. But, I admit, it is difficult to grasp the concept of millions of years. That being said, the information gained from the fossils in the Florissant Valley has given us a glimpse into the area from 37 million years ago.
So, just how did all those fish, plants, and insects come to be encased in shale? The short answer is – volcanoes.
As I understand it, millions of years ago the valley was warmer than it is now, covered in giant redwood trees, and surrounded by volcanoes. Over the years, there was a lot of volcanic activity. Between eruptions and mudflows, life was wiped out and the ancient Florissant Lake was formed. Life flourished in the lake. Diatoms thrived and as they died they eventually created compressed layers that formed paper shale. As the fish, plants, and insects died they settled to the bottom of the lake and continued to be buried under layers of ash, clay, and diatoms. At some point, the lake was filled in by all that extreme volcanic activity.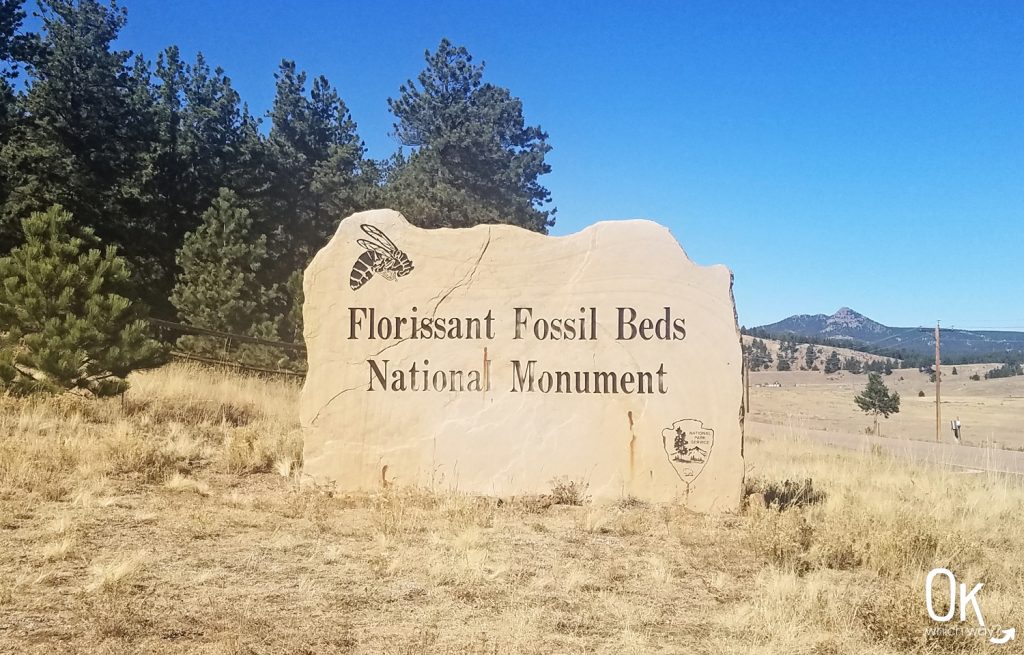 "The land is not of particularly great value for housing or agriculture, but as a page of Earth's history it is priceless." Harry D MacGinitie
Park Info
Location: Central Colorado. About an hour's drive from Colorado Springs & 2 hours from Denver
Established: 1969
Elevation: 8,400 feet
Things to See: Petrified redwood tree stumps, insect and plant fossils, pioneering homestead
Things to Do: Explore the Visitor Center, become a Junior Ranger, observe geology, go for a hike, & stargaze
Lodging/Camping: None available at the Fossil Beds
Food: No restaurants
Dogs: Prohibited at Visitor Center & on trails. They are allowed in the pet exercise area near the Visitor Center
Entrance Fee: $10/adult click here to see current fee pricing
Park Maps: Link to park maps
Visitor Center
I will make the assumption that if you are interested in visiting this park, you would like to see some of the amazing fossils. You will find them in the Visitor Center. I don't know how many are on display, but there are a lot.
Below are a couple plant fossils – it's just so cool that these are millions of years old. The one on the right, Rosa hilliae, was named after Charlotte Hill. I am intrigued by Charlotte. In the late 1800's she collected fossils and gave them to scientists. I would like to think I would have done the same thing.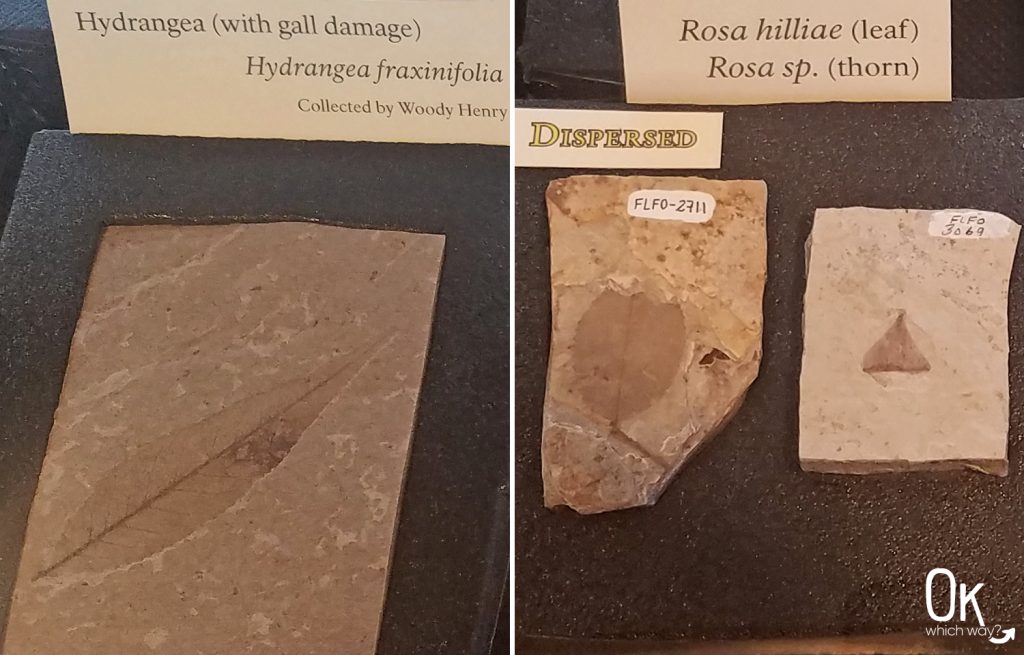 Behind the Visitor Center building is the small amphitheater and a few petrified stumps under shelter. The fascinating thing about these stumps is that scientists are so intent on protecting them that they have there own weather stations. These stations collect data so ongoing research can be done in conserving these invaluable pieces of history.
Thinking about Going for a Hike?
There are a number of hiking trails at Florissant Fossil Beds and a couple of the shorter trails start right at the Visitor Center.
Want to experience a longer hike? Perhaps through the meadow? Keep safety in mind. The high elevation is rather noticeable for those of us who come from the sea.
Safety Reminder
Petrified Forest Loop
We opted to check out the Petrified Forest Loop. It's a well marked trail, just over a mile long, on fairly flat terrain and was once part of Lake Florissant. It took us about 35 minutes to explore the trail. As the name implies, this loop takes you by numerous petrified redwood stumps.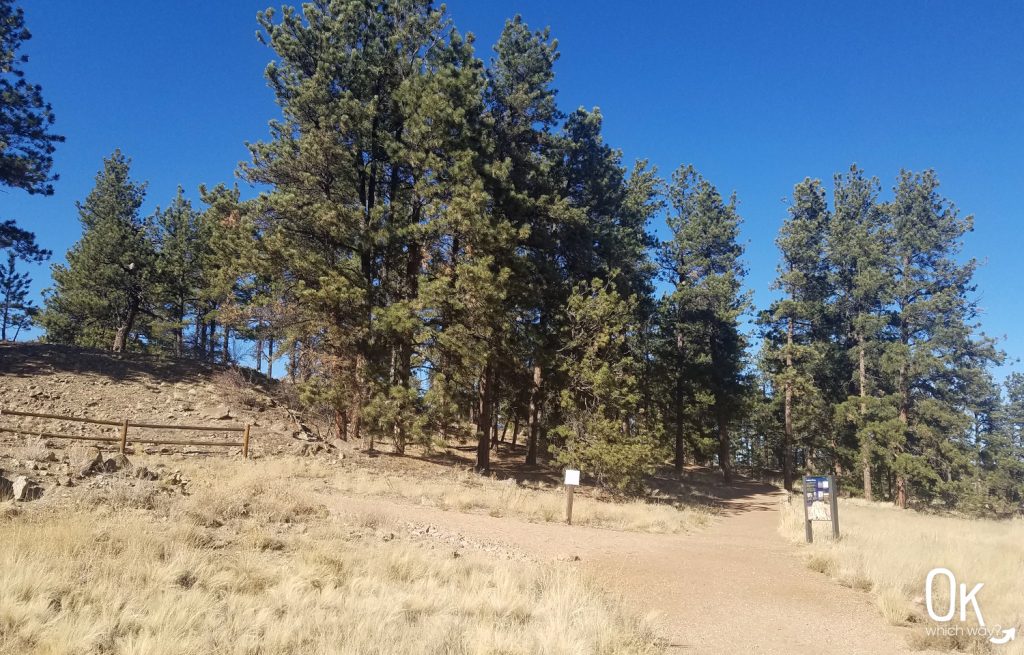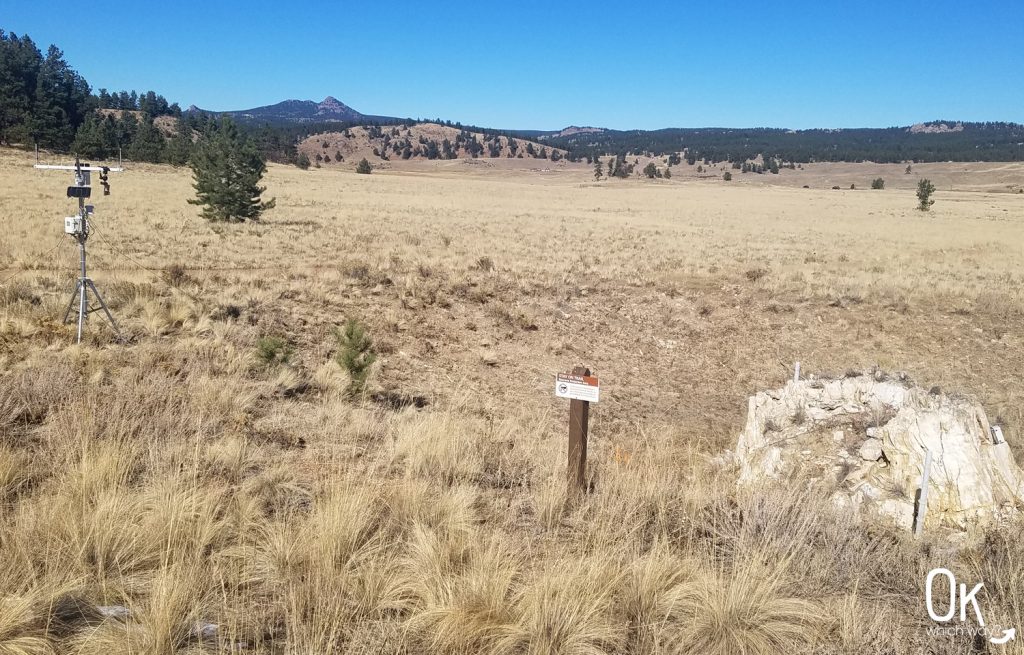 Big Stump
Big Stump is one of the known redwood stumps in the area. She is the largest at 14′ wide. A large volcano-induced mudflow covered the base of Big Stump. Big Stump died, the section above the mudflow deteriorating. The lower part of her trunk was buried under ashy mud and slowly filled with minerals creating petrification.
Millions of years later, early settlers used dynamite to uncover Big Stump. They even tried to cut her into pieces to send to the 1893 World's Fair. Saw blades are still lodged in her from the attempts. Being petrified means she's more like rock, than wood.
It is assumed there are more stumps hidden beneath the surface staying protected from the elements.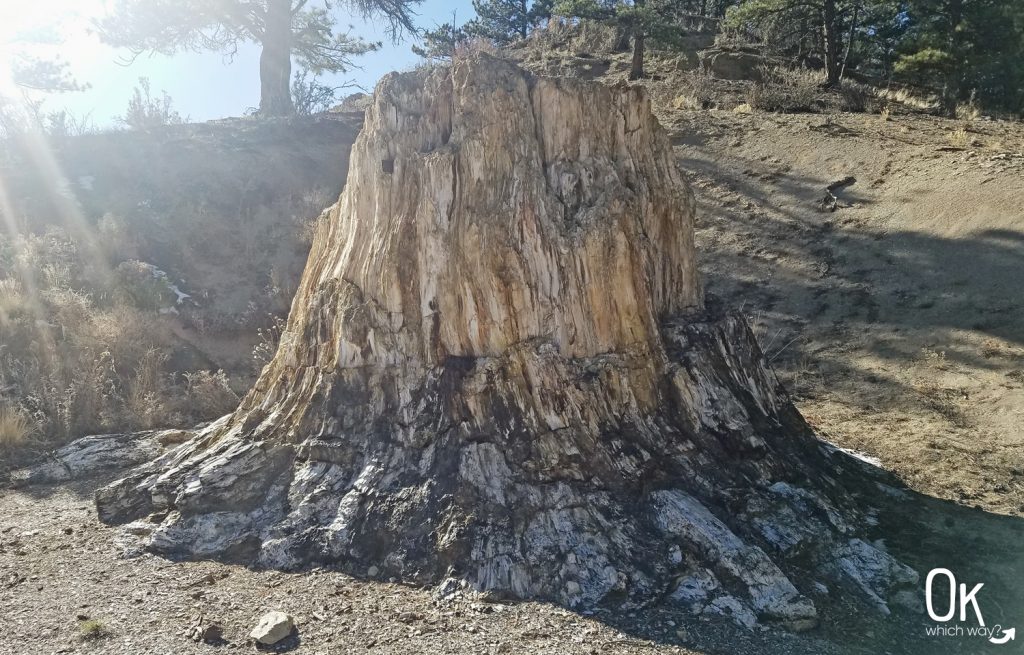 Hornbek Homestead
Although it is possible to walk from the Visitor Center to the Hornbek Homestead site, we opted to drive and park in the parking area nearby.
Adeline Hornbek created quite a life for herself and four children in Florissant. She was one of the first women to file a Homesteading Claim in Colorado. Her two-story home was built of ponderosa pine logs. The property also had a milk house, chicken house and stable. Adeline was an active member of the community and lived here until her death in 1905.
Rangers may be available for guided tours, but we were on our own when we visited. The pioneering spirit and way of life is fascinating.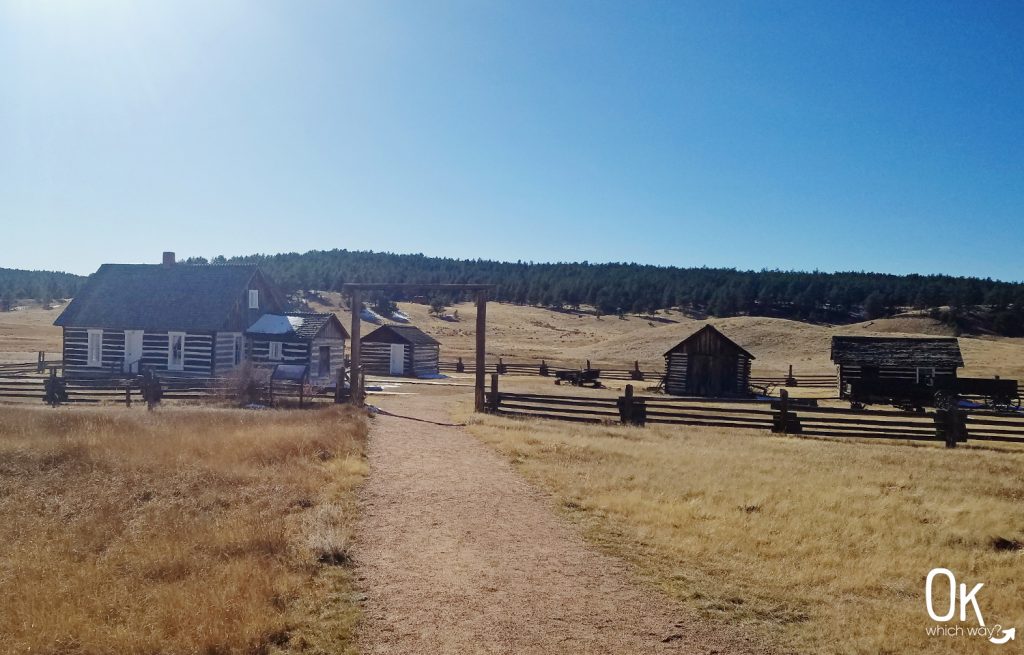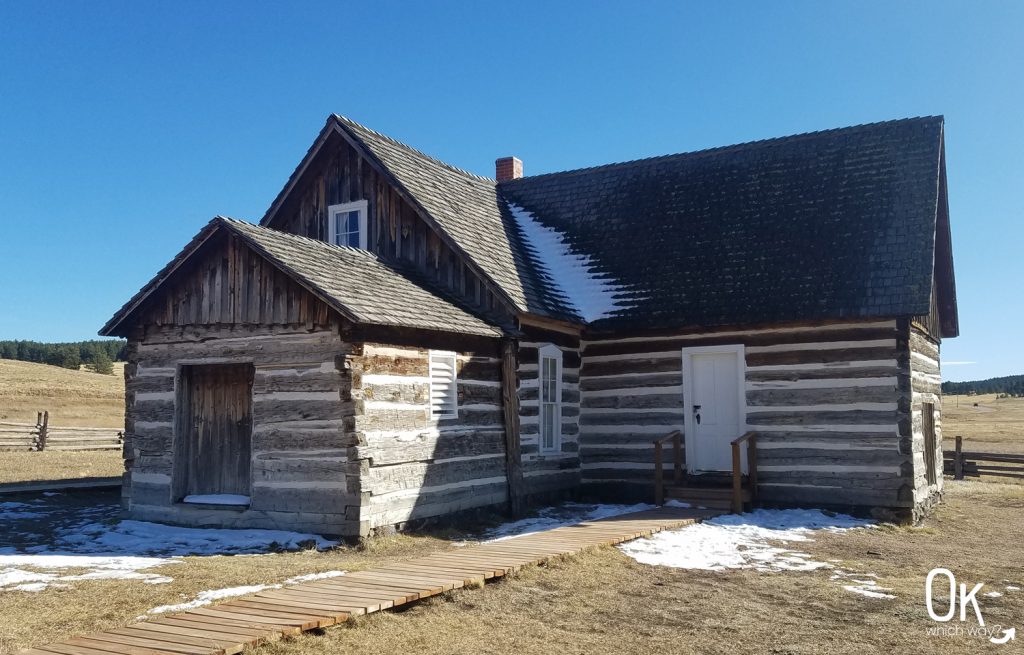 From the parking lot at the Hornbek Homestead, we crossed the CR1 and followed the Hornbek Trail for about half a mile before turning around. The trail was hard to spot in some places, but thankfully marked posts kept us on course. We didn't notice much along the trail except dry grass.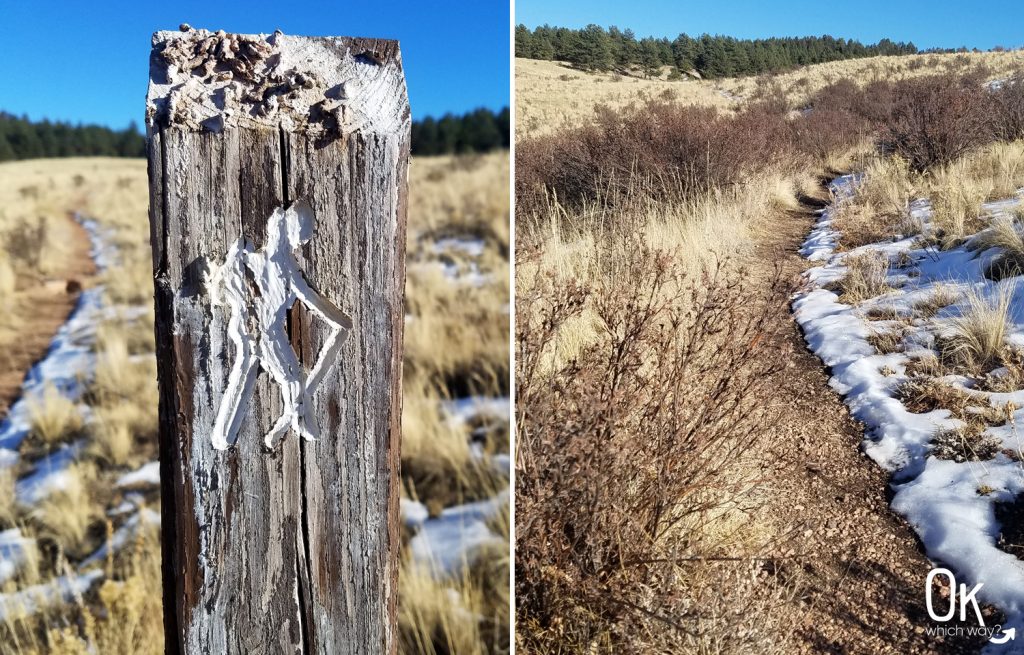 Where to Stay
Lodging and camping is not available in the park. However, there are a number of places within an hour's drive. I can recommend the Cliff House in Manitou Springs. It's quirky and fun, just like the town itself.
Personal Info
Date Visited: October 2019
What I Wish We Experienced, but didn't: Night Sky Program & Junior Ranger Program
Final Thoughts: I enjoyed it. It's not a big showy National Monument, but definitely worth checking out. More importantly, I'm glad the area is being protected.

Official Map with our hiking locations highlighted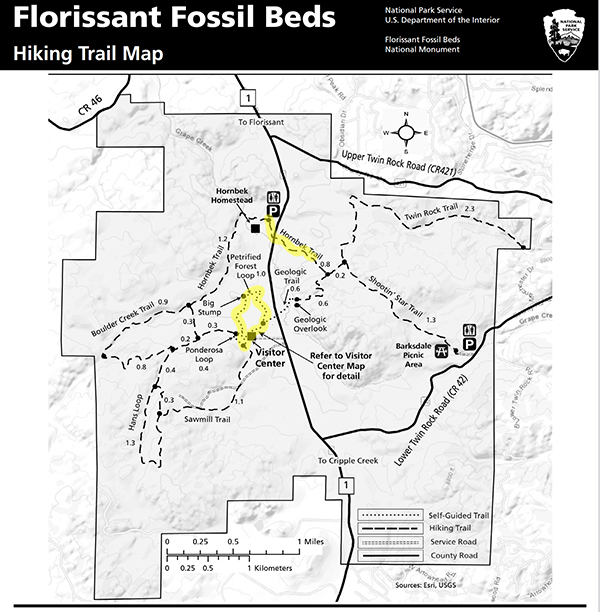 LEAVE NO TRACE
Weird, but True
In 1956, Walt Disney purchased a petrified stump from Pike Petrified Forest (now part of Florissant Fossil Beds National Monument) to put on display in his new theme park. The stump still resides in Disneyland's Frontierland. You can catch a glimpse of it in the photo below, on the right, under the tree in the foreground.
International Dark Sky Park ✬彡



Due to its location, Florissant Fossil Beds National Monument has low amounts of light pollution and is a designated International Dark Sky Park.
Thinking About Exploring Florissant Fossil Beds National Monument?
Pin This to Help Plan Your Trip ⬇