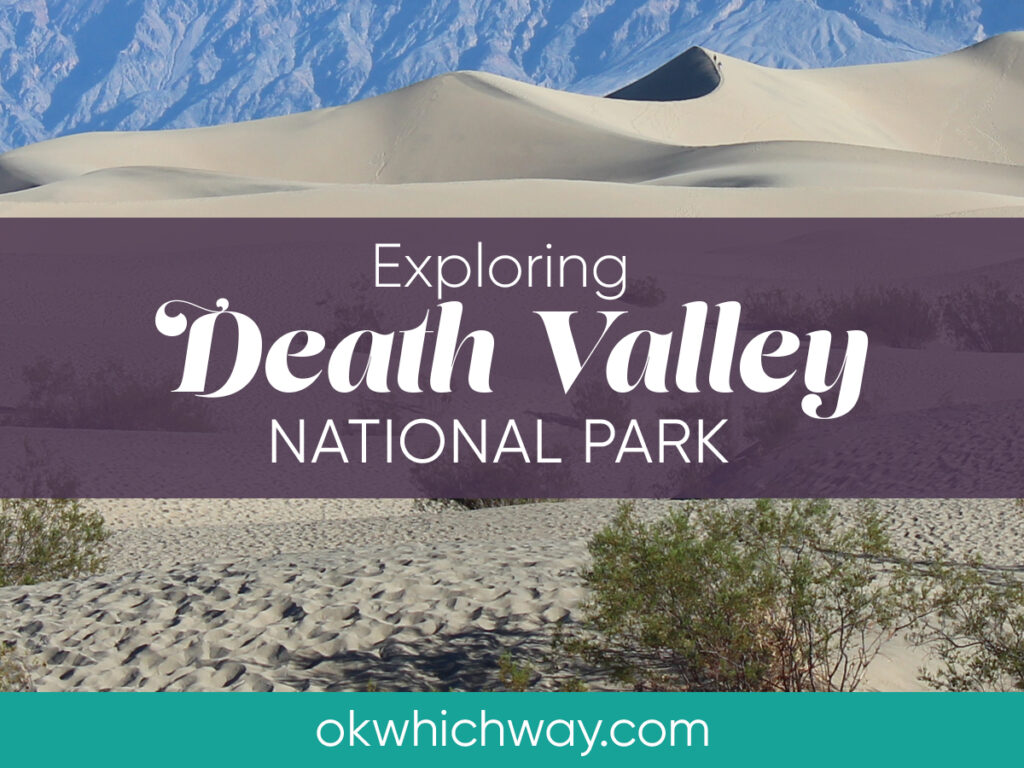 Exploring Death Valley National Park
Death Valley is the hottest, driest, and lowest of all the National Parks. When I was looking into going to Death Valley, I read that it is a winter destination for travelers since it gets so hot in the summer. It was close to 100° when we visited in October.

Park Info
Location: Eastern California, about 2 hours from Las Vegas
Established: 1933 as a national monument, escalated to National Park status in 1994
Elevation: below sea level to 11,000 feet
Things to See: Badwater Basin, Harmony Borax Works, Sand Dunes
Things to Do: take the Artists Drive, hike to the Natural Bridge, become a Junior Ranger, stargaze
Lodging/Camping: Lodges available in Stovepipe Wells, Furnace Creek, and Panamint Springs. Camping is also available.
Food: A few restaurants and stores in the park at Stovepipe Wells, Furnace Creek, and Panamint Springs. Hours are limited, so plan ahead.
Dogs: Prohibited in buildings and on trails, including boardwalks. They are allowed on paved areas.
Entrance Fee: $30/vehicle click here to see current fee pricing
Park Maps: Link to park maps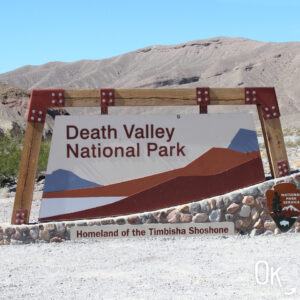 Furnace Creek Visitor Center
I usually like to start my national park experiences at a visitor center. Sometimes I'll ask for hiking trail suggestions or events happening, and when my kids were little grab the Junior Ranger booklet. At the Visitor Center at Furnace Creek we learned about the plants, animals, Native Americans, and miners of the area.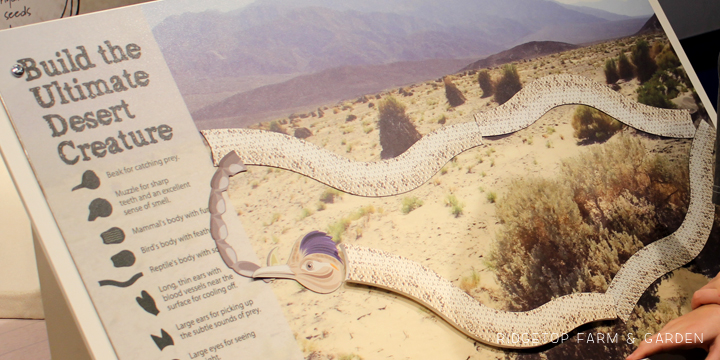 Things to See at Death Valley NP
There is a lot to see and do in Death Valley. But, be prepared that it is very remote and long drives separate the various sites. The most expensive gas on our entire 3500 mile road trip was in Death Valley.
BADWATER BASIN
Badwater Basin is 282 feet below sea level and the lowest place in North America. After rain falls in the mountains around Death Valley it runs off into this basin creating a temporary lake. The water has no where to go, so it stays at Badwater until it evaporates leaving behind salt and other minerals. We can't drink this "bad water," but a few plants, insects and a rare snail call it home.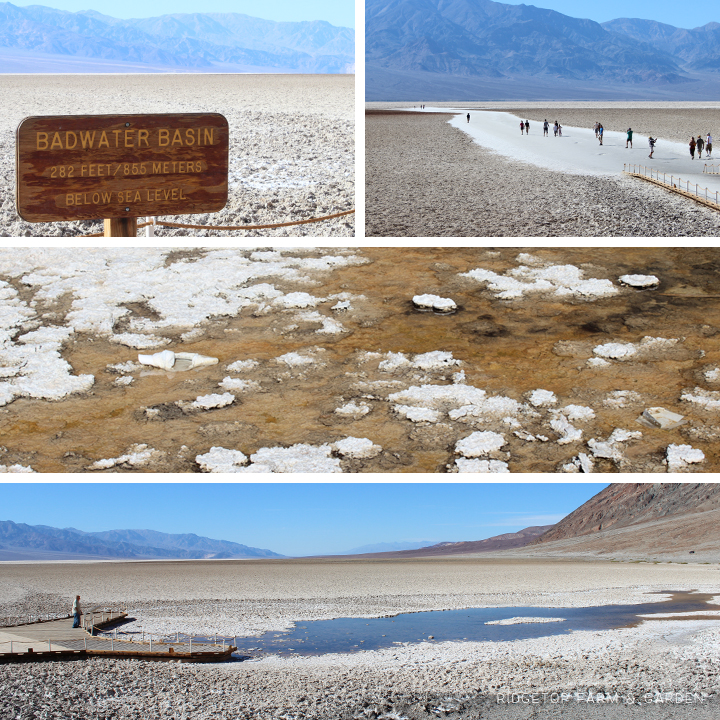 DEVIL'S GOLF COURSE
Not too far up the road from Badwater Basin is a place called Devil's Golf Course. The crystals are nearly pure table salt.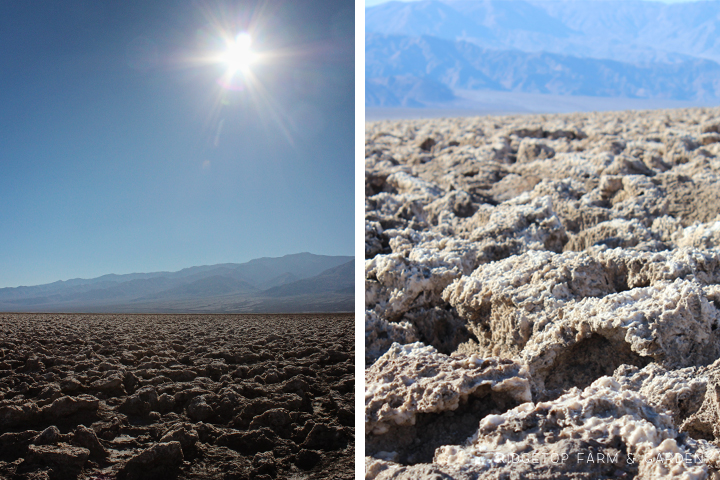 ARTISTS PALETTE
One of the most beautiful sights in Death Valley is a hillside named Artists Palette. These photos just don't portray how colorful it really is. It was spectacular!
It's definitely worth it to get off the main road and take Artists Drive, a one-way 9 mile loop through the gorgeous hills. Vehicles longer than 25′ are not permitted.
🎬 Star Wars filming location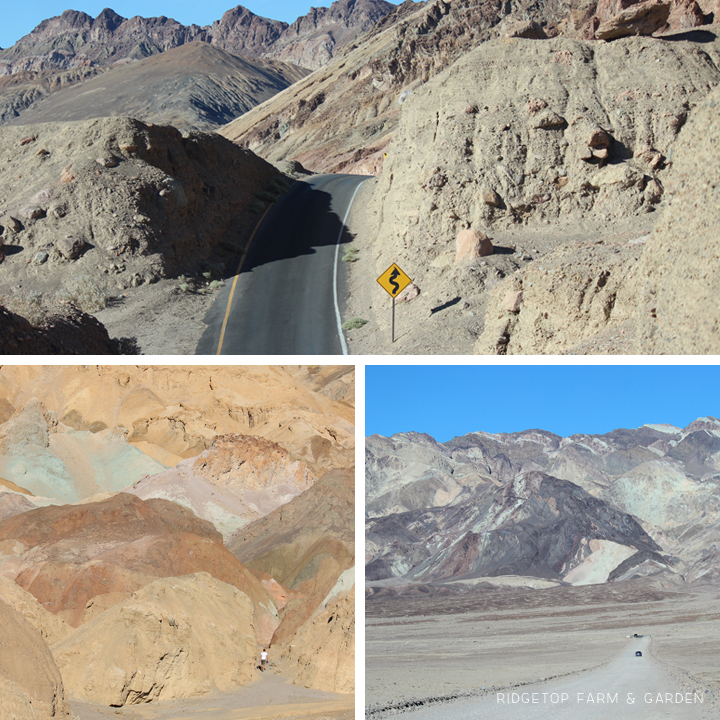 There are a number places to pull off and explore. Of course, we checked out the many different kinds of rock.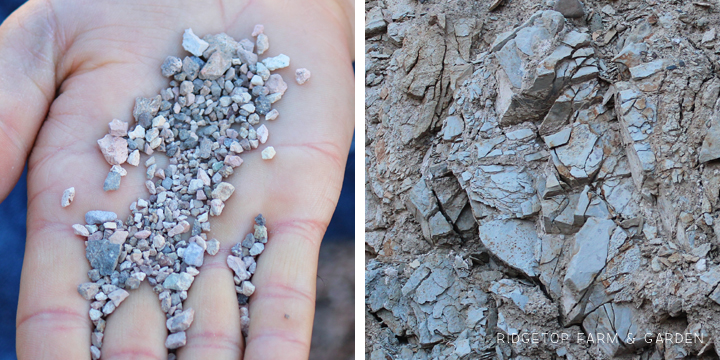 WILDLIFE
Death Valley is one of the driest places on earth, receiving barely 2″ of rain annually. Even with the harsh conditions, a few special species have adapted including the kangaroo rat, jackrabbit, and desert tortoise. We didn't see any of those cool creatures, but we did see a few birds and grasshoppers.

DANTE'S VIEW
At sunset we explored Dante's View. A ranger told us this overlook is deeper than looking into the Grand Canyon, in part because the valley is below sea level.
All day we were roasting hot, but at the viewpoint we were a bit chilly. Our oldest even put on his jacket.
The road to Dante's View is limited to vehicles under 25′ long.
🎬 Star Wars filming location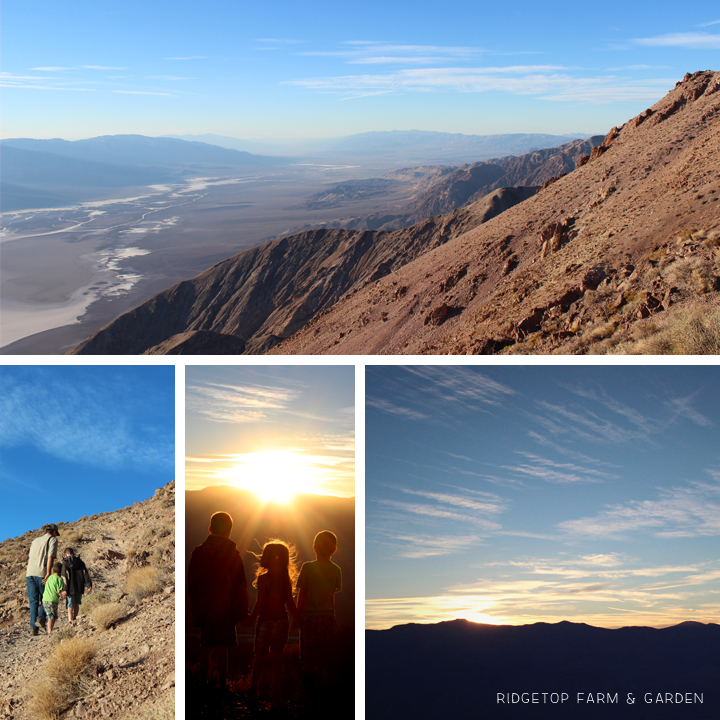 SAND DUNES
There are five sand dune areas within the park. The most visited one, due to its location, is Mesquite Flat Dunes. This is the one we explored on our way out of the park.
🎬 Star Wars filming location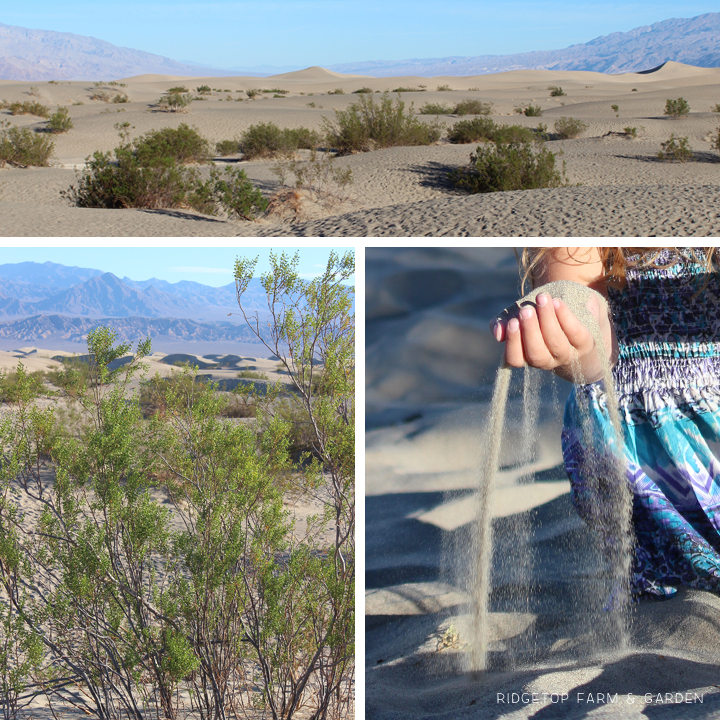 The dried out shrubs and trees produce such cool silhouettes.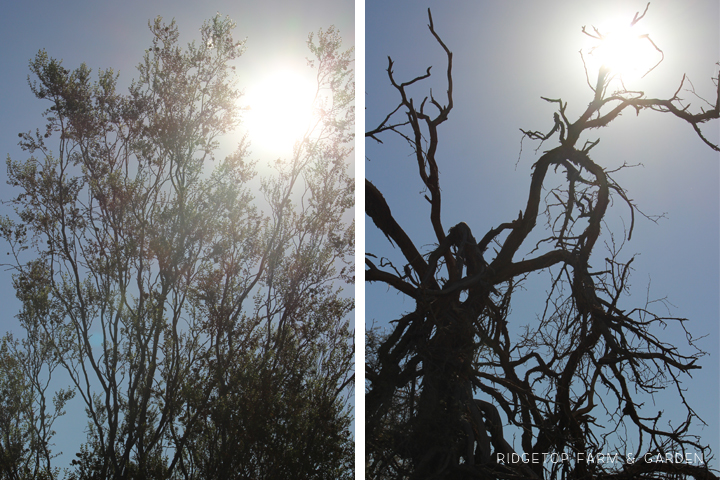 We tried to arrive early enough to see critters on the dunes before they hide away for the hot parts of the day. Mostly all we saw, though, were tracks.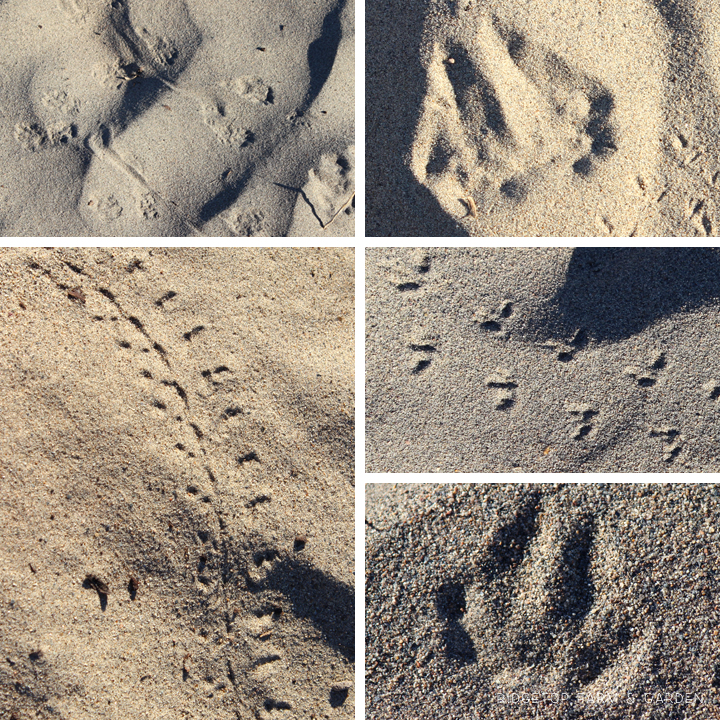 We did see a whole clan of red ants and a raven.
Villages and Resorts
Death Valley is over 3 million acres. I90 is the main road and goes through the middle of the park with the three village and resort areas sitting along it.
FURNACE CREEK
Furnace Creek has two lodging options, The Inn at Death Valley and The Ranch at Death Valley. It looks like an oasis in the desert.
STOVEPIPE WELLS
We stayed at the hotel in Stovepipe Wells. It wasn't fancy, but it suited our needs perfectly. And, I give them 2 thumbs up for keeping their restaurant open late. We were starving when we arrived and I was pleasantly surprised they were still serving food.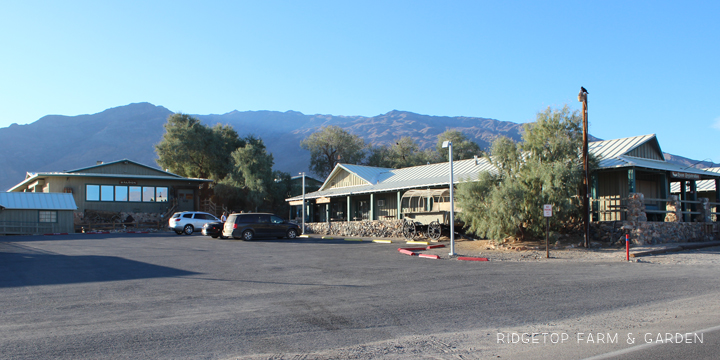 We woke up to this incredible view in the morning. I heard that those palm trees aren't native and they don't want them in the park.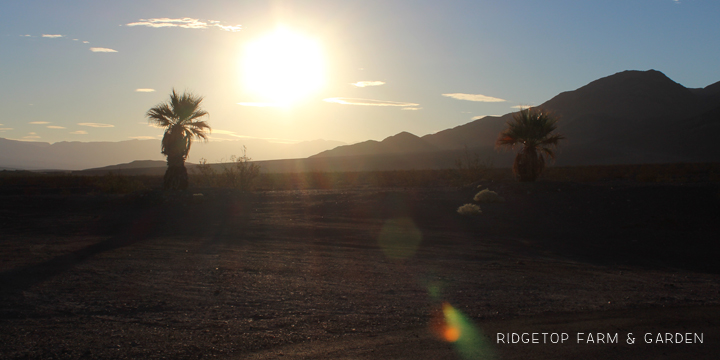 PANAMINT SPRINGS RESORT
Panamint Springs is about half an hour from Stovepipe Wells and has lodging, camping, a general store, and gas.
Moving On
Heading out of the park towards our next destination, Yosemite.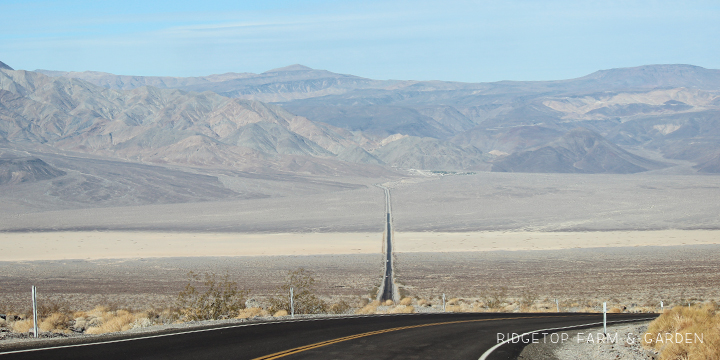 This is only a smattering of things to see in Death Valley. I didn't realize just how huge this National Park is. We easily could have used a couple more days to explore. If I get the chance again, I would definitely go back.
Personal Info
Death Valley:
Day 12
of 15 Day Road Trip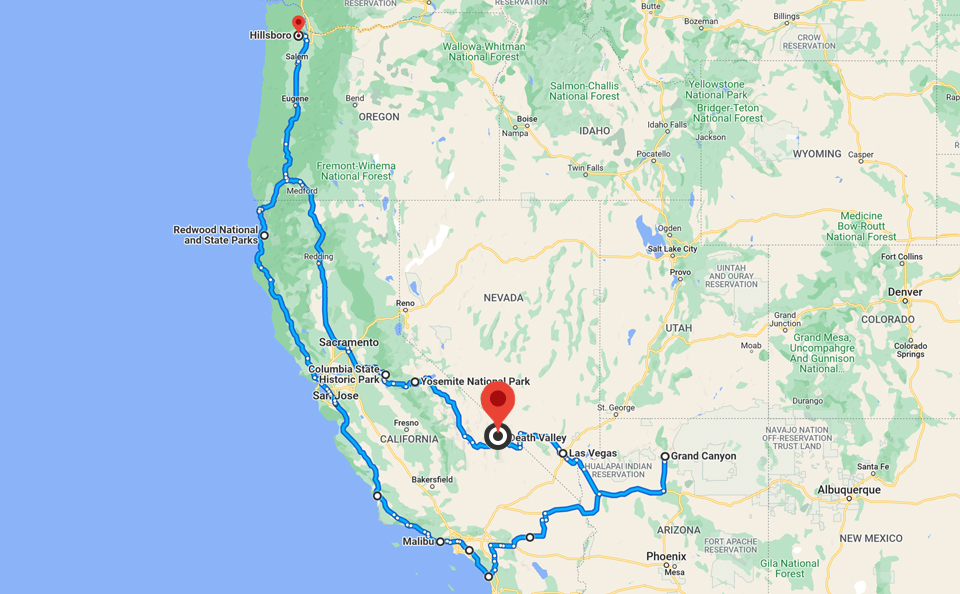 LEAVE NO TRACE
🎬 On Location
Death Valley was used in the filming of the first two Star Wars movies, Episode IV and Episode V.
Luke Skywalker's home planet of Tatooine, was originally filmed in Tunisia, but there are also scenes shot at a few locations in the National Park.
International Dark Sky Park ✬彡



Death Valley National Park has exceptional starry nights and is a designated International Dark Sky Park.
Thinking About Visiting Death Valley?
Pin This ⬇